Griezmann gives Barcelona Messi boost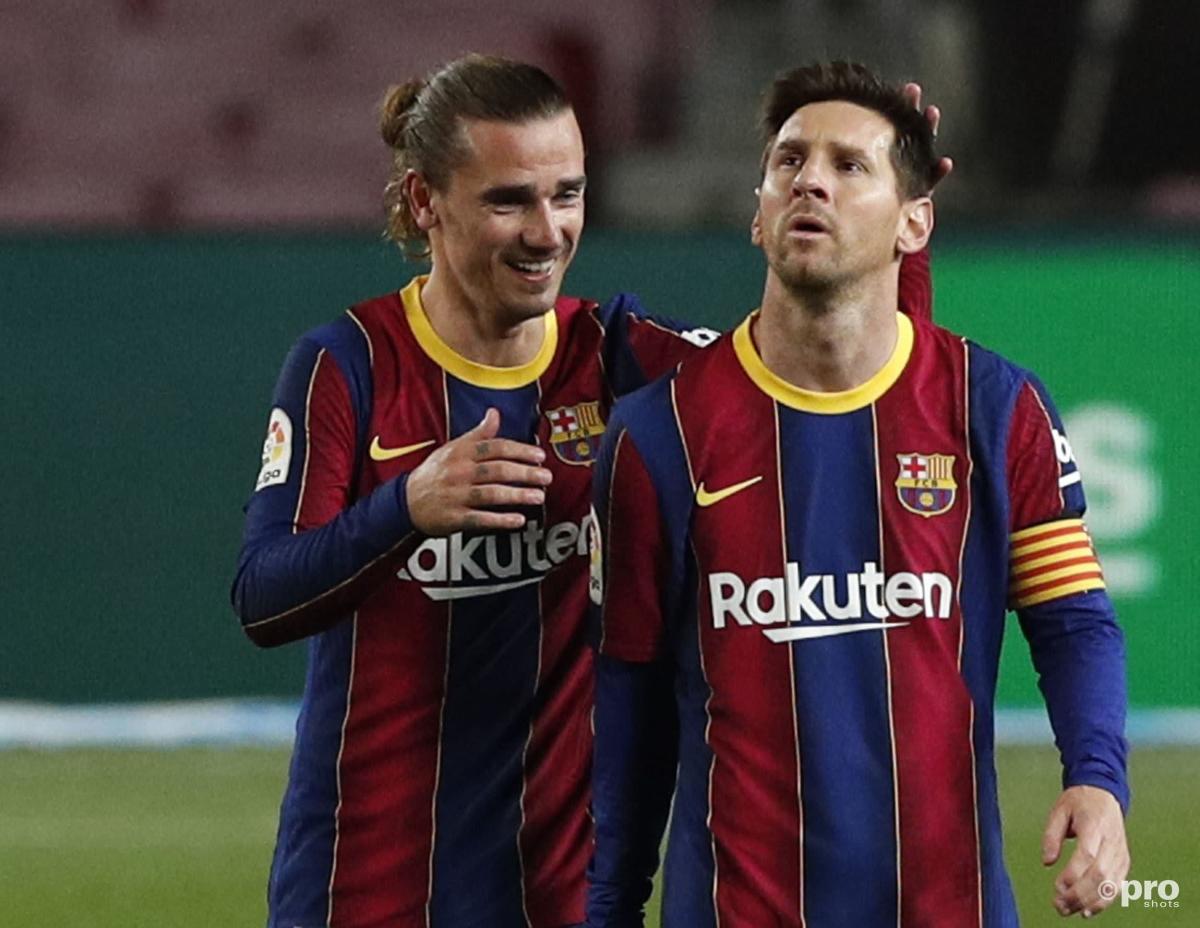 Antoine Griezmann may be about to give Barcelona a massive boost in their hopes to bring Lionel Messi back to the club by accepting a pay cut.
At the moment, the Barcelona legend is a free agent and no longer a player of the club for the first time in his career after his contract expired on 30th June this summer.
Club president Joan Laporta and other directors have been working tirelessly in order to pull off some creative accounting in order to bring Messi back.
Barcelona have been ordered by La Liga to drastically reduce their wage bill ahead of the 2021/22 La Liga season.
The Blaugrana are currently unable to register any new players including Sergio Aguero, Memphis Depay, Emerson Royal and Eric Garcia until cuts of €200 million across the board are made.
Crucially, they are also unable to re-register Messi until these cuts are made.
So, the club have desperately been attempting to offload as many players as they can, with basically 90% of the players in the squad being made available for a transfer.
The situation has got so bad that they have attempted to cut ties with the likes of Miralem Pjanic and Samuel Umtiti for free just to get them off the wage bill.
At the moment, Griezmann is the third-highest paid player in the world behind Cristiano Ronaldo and Neymar, earning a reported €34m per season.
Barcelona have attempted to get rid of Griezmann by offering him back to Atletico Madrid in exchange for Saul Niguez, who would command a much lower salary.
Griezmann cost €105m just two years ago, and now the club are open to letting him leave for free.
The Blaugrana have also been attempting to find any suitor at all for Griezmann, contacting Chelsea, Manchester City, Manchester United, Tottenham, Paris SG, Juventus, and Liverpool.
But, according to Marca, they have not received a single offer.
Griezmann would allegedly be open to returning to Atletico where he enjoyed the best days of his playing career, but if that doesn't happen, Sport reports that he would be willing to take a pay cut in order to help Barcelona out.
Depending on the level of the salary reduction, it could allow for Barca to re-sign Messi.
How have Barcelona reached this position?
Barcelona are over €1.2 billion in debt.
Over the last three seasons, they have an average transfer spend of €320m, according to the Swiss Ramble.
Spending over the last decade has gone out of control and been scattergun to say the least.
They may have received the biggest transfer fee in history after selling Neymar to Paris Saint-Germain for €220m but much, much more than that was spent on Griezmann, Ousmane Dembele and Philippe Coutinho - three players who have arguably been flops at Camp Nou.
According to a report by CIES Football Observatory, the Catalan giants have spent a remarkable €1.17 billion on transfer fees since the summer of 2016. 
Many of these players, crucially, are on extremely high wages.
Griezmann, for example, is currently the third-highest paid player in the world behind Cristiano Ronaldo and Neymar, earning a reported €34m a season.
Due to the pandemic, La Liga softened their stance on the wage bill for the 2020/21 season, but for 2021/22 they have warned Barcelona to cut costs.
La Liga president Javier Tebas previously said:
#FCBarcelona salary cap was nearly halved from €671m in 2019/20 to €347m in 2020/21 with their €324m reduction being by far the largest in La Liga (around the same as all the other clubs combined). Their limit was the highest, but it has been overtaken by Real Madrid €473m. pic.twitter.com/7ate7hHxeY

— Swiss Ramble (@SwissRamble) July 26, 2021
"When a club goes over its salary cap, it can only include players who represent 25% of the savings.
"If Barcelona sell a player for €100m, they can only spend €25m. If they want to bring in a player who costs them €25m a season in salary, they must earn €100m, either by transfer or salary reduction.
"Barca are currently exceeding their salary cap. The efforts made to reduce the wage bill are on the right track, but there will not be a special rule for Messi. I hope they can include Messi's wages, but to do so, they will have to leave out someone else."
The Swiss Ramble reports that:
"Barcelona football wages fell €58m (12%) from €501m to €443m in 2019/20, , but have still grown by 30% (€103m) in 3 years. Total wages including other sports €487m – €513m including image rights. Budgeted to decrease a further €81m to €362m in 2020/21.
"Not only was Barcelona's wage bill the highest in Spain, but it was far ahead of other clubs in Europe, especially in 2019 when their €501m was €124m (33%) more than the next highest Manchester United at €377m. Wages surged under former president Josep Maria Bartomeu."