Barcelona sweat as Fati contract renewal delayed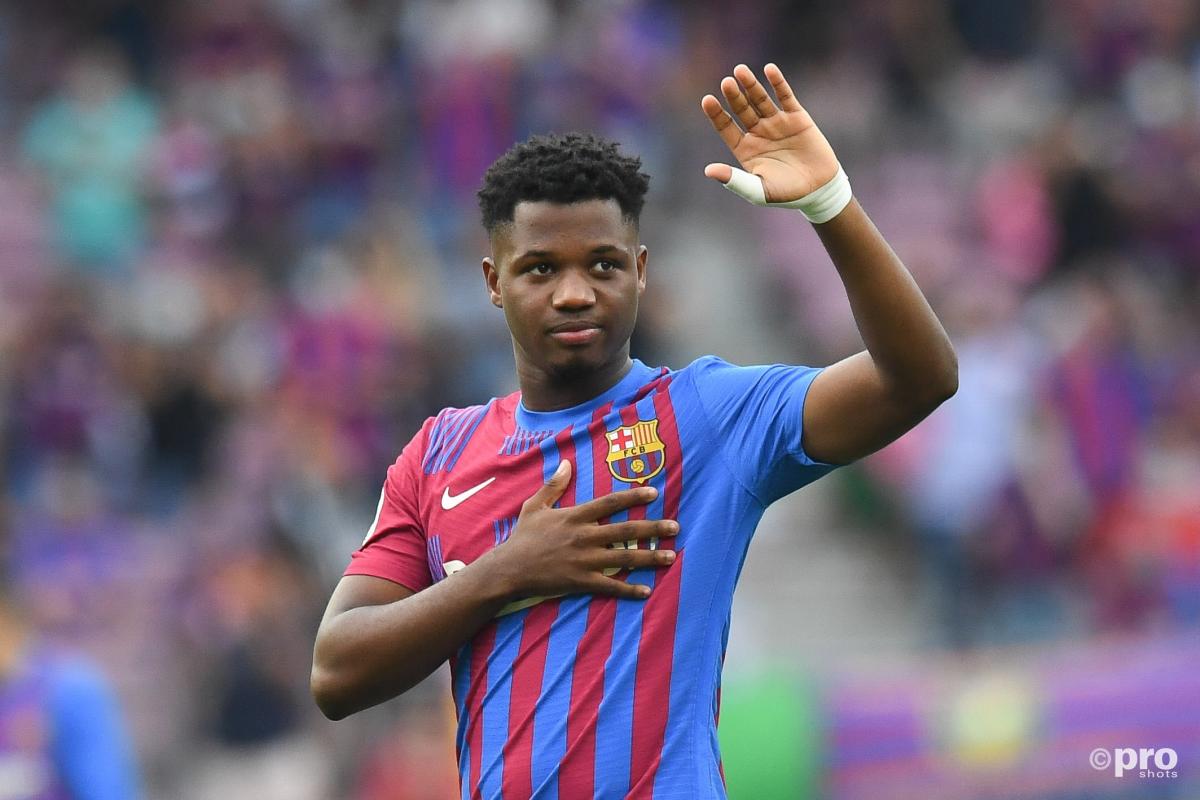 Barcelona have been left slightly worried about Ansu Fati's future after the negotiations over a new contract were delayed this week.
Fati's contract with the Blaugrana runs out in the summer of 2022 and so they are keen to renew him as soon as possible to avoid not only losing him, but losing him for free.
Barcelona were hoping to announce an agreement with the young forward within the coming days, but that has been postponed as an expected meeting with the player's agent, Jorge Mendes, did not transpire.
Mendes travelled to Barcelona on Wednesday evening and it was expected that he would meet the club to discuss Fati's renewal.
Instead, the super agent met with Fati's family instead before leaving the city.
FOOTBALLTRANSFERS' MOST VALUABLE PLAYERS IN THE WORLD
According to Spanish publication Sport, the parties are still apart on the terms of the new contract.
Though this is not an ideal scenario for Barcelona, they are not a panic stations yet as it is widely expected that Fati will indeed put pen to paper on a new deal as it his desire to remain at Camp Nou for now.
The club have already shown support to him over the last year by nursing him back to fitness through a serious knee injury, while he was also given Lionel Messi's fabled Number 10 shirt ahead of the 2021/22 season.
How good is Ansu Fati?
If a young player is considered to be the heir to Messi at Barcelona, then he must be a special talent, and Fati certainly is that.
At aged 10, Fati joined La Masia from the Sevilla young ranks and from there has steadily gone through the age groups, impressing along the way.
In August of 2019, he made his debut for Barcelona, coming on as a substitute in a 5-2 victory over Real Betis.
The appearance would make him the second-youngest player ever to feature for the club, at 16 years and 298 days.
He would subsequently become Barcelona's youngest ever goalscorer.
Fati is also the youngest player ever to score in the Champions League, the youngest ever to score two goals in a single La Liga game, and the youngest ever to record a goal and an assist in a single La Liga game.
He was officially promoted to the first team in 2020/21 and started the season superbly before suffering a serious knee injury that would ultimately see him miss nine months of action.
He has since returned and marked the occasion with a goal.
In terms of attributes, the young winger is lightning-quick but like Messi, he also can dribble with ease at those top speeds, while he also has a predatory eye for goal.
Former team-mate Ivan Rakitic labelled his talents as "incredible".
"I think Ansu Fati, who is unfortunately injured at the moment, is the one with the most incredible talent compared to the rest," the Croatian told LiveScore.
"I played with him for a time at Barcelona. He has been unlucky with his current injury, but I hope he can return as soon as possible.
"For me, he is a boy who can be a great player for Spanish football and I am sure that many people, including me, will enjoy Ansu playing at the highest level for a long time."