Who is Folarin Balogun? The Arsenal wonderkid with a bright future at the Emirates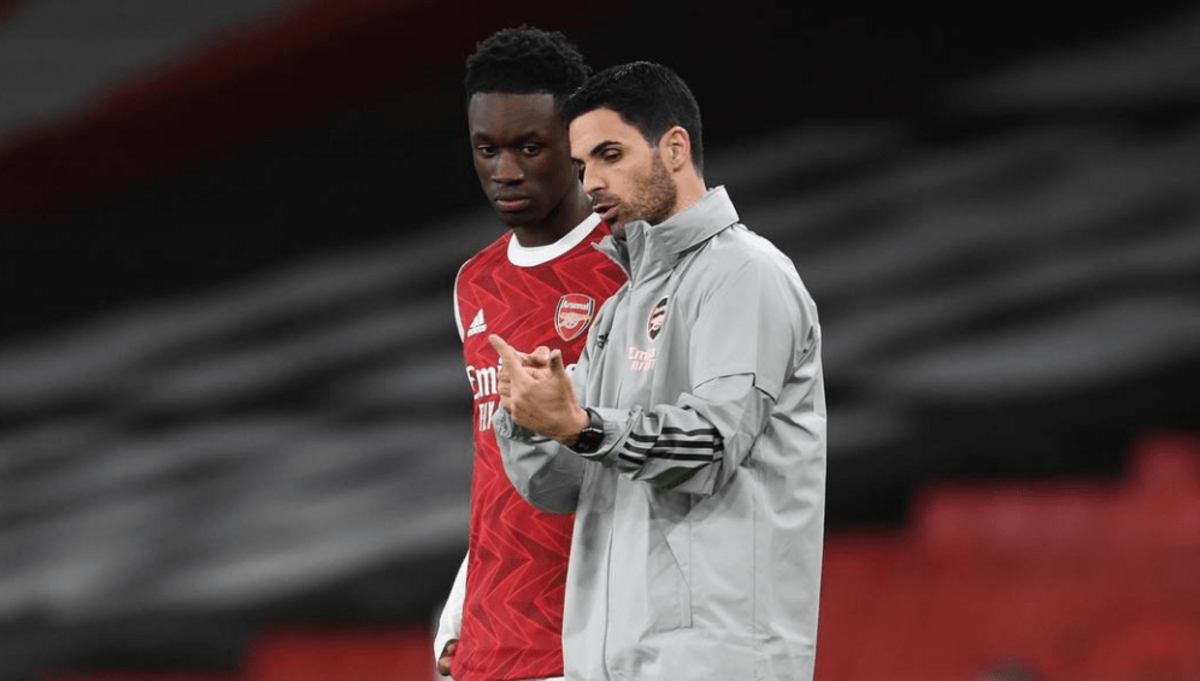 Folarin Balogun has signed a new contract with Arsenal, meaning that the Gunners tied down one of the brightest young prospects they have seen in years.
Having established a well-earned but unfortunate reputation for missing out on top young talent only to see them thrive elsewhere – see Cristiano Ronaldo and Zlatan Ibrahimovic – Arsenal have also had a tendency to fritter away some of their best young academy talent. Among those to have left are Serge Gnabry, Donyel Malen and Ismael Bennacer.
Balogun threatened to go down that route, too, but Mikel Arteta's side have managed to avert the danger by securing him on a three-year professional deal.
Arsenal have high hopes for the young forward, who has already earned quite the reputation.
What position does Folarin Balogun play in?
Balogun plays as a centre-forward.
How good is Folarin Balogun?
Balogun is viewed as one of the most exciting prospects to come through the academy at some time, having been with the club since he was a young boy.
He has found goalscoring easy to come by at pretty much every level through the junior ranks.
For the U23s this season he has scored nine goals and recorded three assists in 17 games, while for Arsenal U19s he was sensational as they won the title, scoring 25 goals in 19 starts.
Balogun has already made his senior debut for the Gunners and has featured four times off the bench in the Europa League in the 2020/21 campaign. In just 61 minutes of football in that tournament, he has two goals and an assist to his name.
Club captain Pierre-Emerick Aubameyang previously said of Balogun: "For sure, he is very, very talented, and he shows every time he trains with us that he's a really great talent and he works a lot and is a humble guy as well."
What clubs are interested in Folarin Balogun?
When it seemed like Balogun wasn't going to sign a new deal with Arsenal, he was linked with a host of clubs for a potential free transfer away from North London this summer.
One club who had apparently made contact with Balogun was Bundesliga side Bayer Leverkusen, but it is unclear how advanced the talks became between the parties involved.
Arsenal boss Mikel Arteta has never hidden his desire to keep Balogun at the club, previously telling the official club website: "We're trying to get something done. We want him to stay. We're going step-by-step and he's made some big steps in the last few months. He wasn't even training and then he's had a few good games for us. The steps are there in every way. We're trying to keep him."
When Arsenal were close to confirming a new contract agreement with the player, Arteta said in a press conference: "We are going to make it official when it is official and everything is done, but as I said before, I have always been very positive that he wants to stay at the club. We want him to stay at the club. We are very close."
When does Folarin Balogun's contract expire?
It is believed that Balogun's new Arsenal deal will run until the summer of 2025.
What is Folarin Balogun's Instagram?
Balogun's Instagram account has 112k followers as of April 2021. He previously deleted all content within the page, however.
Who is Folarin Balogun's girlfriend?
Balogun is currently not dating anyone publicly.