Who is Christopher Nkunku? The Bundesliga star wanted by City and Chelsea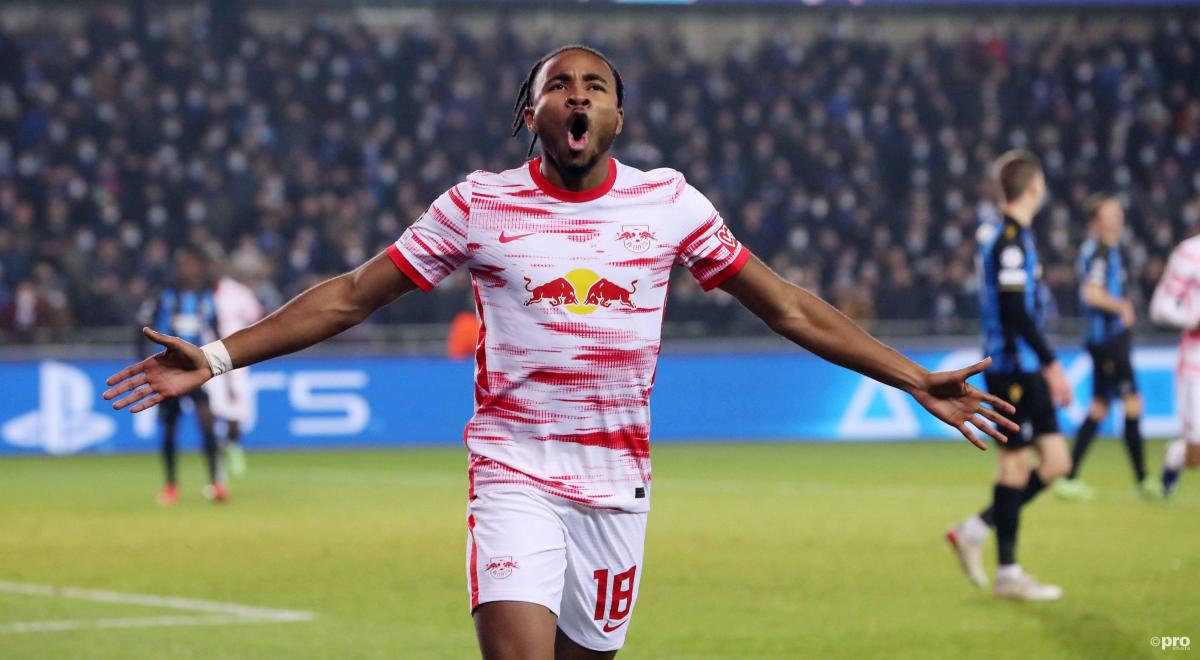 The German Bundesliga can lay claim to some of the most impressive forwards in all of world football.
However, once Erling Haaland and Robert Lewandowski are done hogging the limelight, next in line is undoubtedly RB Leipzig's own star forward, Christopher Nkunku.
Plucked from French football as a relatively unknown quantity, Nkunku has quickly established himself as one of German football's most versatile attacking players. And after two years at the Saxony club, some of Europe's biggest sides are beginning to take notice.
What position does Christopher Nkunku play in?
Although Nkunku came through at PSG as something of a central midfielder, he has developed into more of a wide player at RB Leipzig and can now comfortably play on either wing.
The young talent is also perfectly comfortable playing as a No.10 or as a false No.9 up front too.
How good is Christopher Nkunku?
Like so many impressive players plying their trade across German football and the wider continental game, Nkunku learned his trade at Paris Saint-Germain and quickly worked his way up the ranks until he was a regular member of the first team.
However, the young star struggled for a starting role at the Parisian club with the likes of Neymar and Kylian Mbappe in front of him and as such opted for a move to Saxony in 2019 when RB Leipzig offered a reported €13 million for his services.
Since then the young attacking midfielder has been nothing short of tremendous for the Bundesliga side. In his first season at the club, Nkunku averaged five goals and 16 assists in all competitions, or an average of 0.73 goals or assists per 90 minutes.
In his second season with RB Leipzig, Nkunku's form dipped slightly with just seven goals and 11 assists (0.57 per 90) after a nasty ankle injury and a constant rotation through RB Leipzig's forward positions took its toll on his consistency.
However, Nkunku has looked back to his best for the club this time around, with an incredible 13 goals and eight assists in just 19 games so far this season. Which, unsurprisingly, is comfortably his best return for the club to date, which works out at an astonishing 1.2 goals or assists per 90 minutes.
What clubs are interested in Christopher Nkunku?
Due to his links with the club, Nkunku is routinely linked with a return to PSG whenever his form takes an upswing and with Mbappe set to depart the club in the summer, the young winger could certainly be of some use to his former side.
However, it seems far more likely that Nkunku will eventually make a move to England when the time is right for RB Leipzig to sell him. According to Sport-Bild, Manchester City are extremely interested in signing the young forward and have already contacted representatives to gauge the feasibility of a move.
City join long-term admirers Arsenal and Chelsea in pursuing Nkunku's talents, according to the Sun. Who also suggest that Juventus and Real Madrid may also be extremely interested in poaching the RB Leipzig talent.
When does Christopher Nkunku's contract expire?
Christopher Nkunku's contract at RB Leipzig expires on 30 June 2024.
How old is Christopher Nkunku?
Christopher Nkunku was born on 14 November 1997, which makes him 24 years old.
What is Christopher Nkunku's height?
Christopher Nkunku is 1.75 metres or 5 feet and 9 inches tall.
What is Christopher Nkunku's Instagram?
Christopher Nkunku has 633k followers on Instagram as of November 2021.