Why Ansu is being linked to Man City and Real Madrid
Ansu Fati's future is expected to lie at Barcelona, but with a contract that runs until 2022 the Catalan side know that nothing is certain.
Indeed, the young jewel of La Masia, who played 10 times last season and scored five goals and set up four more, has recently been linked to Manchester City, Juventus and even Real Madrid by Cadena SER.
To see Ansu rumoured to have attracted the attentions of such clubs naturally is alarming to Barcelona fans, who have been through the trauma of seeing Lionel Messi leave the club for nothing this summer. They certainly do not want history repeating itself with a player tipped to be their next great star.
Certainly, the situation at Camp Nou is a delicate one financially but they should still have the pulling power to have Ansu sign a new deal. They have given the young player their confidence by handing him Messi's No.10 shirt, while he remains a major part of their plans, despite having missed close to a year through injury.
El Nacional reports, however, that Ansu's agent, Jorge Mendes, is seeking to raise the wage of the teenage superstar by piquing the interest of other clubs in an attempt to start a bidding war for the young player.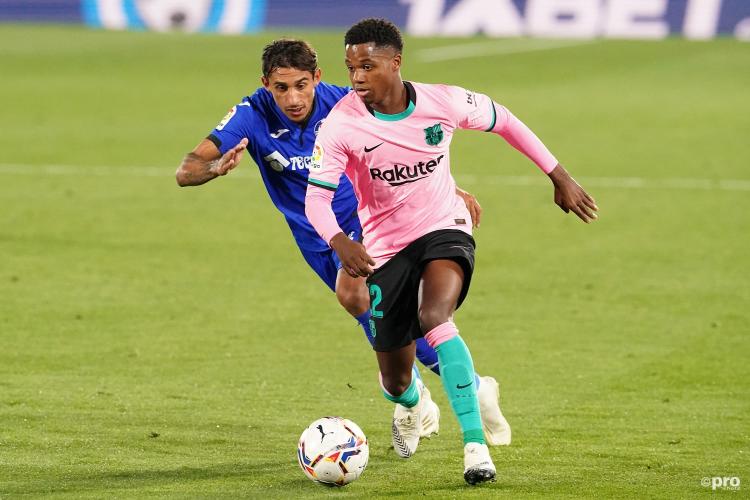 Indeed, there is already a potential clash between Mendes and Barcelona brewing over two additional years that Ansu has written in his contract. The agent claims that these are not enforceable due to his status as a minor when the deal was done.
While the goal of Ansu is to remain at Barcelona, there is set to be a good deal of noise over his future imminently. While the likes of Man City and Real Madrid are doubtless monitoring the situation, immediate speculation that he might leave is likely nothing more.