Who is Diego Lainez? Compared to Messi, wanted by Newcastle and PSG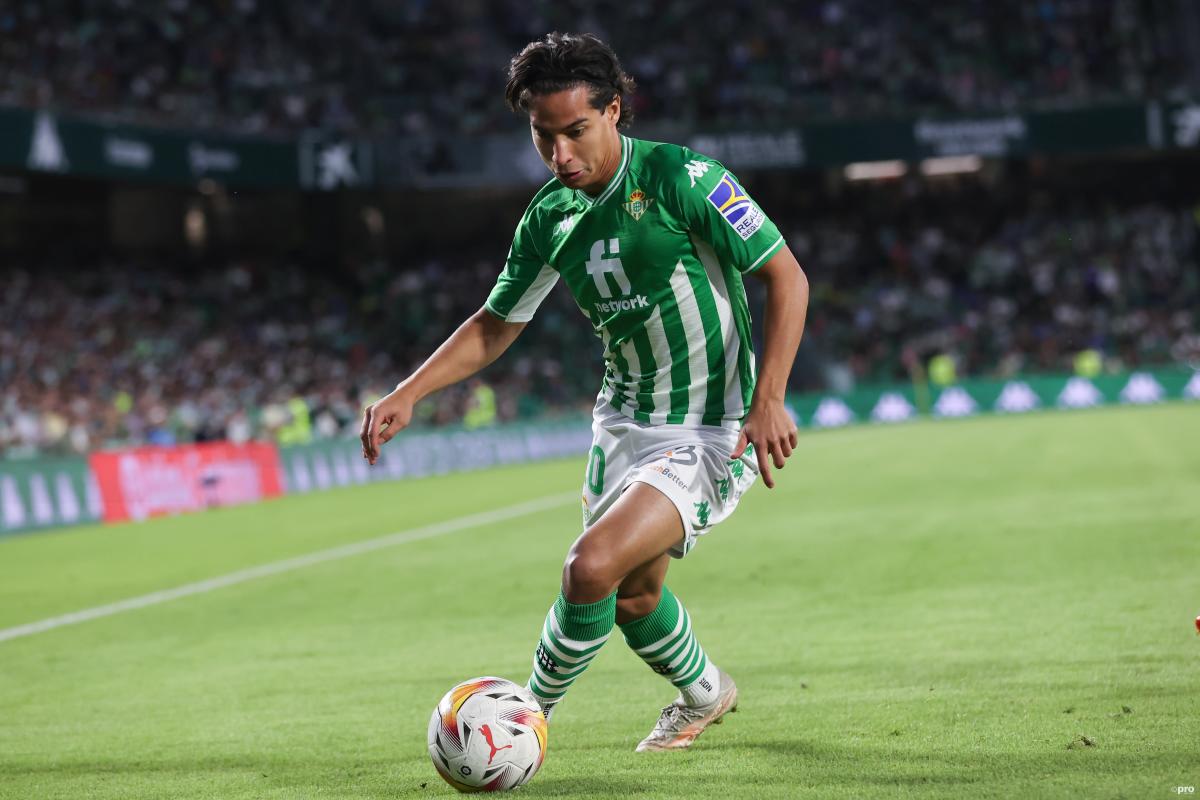 La Liga may not have superstars like Lionel Messi or Cristiano Ronaldo anymore, but there is a flurry of younger players stepping up to make a name for themselves in Spain.
One of these players is Mexican winger Diego Lainez, currently plying his trade with Real Betis.
Though he has perhaps not fully lived up to expectations as of yet, he remains hugely talented and could have a big future ahead of him if he makes good on his talents.
What position does Diego Lainez play?
Lainez usually features as a winger down the right flank, though can also play on the left and through the middle.
How good is Diego Lainez?
The fact that Lainez has been compared to Messi should provide an indication of his talents, though the comparisons are mainly due to their similar playing style currently.
Like Messi, Lainez is initially impressing on the right wing, cutting inside on to his favoured left foot.
He also possesses a low centre of gravity and can move a tremendous pace both with and without the ball at his feet.
Lainez is one of the youngest players to feature for Club America and is the outright youngest player to ever score two goals in the one game for the Mexican outfit.
After impressing in South America, he would earn a move to Europe, joining Betis for a fee of €13 million to become the youngest player ever to join a European side from a Mexican side.
Lainez's goalscoring contributions don't make for particularly good reading, as he is yet to find the back of the net in 49 appearances, while he has recorded just three assists in that time.
Despite these less-than-impressive statistics, he is still a player with huge potential.
Former Club America coach Ricardo la volpe is certainly a fan and it was he who started the Messi comparisons, saying:
"Physically they are the same player. I always compared Lainez to Messi because of his physical attributes, his dribbling and his intelligence as a creator. It will continue to improve. He is a very important player for the future of Mexico "
What clubs are interested in Diego Lainez?
When Lainez first made the move to Europe there were a number of teams looking at him, but his lack of development has seen the list of suitors diminish.
Now, it appears that the Mexican could be one of the new faces of the Newcastle revolution as he is apparently a target for the Magpies in January.
However, Paris Saint-Germain are also keeping tabs on him.
When does Diego Lainez's contract expire?
Lainez's contract with Betis expires in 2024.
How old is Diego Lainez?
Lainez was born on 9 June 2000. He is 21.
What is Diego Lainez's height?
Lainez is 167cm, or 5ft 6in.
What is Diego Lainez's weight?
Lainez weighs 58 kilograms, or around nine stone.
What is Diego Lainez's Instagram?
Lainez's Instagram has 1.4 million followers as of November 2021.
Who is Diego Lainez's girlfriend?
Lainez is not currently dating anyone publicly.