Ronaldo, Leao & Felix score! Portugal stars playing for transfers at World Cup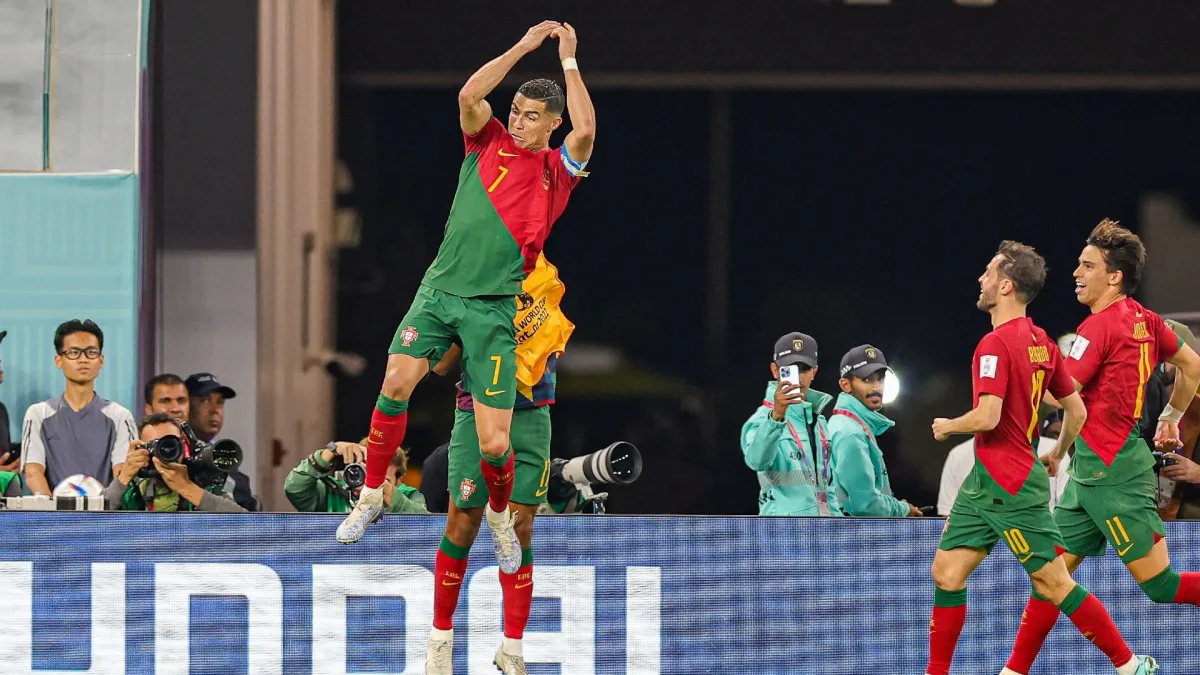 Cristiano Ronaldo became the first player to score in five World Cup tournaments as Portugal won their opening game in Qatar.
Ronaldo netted the opener against Ghana from the spot on the way to a 3-2 win, sending Portugal top of Group H ahead of their next game against Uruguay.
Rafael Leao and Joao Felix were also among the goals, meaning all three scorers were players linked with transfers away from their clubs.
GOATS: How Ronaldo and Messi compare at the World Cup
Performing well at international tournaments has a history of earning players moves to top teams, and this year will be no different.
Portugal stars Ronaldo, Leao and Felix are among those that could benefit from excelling on the biggest stage.
Portugal stars playing for transfers at World Cup
Cristiano Ronaldo
Much was made about Ronaldo's reaction following the termination of his contract at Manchester United earlier this week but the 37-year-old responded in record-breaking style.
Out of this world 🇵🇹

🖐 Cristiano Ronaldo becomes the first man to score at five FIFA World Cups#FIFAWorldCup | @Cristiano pic.twitter.com/3UKqXLsZWd

— FIFA World Cup (@FIFAWorldCup) November 24, 2022
Ronaldo's penalty was his eighth World Cup goal, putting him level with the likes of Rivaldo and Diego Maradona, while he also became the first player without a club to captain his side at the tournament.
While it may not have been the most iconic of performances for Ronaldo, a win, a goal and another record to add to the collection is all the striker would have asked for following a dramatic week.
Rafael Leao
Leao's future is up in the air as the Portuguese forward has been heavily linked with a move away from Milan over the last few months.
The 23-year-old has interested clubs like Chelsea, who were keen to make a move for him in the summer window.
GOATS: How Ronaldo and Messi compare at the World Cup
Since then, the Blues have maintained their interest in Leao, having tracked his progress and are looking for a way to get the deal done in the near future.
Joao Felix
Joao Felix could be set to leave La Liga giants Atletico Madrid due to the fact the Spanish club have not received any permanent offers for the Portugal international.
Atleti's financial troubles have led to reports reveal that they need to sell assets in January in order to balance the books.
Paris Saint-Germain and Manchester United have both been linked with a move for the Atletico forward, as they both attempt to bolster their frontline.