Darwin's evolution: Criticising Nunez's Liverpool start is premature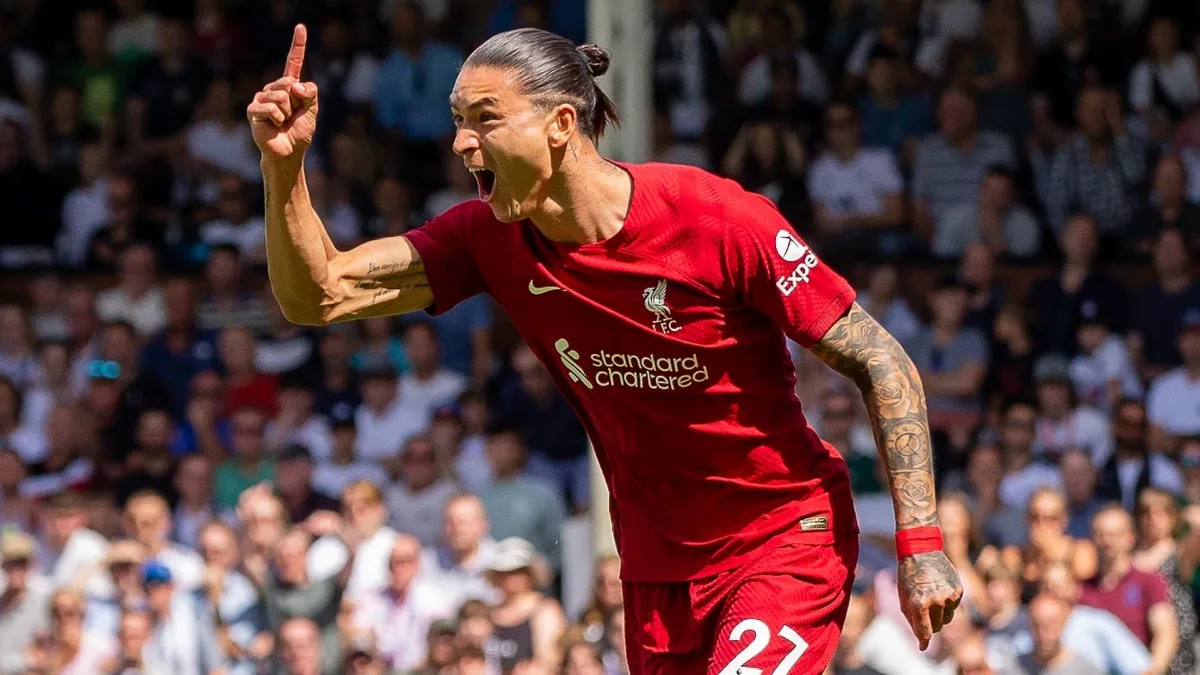 Darwin Nunez has attracted plenty of negative attention since his €100 million transfer from Benfica to Liverpool. Football Transfers looked at three reasons why his criticism is wholly undeserved…
Darwin cost Liverpool a pretty penny this summer, but he was a 22-year-old about to turn 23 who had scored six goals in 10 Champions League games last season - two of them against the Reds.
But compilation clips of his misses since have been flooding social media, and his most headline-grabbing contribution this term has been his headbutting of Joachim Andersen and subsequent sending off against Crystal Palace.
Darwin's evolution: pic.twitter.com/y0sNe5plBI

— Football Transfers (@Transfersdotcom) August 16, 2022
1) Haaland's long shadow
It is unfortunate for Darwin that Liverpool and Manchester City both bought new strikers this summer. Separated by just a point in the Premier League last season, it was irresistible to compare their shiny new centre-forwards.
While Liverpool had to throw €100m at Benfica for Darwin - with €75m up front and €25m to follow in add-ons - City were able to acquire Erling Haaland for just €60m due to the Norwegian's release clause at Borussia Dortmund.
Haaland had a built-in advantage to beat Darwin for cost per goal even before he hit the ground running at the Etihad, scoring 12 goals in eight games in all competitions.
But there is a significant margin between 'as good as Haaland' and good enough for thrive at the highest level…
Three games, three goals. Erling Haaland makes the Premier League look easy.pic.twitter.com/BJTkUPOJQP

— Football Transfers (@Transfersdotcom) August 22, 2022
2) Darwin's not a Mane replacement
When Sadio Mane left in a €41m deal for Bayern Munich this summer - after six seasons, 120 goals, a Champions League and a Premier League - many fans were assuaged by Darwin's big-money arrival.
But tagging the Uruguayan as a replacement for Man was always lazy. Mane is a wide forward who operated on the left flank for the majority of his time at Liverpool, with Bobby Firmino leading the line and Mo Salah on the other side. Darwin is fundamentally a Firmino replacement, not a Mane one.
And Mane's departure has also made Darwin's introduction more difficult. The Senegalese also took 40 assists with him to Bavaria. Luis Diaz - Mane's actual replacement - has only provided five since he got to Liverpool in January, his forte taking rather than making goals.
Darwin Nunez's first-ever Liverpool hat-trick.

Remember where you were for this moment. People will be talking about it years from now 😉 pic.twitter.com/geKqkE7T2u

— Football Transfers (@Transfersdotcom) July 21, 2022
3) Darwin's not actually been that bad!
Last but by no means least is the fact that Darwin's record so far actually stands up to closer scrutiny. Yes, he was sent off against Crystal Palace, meaning he missed Liverpool's bitter derby defeat to Manchester United last month, but his suspension also supressed his minutes.
Darwin scored off the bench against City in the Community Shield, helping the Reds to a 3-1 win, and repeated the trick on the opening day of the Premier League season, guiding his side to a 2-2 draw against Fulham.
He also teed up Salah's equaliser that day, giving him a goal-involvement of one every 86 minutes he has played. If you think that's statistical noise, he also scored four in pre-season.
If a bad start to a campaign is either scoring or assisting inside every 90 minutes you play on average, Football Transfers would hate to see a good one!
Darwin simply needs time to evolve. There is a thoroughbred centre-forward lurking not too far beneath the surface.