Who is Joao Gomes? The Flamengo star wanted by Real Madrid and crazy about Liverpool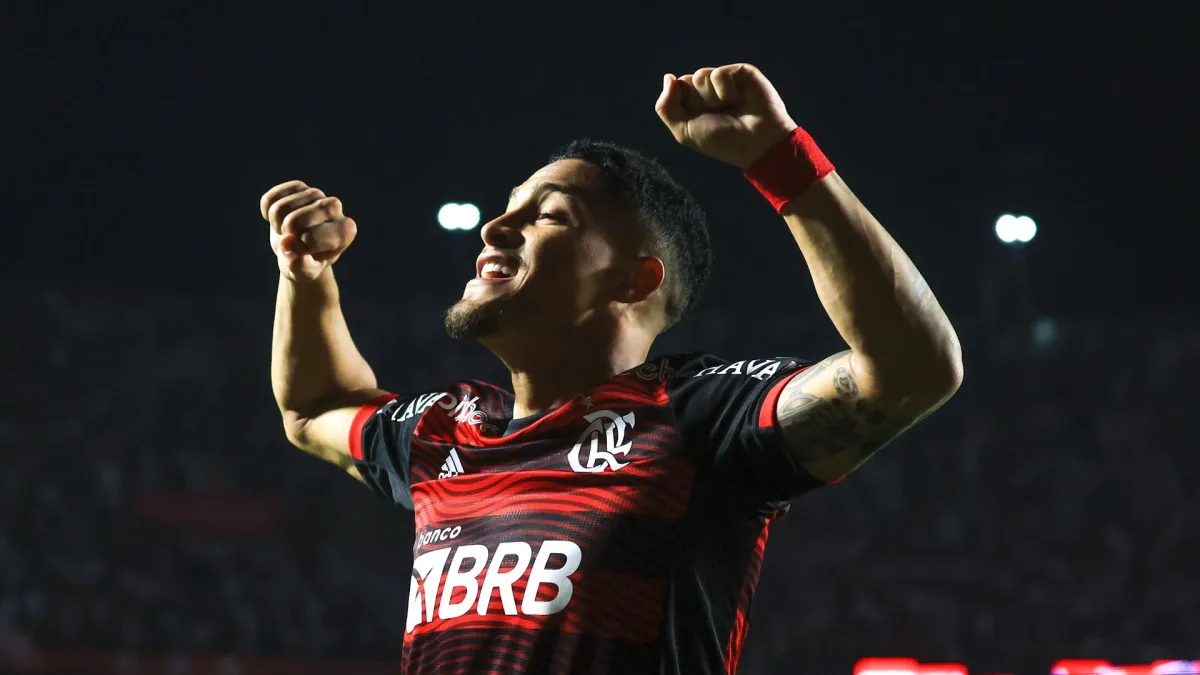 Joao Gomes is a name that may not be familiar to fans outside of Brazil but the 21-year-old is being tracked by some of Europe's biggest clubs after shining for Flamengo.
Gomes has been at the heart of Flamengo's midfield since coming through their academy and has already won four trophies with his side.
But just who is the Brazilian and what would he bring to any prospective club?
What position does Joao Gomes play in?
Gomes is a right-footed defensive midfielder who can play as a 'six' or further forward as an 'eight'.
How good is Joao Gomes?
Despite being just 21 years old, Gomes has made more than 100 appearances since coming through the Flamengo youth system.
He has developed a reputation as a tough tackling midfielder, drawing comparisons to Liverpool's Fabinho, although he is also capable on the ball too.
Gomes led his side to the Brazilian Serie A title in 2020 and the Supercopa do Brasil in 2021 as well as the regional Campeonato Carioca trophies in 2020 and 2021, while Flamengo are in the final of this year's Copa Libertadores.
He has yet to be called up by Brazil at any level but his meteoric rise to success will surely see the youngster end up being capped at senior level.
Despite his defensive ability, Gomes has been questioned over his attacking output, having only scored three times in his career so far and grabbing just two assists.
However, he dismissed any concerns, telling the media: "I hear a lot that I don't know how to create. These days, I'm stealing more balls than I'm setting up, but I still know how to set up. I know how to make a key pass and get assists."
😅🔴⚫ Still not over this bit of skill from @Flamengo_en's João Gomes#GloriaEterna pic.twitter.com/Stn5f20m8D

— CONMEBOL Libertadores (@TheLibertadores) September 10, 2022
What clubs are interested in Joao Gomes?
Liverpool have been credited with the strongest interest in Gomes as they look to revitalise their ageing and injury-prone midfield, although Manchester United have also scouted him.
Gomes had previously admitted that a move to Anfield would be 'a dream', saying on Instagram: "Liverpool are a team I'd play for. I have the greatest desire to play.
"Playing in the Champions League is my biggest dream and that of my family, my biggest dream in football."
The Reds were rumoured to have attempted a move for Gomes in the summer but Flamengo refuted any approach as they were in the middle of their Copa Libertadores campaign.
However, Flamengo vice-president refuted the claims, dismissing them as 'lies' but admitted a move could eventually happen.
"There was no proposal for João Gomes, there was no consultation for him," Braz said. "So, it's a lot of lies that have been propagated about João Gomes since the beginning of these renewal issues.
"But if you ask me if next year, in the middle of the year, I think there will be something, I'll say: 'I think'. Due to the size of the player, for what he has become, for being a player, today, Flamengo's starter.
"So, it's natural for the market out there to pass a magnifying glass over this player, but there's nothing. We are very happy and I am absolutely sure that he is very happy with the Flamengo board."
When does Joao Gomes' contract expire?
Gomes recently signed a new a contract with Flamengo that runs until December 31st 2027.
He stays 🗣️🗣️

João Gomes has signed a contract extension through August 2027! ❤️🐕 pic.twitter.com/qTQLsBkTyD

— Flamengo (@Flamengo_en) September 17, 2022
How old is Joao Gomes?
Gomes is 21 years old
What is Joao Gomes' height?
Gomes is 176cm tall or 5ft 9in.
What is Joao Gomes' Instagram?
Gomes has 1.7 million followers on Instagram as of September 2022.