Why Tyrell Malacia is a thrilling signing for Man Utd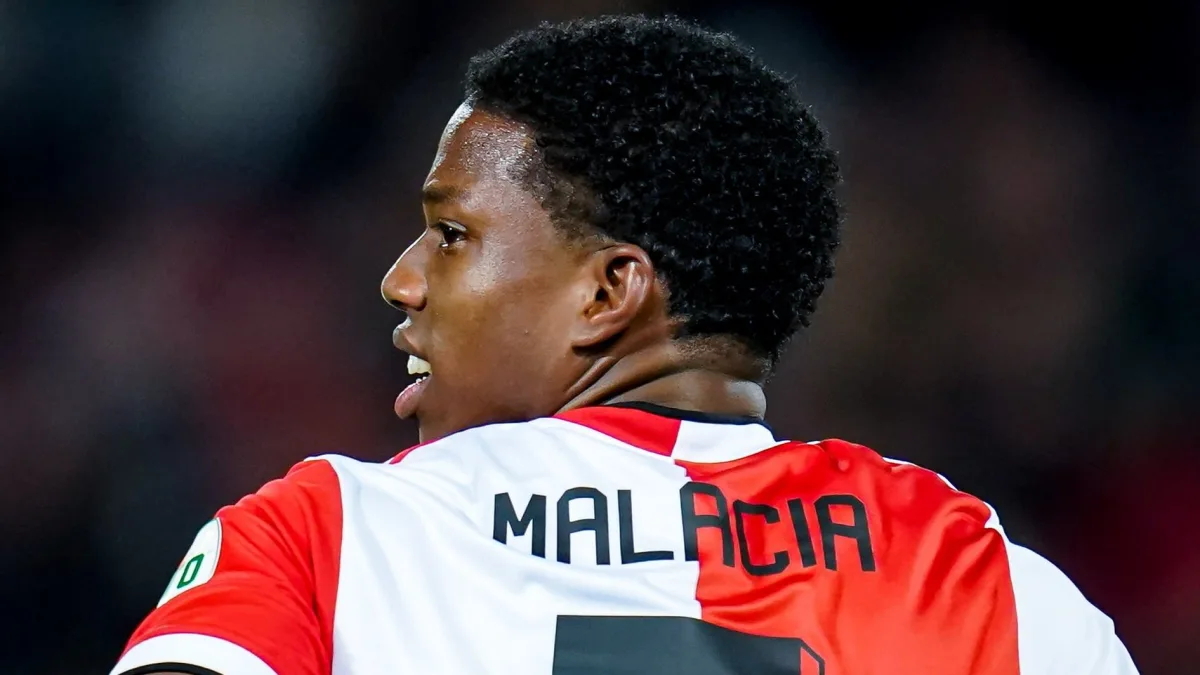 Over two months after he was announced as the new Manchester United manager, Erik ten Hag finally completed his first transfer in the form of Tyrell Malacia from Feyenoord.
It was a dramatic deal. Feyenoord initially had an agreement with Olympique Lyonnais for Malacia. Man Utd then hijacked the transfer and reached an agreement worth €15m plus €2m in add-ons, after which they were able to negotiate a four-year contract with an option to extend for another year with the player.
Malacia will leave Feyenoord after close to 15 years at the club, where he came through the youth academy and went on to play over 11,000 minutes for the senior men's team. He has spent almost all of those as a left-back in a back four, so that quite clearly is his favoured position.
His heatmap shows that he likes to get involved in the opposition half but also plays an important role as an outlet in the build-up phase for his side.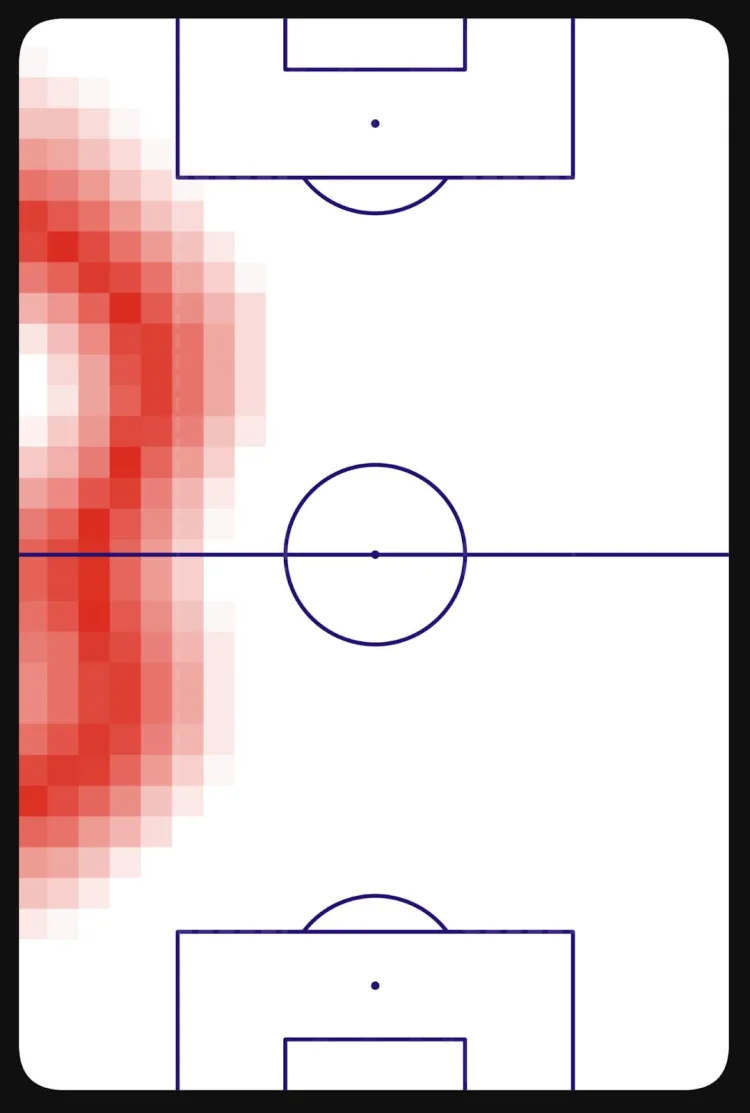 Looking at his pizza chart, it is clear to see that Malacia's strengths lie in possession. It should be said, though, that he is a good one-on-one defender, even if his statistics do not look great; that primarily is a result of him playing for a possession-dominant side.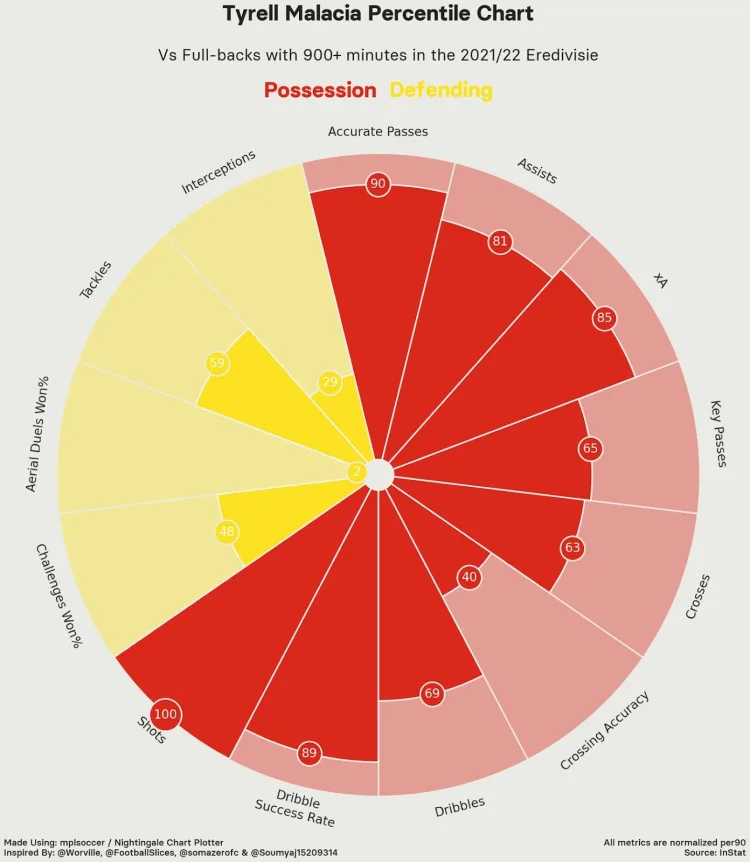 One of his strengths that is not highlighted in this graph is his progressive passing ability. The 22-year-old Dutchman is very sound technically and has a wide range of passing in his locker, so he can get the ball up the field in a variety of ways, including long balls down the line, incisive passes into the half-spaces and switches to the opposite flank.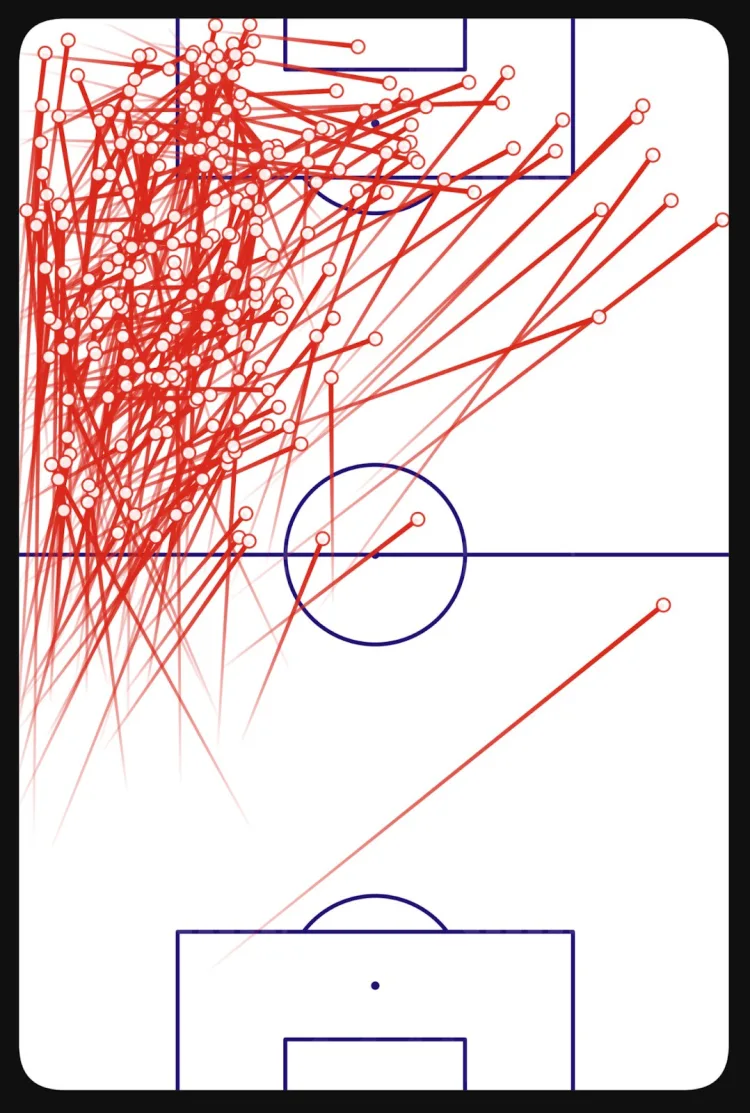 Another one of Malacia's qualities that data cannot directly highlight is his impressive athletic ability. He is very quick in a straight line but can also change direction quite rapidly and is well built, so he is hard to muscle off the ball. All of this helps enhance his ball-carrying ability, which is one of his greatest strengths.
Malacia averaged close to 10 progressive carries per 90 in the Eredivisie last season, naturally doing so mostly on the left side, making both in-to-out runs and out-to-in runs.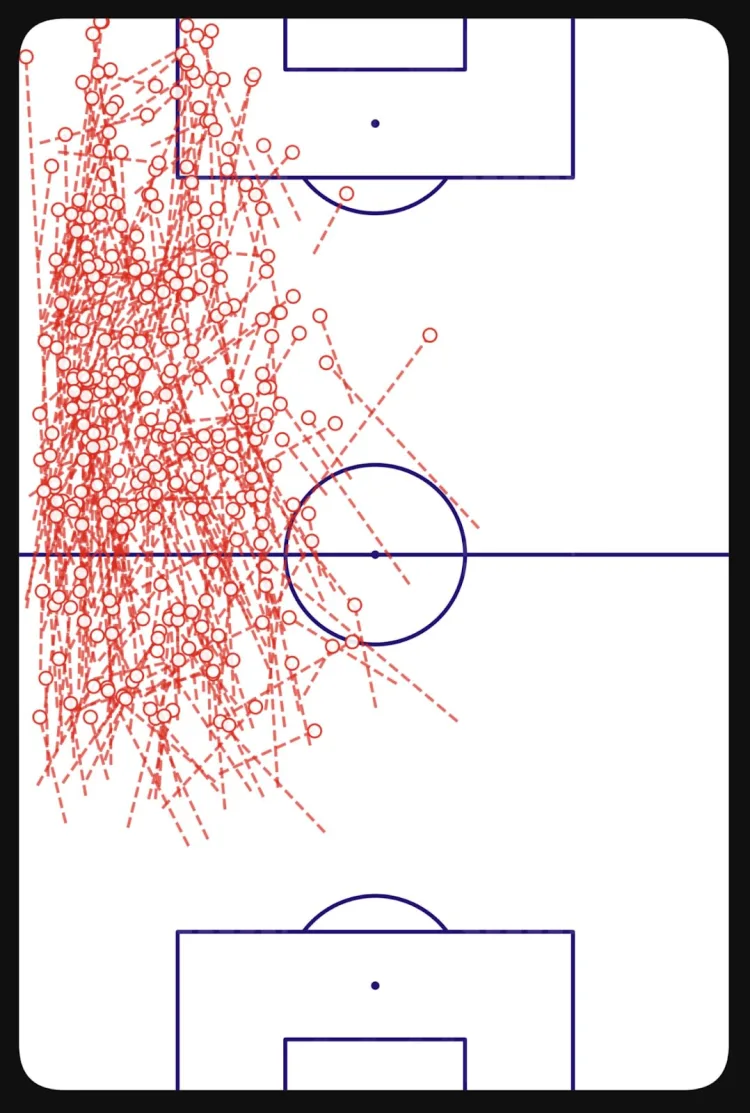 How Man Utd can get the most of Malacia
In the final third, Malacia likes to create chances for his teammates. The data suggests he was a little unlucky to end the last Eredivisie season with just four assists, as his xA tally suggests he should have had six.
Looking at his key passes event map, we can see the two main patterns in the Dutchman's chance creation. The most common one is cut-backs from the left side of the box, but he is also capable of playing chipped or grounded through balls in behind opposition defences from deeper areas.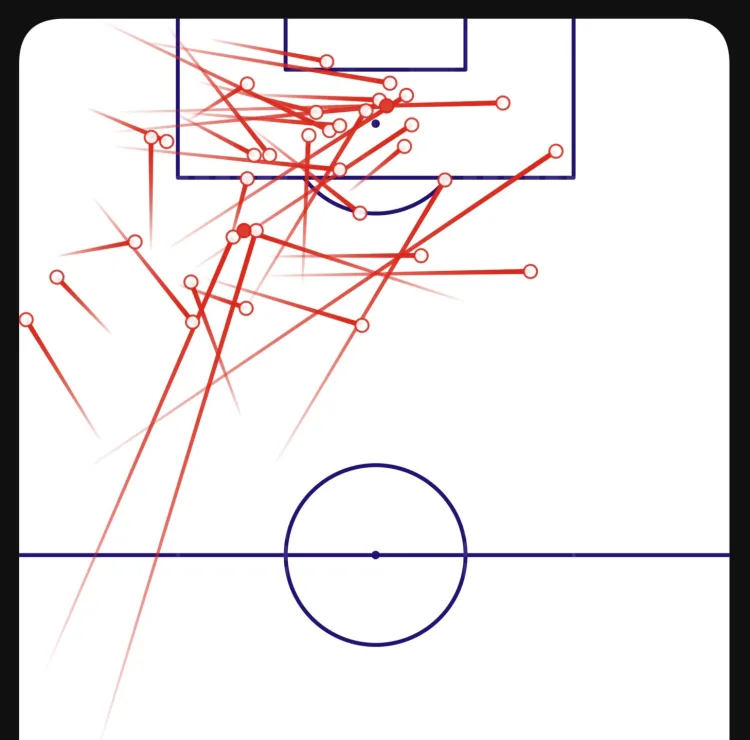 Focusing on those cut-backs, it should be noted that Malacia's partnership with Feyenoord's left winger Luis Sinisterra, who is linked with a move to Leeds, came to the fore in such situations. Being right-footed, Sinisterra liked to cut inside from the wing, opening up space for Malacia to make overlapping runs.
Here is a good example of that:
Sinisterra drives inside with the ball, forcing the opposition defender to follow him.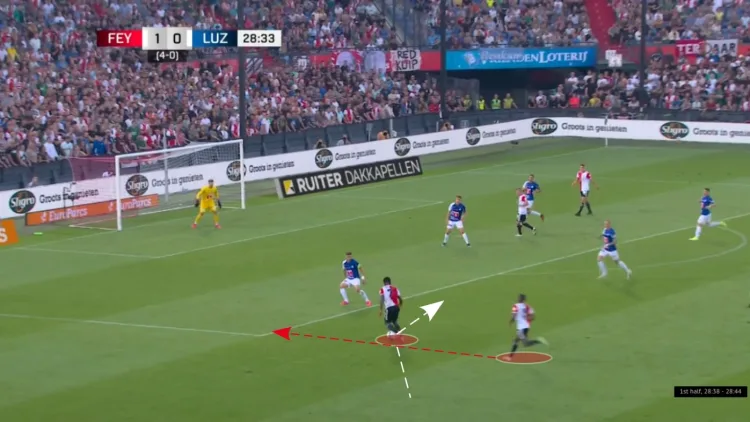 Malacia can then get into the box, and Sinisterra finds him with a reverse pass. Thereafter, the left-back can easily play the ball across the face of goal.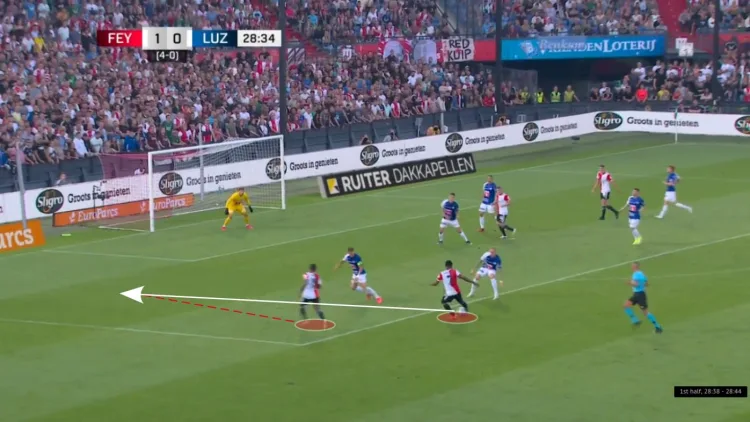 If Manchester United want to make the best use of Malacia's chance creation ability, they will need to ensure that they have a player who can form a similar partnership with him.
Of course, no one can say for sure who that will be as the transfer window has not yet concluded and Ten Hag has not overseen a single match yet, so the exact formation and system he intends to use is anyone's guess at this point.
One thing we do know about the Dutch tactician, though, is that he likes to use his full-backs as key ball progressors, and Malacia clearly has the skill set to play that role. At Ajax, Ten Hag used ex-Manchester United man Daley Blind at left-back most often, and there are similarities between him and Malacia.
Ten Hag also likes his full-backs to make inside runs and occasionally move into the half-spaces in the final third, but this is something we have not seen Malacia do. Of course, that is because of the tactical instructions he received at Feyenoord, so this should not be a concern at all, and he will certainly be able to operate in that manner should he be required to do so.
Manchester United's current first-choice left-back Luke Shaw also fits the bill for Ten Hag's requirements, so Malacia will most likely have to play second fiddle to him for the foreseeable future at least. Nonetheless, this is a very good signing for the Red Devils because they are getting a very talented young left-back for a relatively very low price, and he could quite feasibly develop into a key player in the future.