Who is Pape Matar Sarr? Spurs set to beat Chelsea, Man Utd and Madrid to teenage sensation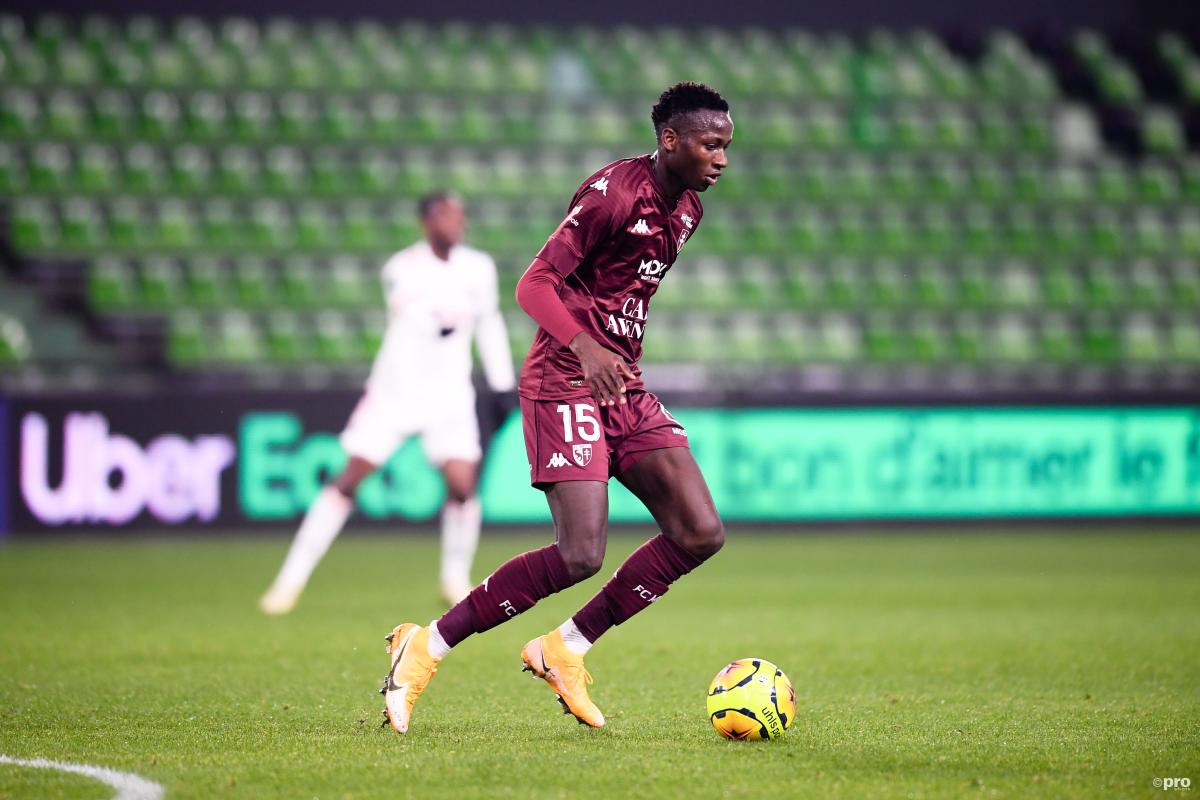 Pape Matar Sarr is reportedly bound for Tottenham, with the London side set to beat the likes of Real Madrid, Chelsea, Manchester United and Manchester City to the teenage midfielder.
Sarr is expected to move the Premier League club for a fee in the region of €17.5m, plus potential bonuses of €7.5m, while the Ligue 1 outfit are set to keep the 18-year-old on loan for the duration of this campaign.
It may fall someway short of the €40m that Metz had rather ambitiously aimed to recoup for the forward, yet it will still represent an enormous sale for a club with a reputation for successfully bringing African players to Europe.
He is the latest in a long line of talents to move from Senegalese academy Generation Foot to the Ligue 1 side, with Liverpool star Sadio Mane most notably blazing the trail.
But what is it that makes him such a wanted commodity?
What position does Pape Matar Sarr play?
Pape Sarr is a midfielder who specialises in his defensive play. He is adapt at winning the ball and protecting the defence, though he is also capable of playing in a more athletic box-to-box role.
How old is Pape Matar Sarr?
Pape Matar Sarr was born on 14 September 2002, making him 18 years old.
What is Pape Matar Sarr's height?
Sarr is officially listed at 184cm – or 6ft – tall by his club, though at 18, he is likely still growing.
How good is Pape Matar Sarr?
Sarr is a player who is still in the development stage of his career, but at just 18 he already ranks well among Ligue 1 midfielders. Indeed, one of the most interesting aspects of his game is just how well he can react to danger. His defensive positioning is considered to be elite among midfielders in France's top flight, comparable to Eduardo Camavinga of Rennes and Boubacary Soumare, who left Lille for Leicester in the summer.
Sarr is also a useful dribbler but where he can improve is his use of the ball. While his passing is typically strong, it can be risky, particularly in his own half, where he has a tendency to take chances. This daring is an asset further up the field, but he has not learned to temper it.
Furthermore, he has not started the 2021/22 season in particularly good form, with head coach Frederic Antonetti grumbling after a 2-0 loss in Nantes: "We had an incredible waste, especially from Sarr. Maybe because we're talking about his transfer so much, it's playing on an 18-year-old…"
Antonetti, though, holds the youngster in a high regard, describing him previously as a "midfielder who can do everything".
With Metz, he has typically played in a deep midfield role, but given the chance he is capable of operating in a more advanced position. Indeed, last season he returned four goals in 28 Ligue 1 matches, with a particularly ability to score from outside of the box.
What clubs are interested in Pape Matar Sarr?
A host of leading clubs are monitoring Pape Matar Sarr, including English giants Chelsea, Manchester United and Manchester City. Previously, Aston Villa were keeping tabs on him, but were put off by the price tag.
Real Madrid are also linked with a possible move for him.
From Italy, meanwhile, Atalanta are still involved in this particular dossier.
When does Pape Matar Sarr's contract expire?
Pape Sarr signed a five-year deal with Metz in 2020. This means his contract expires in 2025.
What football boots does Pape Matar Sarr wear?
Pape Matar Sarr wears Nike Mercurial Vapor XIII Elite cleats.
What is Pape Matar Sarr's Instagram?
Pape Sarr's Instagram account has 48.7k followers as of August 2021.