Pogba: Man Utd target Camavinga is like Mbappe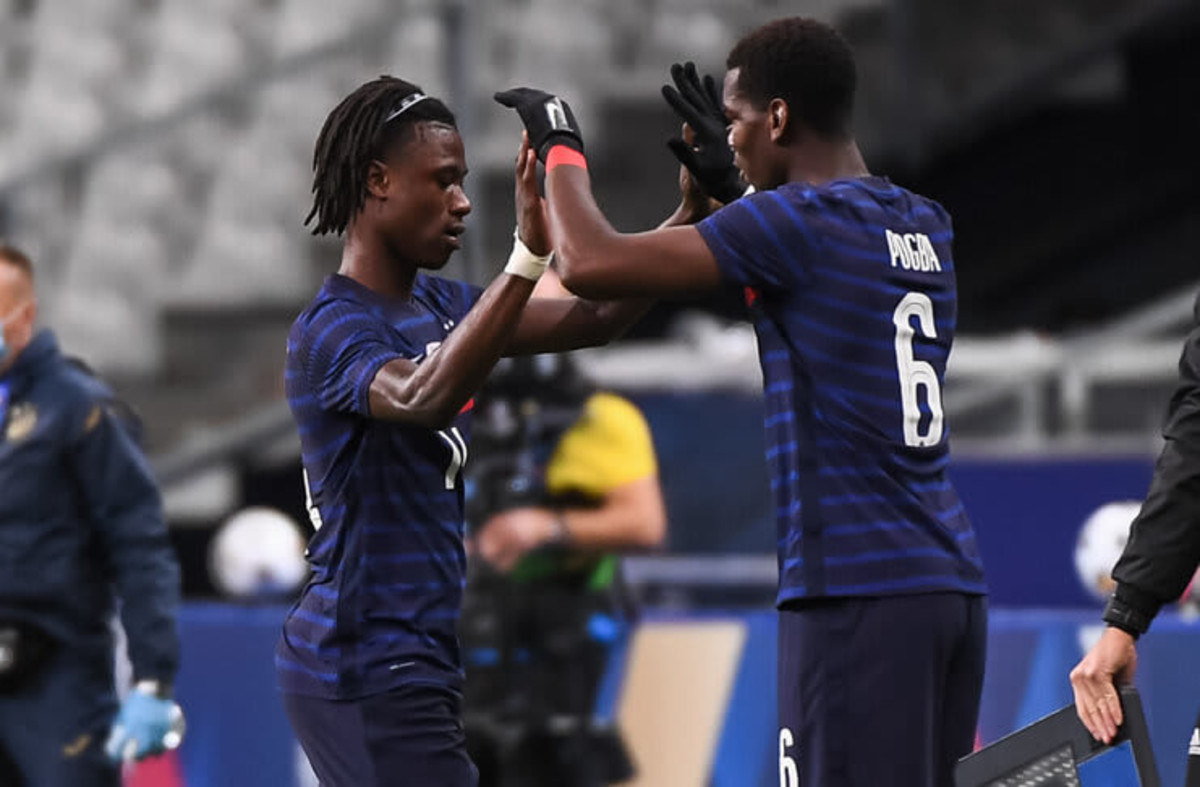 Paul Pogba has likened young French midfielder Eduardo Camavinga to Kylian Mbappe due to his maturity.
Camavinga burst onto the scene in the second half of the 2018/19 season after debuting for Rennes at the age of just 16 years and four months to become the club's youngest ever starter.
His development has been swift, as by aged 17 he was a full member of the first team squad an Rennes, while he has since become a starter.
At international level, he is already France's youngest international in 90 years and also their youngest goalscorer in over a century, having found the back of the net in a 7-1 demolition of Ukraine in the Nations League.
His performances have garnered plenty of praise and attracting glances from big clubs around Europe including Manchester United, Real Madrid and Paris Saint-Germain.
Even though he is only 18, Pogba thinks age doesn't matter with Camavinga - just like Mbappe.
"I followed his [Camavinga] matches in Ligue 1, he's young but he's like Kylian [Mbappe], you don't talk to him about age," Pogba said.
"He already has a maturity, a serenity that I didn't have at his age, and that a lot of players don't have.
"It's a pleasure to see him put on this jersey, score his first goal, it was beautiful. I only wish him the best and even more, because he has everything to succeed. The future is in his hands. He is also comfortable as a person."
He already has a maturity, a serenity that I didn't have at his age, and that a lot of players don't have
- Paul Pogba on Eduardo Camavinga
Who will sign Camavinga?
Real Madrid have been keeping tabs on Camavinga since his debut, but it is believed that at this point in his career he would like to stay in France with PSG.
However, there may be slight doubt on that move now that the Ligue 1 giants have acquired Georginio Wijnaldum on a free transfer from Liverpool.
It is said that current club Rennes' are unwilling to pay the large signing on bonus that Camavinga wants in any new deal.
A move to the capital makes logical sense as the next step in his career. Although it represents a jump up in level, it is not a complete overhaul from what he knows.
He will remain in the country in which he grew up and playing against opponents he is well acquainted with.
Furthermore, Camavinga's ability to provide a direct thrust from the midfield is something that PSG have missed in recent years. As such, he is likely to get game time at Parc des Princes that other young players are not awarded, even with Wijnaldum there too.
It is reported that the Ligue 1 side are asking for €100 million for Camavinga – a sum that even a club with the financial muscle of PSG will struggle to afford given the financial problems of Covid-19.
Man Utd and Real Madrid will, therefore, be monitoring events.
Certainly, there is scope for Rennes' price to be negotiated down. Camavinga only has one year left on his contract. Although the Ligue 1 side are owned by Francois Pinault, the 27th richest man in the world, and therefore have financial muscle that outmatches their reputation, their jewel is unlikely to reach this price.
Camavinga's case, therefore, remains a complicated one, and although PSG lead the way for the Rennes star at the moment, his other suitors must remain attentive.