'Is this a joke?' – Neymar's PSG performance against Man City panned in France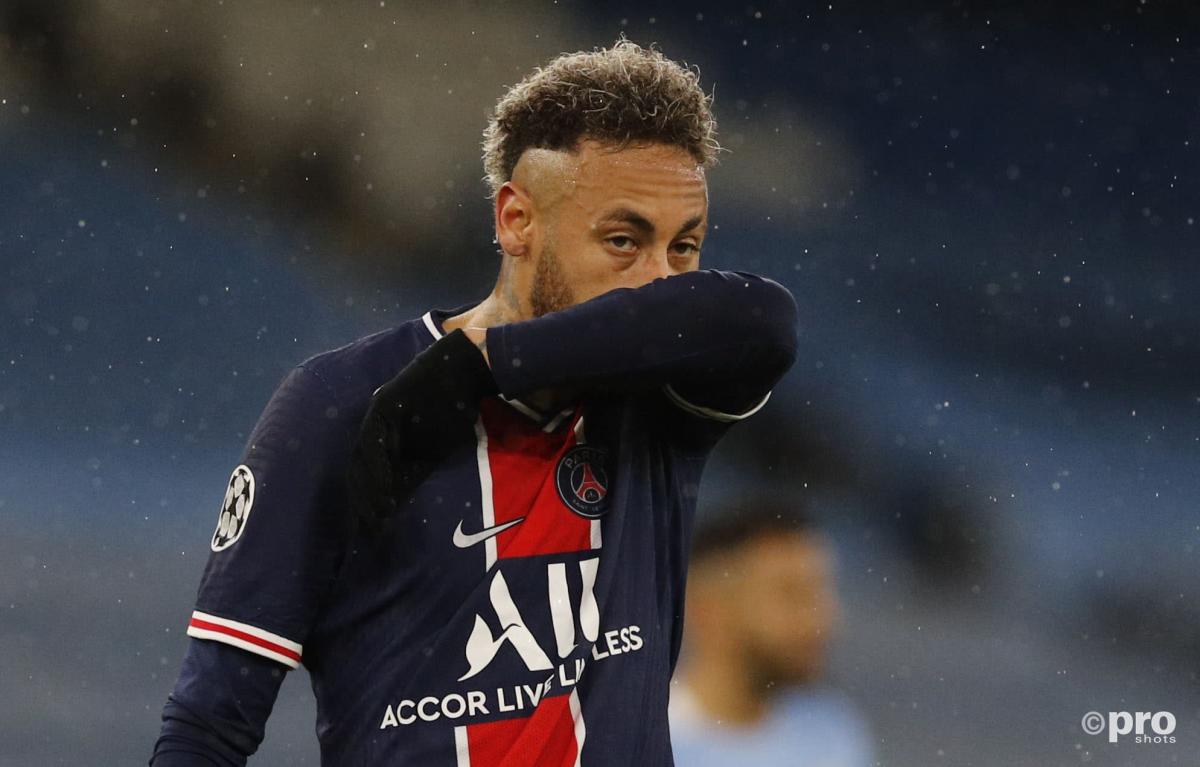 Neymar was the man Paris Saint-Germain were resting their Champions League hopes on as they travelled to Manchester City with the goal of overturning a 2-1 first-leg deficit.
Ultimately, they succumbed once again to the Premier League champions elect, going down to a 2-0 defeat at the Etihad Stadium, with Neymar impotent as Kylian Mbappe missed out.
READ MORE: Neymar and Mbappe can't do it alone – PSG's exit shows their squad-building flaws
His inability to influence the game was well noted in the press, who were not slow to criticise a man whose future appears in the balance as he has not signed a new contract with PSG.
How did Neymar play against PSG?
France Football were scathing of Neymar, giving him a mark of 2/10.
"Was it really necessary to take six touches every time he was on the ball? Neymar revealed his dark side against Manchester City. He wanted to do everything on his own. The centre of the world in his own eyes, he disgusted his team-mates by serving them much too rarely… Carried away by his emotions again, Neymar was catastrophic."
In L'Equipe, there was a little more leniency, though he was only given a 3/10 and an article in Wednesday's edition pointed out his "astonishing waste from the beginning".
"He never managed to find the balance between the Neymar who improves the game and the Neymar who destroys it. The more the clock passed, with this obligation of PSG to score two goals, the more it seemed he was crushed by the load," the paper said.
Speaking to RMC, former PSG player Jerome Rothen, a finalist in the Champions League with Monaco, said: "We expect more from Neymar. When he's focused in his head and when there are people who are making movements, he's incredible.
"If you want to extend his contract you also have to reframe his role. When he's not good as he wasn't against Man City, you have to tell him that.
"Sporting director Leonardo is protecting him because they're trying to prolong his deal.
"If PSG want to go forward with Neymar, his behaviour must improve."
Wenger criticises PSG's defence
Arsene Wenger, the legendary former Arsenal manager, did not lay the blame solely at the feet of Neymar, however.
"All we can say is that PSG played well, showed good qualities in some aspects of the game but were twice caught on the counter," he told BeIn Sport.
"I don't like how Fernandinho behaved tonight!"

Arsene Wenger takes a closer look at the defensive frailties of PSG, and believes Manchester City should have been reduced to ten men. #UCL #beINUCL

Watch Now – https://t.co/RRmQgctETJ pic.twitter.com/3IFf6rWyYD

— beIN SPORTS (@beINSPORTS_EN) May 4, 2021
"In these moments, the defence is not good enough to win the Champions League. They have enormous potential but they have to make adjustments. They need concentration, calm and control.
"You can't ignore that they finished both games with 10 men. They have to improve their discipline when things don't go well."
Naturally, though, the focus of PSG's loss is on Neymar, whose poor display has raised questions over whether he is the man to ultimately lead the club to Champions League glory.