Jota, Bale and the top Premier League goal scorers per 90 minutes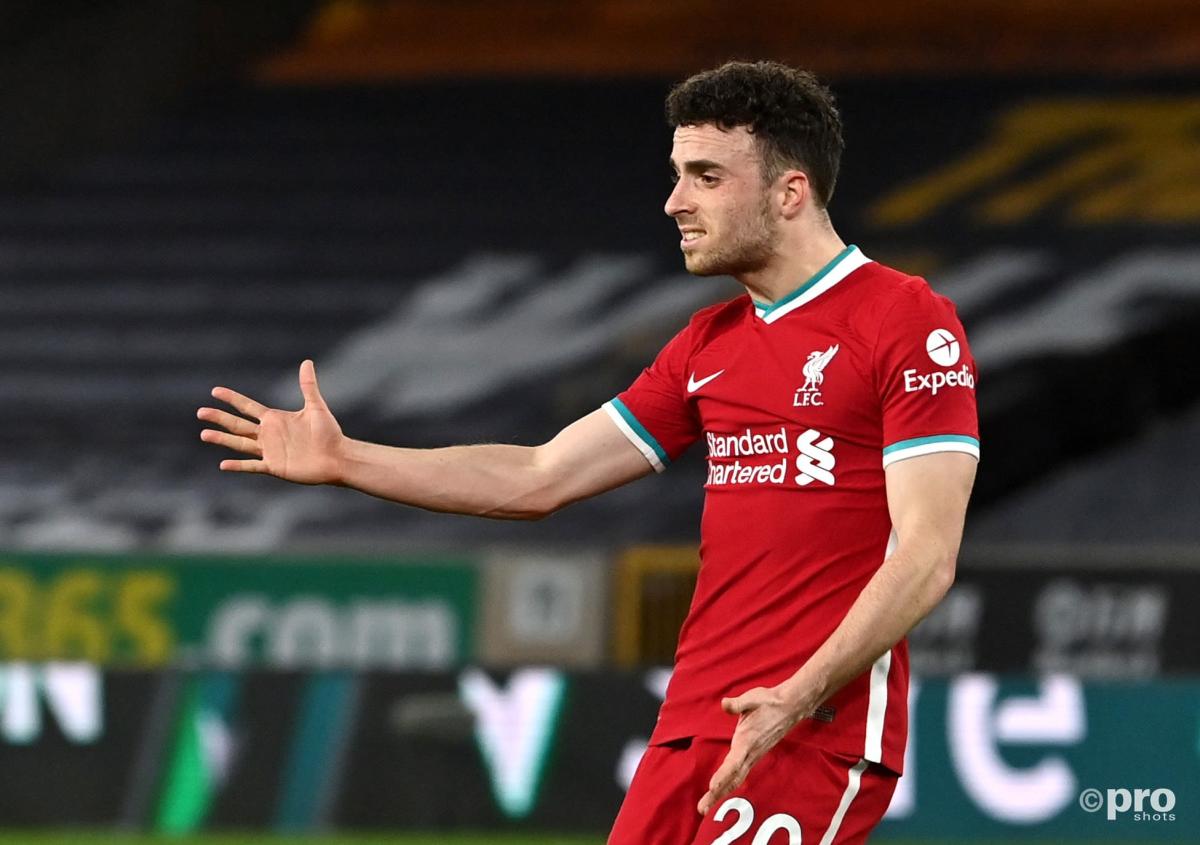 Diogo Jota's brilliant brace off the bench against Arsenal continued his stellar season at Liverpool, and further increased his goals record per 90 minutes.
The Portuguese has the best record in the Premier League, hitting the back of the net just about every full 90 minutes in the league with 0.99 goals P90.
He has eight league goals overall, and his form has continued for his country as well, with three goals to his name in two games over the recent international break.
The 24-year-old hit the ground running after his move from Wolves in the summer, netting on his league debut – against Arsenal, coincidentally – and scoring a superb hat-trick at Atalanta in the Champions League.
Jota then missed around three months of football after picking up an injury at the beginning of December, and his return for the Reds is now worth as much as a new signing.
Premier League: Goals per 90 minutes
| Player | Goals P90 |
| --- | --- |
| 1. Diogo Jota (Liverpool) | 0.99 |
| 2. Gareth Bale (Tottenham) | 0.81 |
| 3. Jesse Lingard (West Ham) | 0.73 |
| 4. Kelechi Iheanacho (Leicester) | 0.68 |
| 5. Mohamed Salah (Liverpool) | 0.67 |
| 6. Harry Kane (Tottenham) | 0.65 |
Stats from FootballCritic (min. five goals scored)
With Jurgen Klopp's side falling into a torrid run of form in Jota's absence, his comeback to the pitch and the immediate resumption of his goalscoring form will be crucial for Liverpool approaching the final two months of the season.
The reigning Premier League champions are now two points adrift of the top four and will face Real Madrid this week as they chase an unlikely Champions League crown.
Liverpool are rumoured to be in for a new striker in the coming summer, with Erling Haaland believed to be on the wishlist, but Jota's emergence could negate that need if his success continues.
Do Liverpool need Haaland with Jota already there?
Interestingly, each of the top three players in the list are new signings for their clubs. Gareth Bale is second with 0.81 goals P90 after two doubles in the space of a week last month.
They account for four of his five goals in total in the league, but he has only made six starts and a further seven appearances off the bench.
Despite that purple patch a month ago, the Welshman has been largely disappointing in his Tottenham return and recently admitted he is planning on a return to parent club Real Madrid in the summer.
Jesse Lingard comes in third place, averaging 0.73 goals P90. The 28-year-old didn't see a single minute of Premier League action for Manchester United until his loan move to West Ham in January rejuvenated his career.
Five goals in seven games have helped keep West Ham in the hunt for Champions League football and earned Lingard a recall to the England set up, something that would have seemed impossible just months prior.
Kelechi Iheanacho, recently named Premier League player of the month, ranks fourth with 0.68 goals P90, while the league's current top two goal scorers round out the top six with Mohamed Salah and Harry Kane averaging 0.67 and 0.65 goals P90 respectively.