From world's best midfielder to Liverpool reserve – what went wrong for Thiago Alcantara?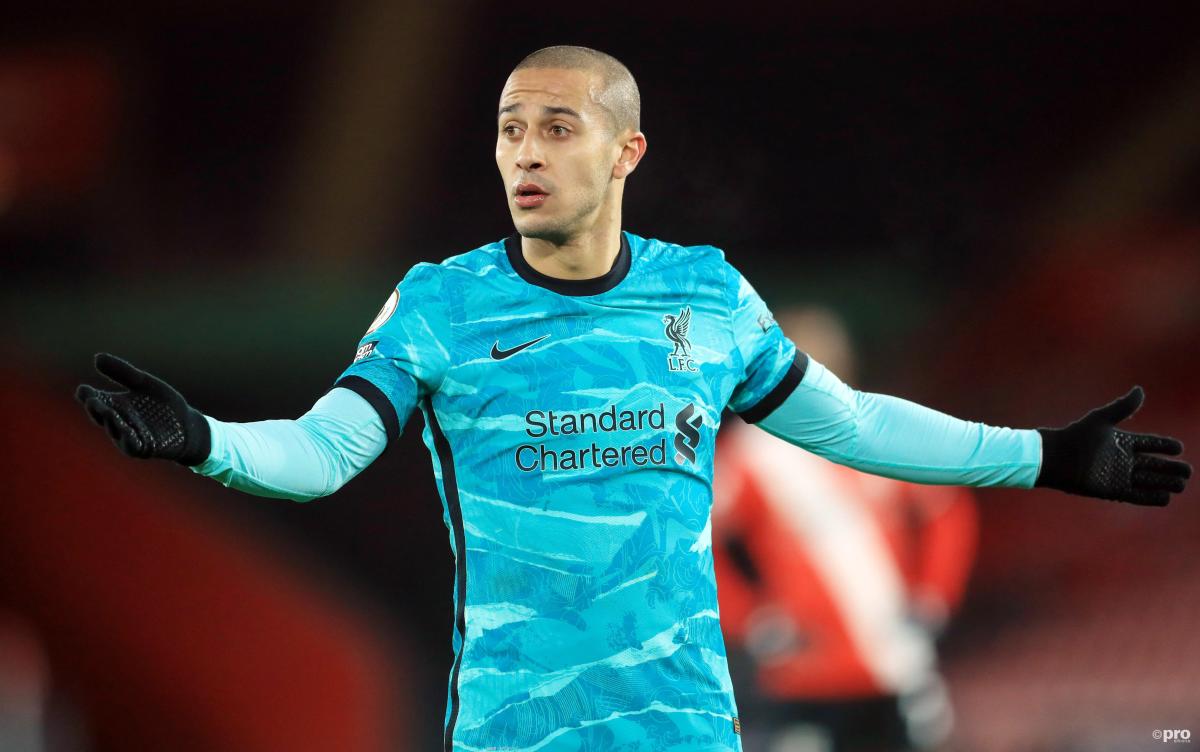 Liverpool seemed to throw everything at Real Madrid in the second leg of their Champions League quarter-final tie on Wednesday night.
Andy Robertson and Trent Alexander-Arnold bombed down both flanks, Mohamed Salah and Madio Sane danced through defenders to make space for each other on multiple occasions, and James Milner and Gini Wijnaldum took turns hitting shots from the edge of the box.
But, try as they might, Liverpool just couldn't break through Real Madrid's stubborn defence and the expertise of Thibaut Courtois behind it.
However, if there was one player that Jurgen Klopp seemed reluctant to try it was Thiago Alcantara.
Not only was the former Bayern Munich star benched in favour of the more defensive and industrious trio of Fabinho, Milner and Wijnaldum but the Spaniard wasn't afforded an opportunity to show his worth until the 60th minute.
READ MORE: Champions League changes face last-minute opposition from Manchester United
Why hasn't Thiago worked at Liverpool this season?
Having joined the club for £20 million from European champions Bayern Munich, Thiago was supposed to be the cherry on Klopp's Premier League cake – the player with the finesse and playmaking skills to marry Liverpool's industry with clinical passing.
However, as has often been the case in Thiago's career, injury got in the way at the worst possible time.
Even after putting aside the struggles of adapting to a new league in the midst of a global pandemic, Thiago was also struck down by the virus itself, limiting his interactions with his new club as well as any training or game time.
Then, once it seemed as though the Spaniard would finally step into Klopp's team, Thiago picked up a knee injury that ruled him out for a massive 16 games. In a normal campaign that would be seen as a huge loss and sympathy would have rained down from the Liverpool support, but in this most extraordinary campaign, Thiago was simply added to the growing injury list and essentially forgotten about. 
As such, Thiago didn't make two, consecutive starts for his new club until January 17, when he was jettisoned into a team that was well and truly on the rocks. He may have regained his fitness and composure, but he was stepping into a team that was as dysfunctional as it could have been.
In a stretch of 11 consecutive starts for Klopp's side in the Premier League, Thiago played his part in just three victories.
As such, despite now being at Liverpool for seven months, it remains impossible to isolate Thiago's poor form from the injury issues he's gone through, Liverpool's wider struggle to keep its squad fit and the all-round mess this season has devolved into.
We may not see the real Thiago do what he once did for Bayern in a Liverpool shirt until next season. And until then the midfield magician may have to just keep himself warm on the bench and settle in as best as he can.