Van de Beek's lack of impact at Man Utd leaves Paul Pogba with bargaining power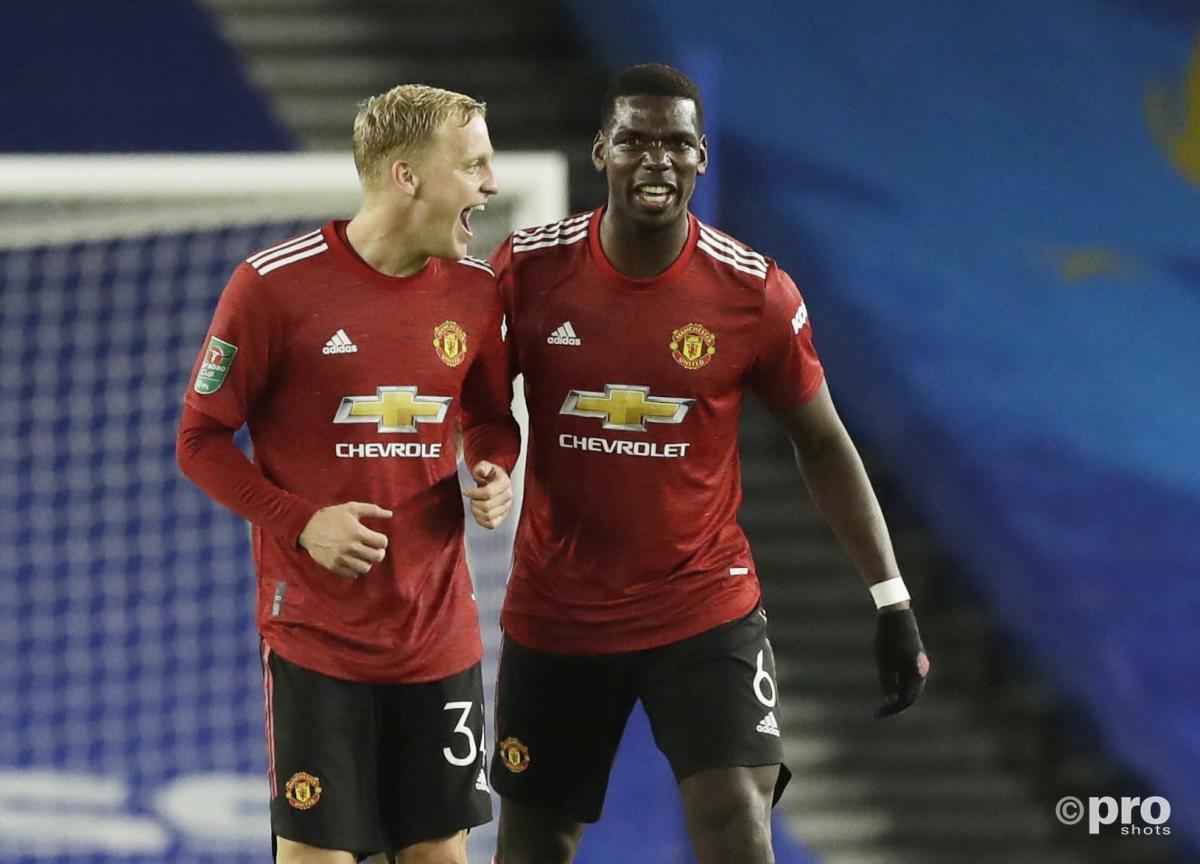 Donny van de Beek arrived at Man Utd as their marquee signing in the summer transfer window after manager Ole Gunnar Solskjaer sanctioned a £35.7m (€39.4m) deal to bring him to Old Trafford from Ajax.
Though the club would also go on to recruit Edinson Cavani, Alex Telles, and Amad Diallo, the outlay on the Dutch attacking midfielder was their biggest of the summer window.
However, he has not lived up to the price tag as of yet.
Van de Beek has started just 11 games so far this season for Man Utd, but has been primarily utilised in cup matches. He has started two games in the Premier League, three in the Champions League, three in the FA Cup and three in the League Cup.
In 1073 minutes of football, he has one goal and one assist to his name.
His latest outing saw him given another start in a cup competition, this time in the FA Cup when Man Utd hosted West Ham on Tuesday evening.
Van de Beek versus West Ham
| Stat | Value |
| --- | --- |
| Minutes | 73 |
| Goals | 0 |
| Assists | 0 |
| Shots | 1 |
| On Target | 0 |
| Completed Dribbles | 0 |
| Completed Crosses | 0 |
| Pass Completion | 84% |
Via FootballCritic
To say that Van de Beek's contribution was ineffectual would be an understatement, as he played within himself and didn't seem to have the confidence to attempt, well, anything meaningful.
He would eventually be replaced by Bruno Fernandes, and there was an instant feeling in the air that Man Utd would improve with the Portuguese maverick on the pitch.
Unfortunately, the problem that Van de Beek currently has is that he will be compared to the man he replaced – Fernandes – every time he is on the pitch now, and the difference in goal contribution outlay is so vast that the Dutchman will constantly be viewed as a downgrade – whether he is being utilised in the correct manner or not.
In his best days at Ajax, Van de Beek was famed for his late runs into the box from deeper positions in midfield – he was never a playmaker, that was left to the likes of Frenkie de Jong and then Hakim Ziyech.
Now, he has been asked to be the creator behind the striker, and he isn't up to it, especially when compared to someone like Bruno Fernandes.
Van de Beek's problem is Pogba's advantage
One man who has shone in Man Utd's midfield in recent months is Paul Pogba, who is enjoying one of his best spells at the club in terms of form.
Earlier in the campaign, his agent Mino Raiola told Tuttosport.
"I can say that it's over for Paul Pogba in Manchester. It's better to speak clearly, look ahead and not waste time. He has to change teams.
"His contract will expire in a year and a half, in the summer of 2022, but I think the best solution for everyone is if there is a deal in the next market.
"Otherwise, Man Utd risk losing him on a free transfer given it's not the player's intention to extend his deal."
Raiola, and Pogba, came under huge criticism following these comments.
Since then, however, Pogba has been excellent, and after previously losing his place in the team to the likes of Fred and Scott McTominay, manager Ole Gunnar Solskjaer has started to put him in various positions including on both wings just to get the World Cup winner into his starting XI.
Though Pogba's goal contributions could undoubtedly be better as he has just three goals and no assists in the league this season, his influence in the game can be felt in other areas.
His tendency to make things overly complicated in previous performances for Man Utd has been almost eradicated, as he now shares the creative burden with Fernandes.
Indeed, Pogba, it seems, has actually realised that his Portuguese team-mate is better suited to those cute balls in and around the penalty area, and so takes a back seat in the final third for the most part.
Will Pogba leave Man Utd?
Van de Beek was viewed by some as a potential replacement for Pogba should the Frenchman move on, and although he still has time to come good, the signs aren't great.
Pogba performances do present a bit of a problem for Man Utd, though, as when Raiola said Pogba wanted to leave in the first half of the season, the Old Trafford hierarchy would have been more open to the idea than they are now, due to his recent performances.
Whether or not Pogba signs a new deal or moves to Real Madrid or Juventus, he now holds all the cards at the negotiating table, and will be able to cite his increased performances as leverage to either get more money or get his desired move away.