Who is Julian Alvarez? The Argentine sensation wanted by Real Madrid and Liverpool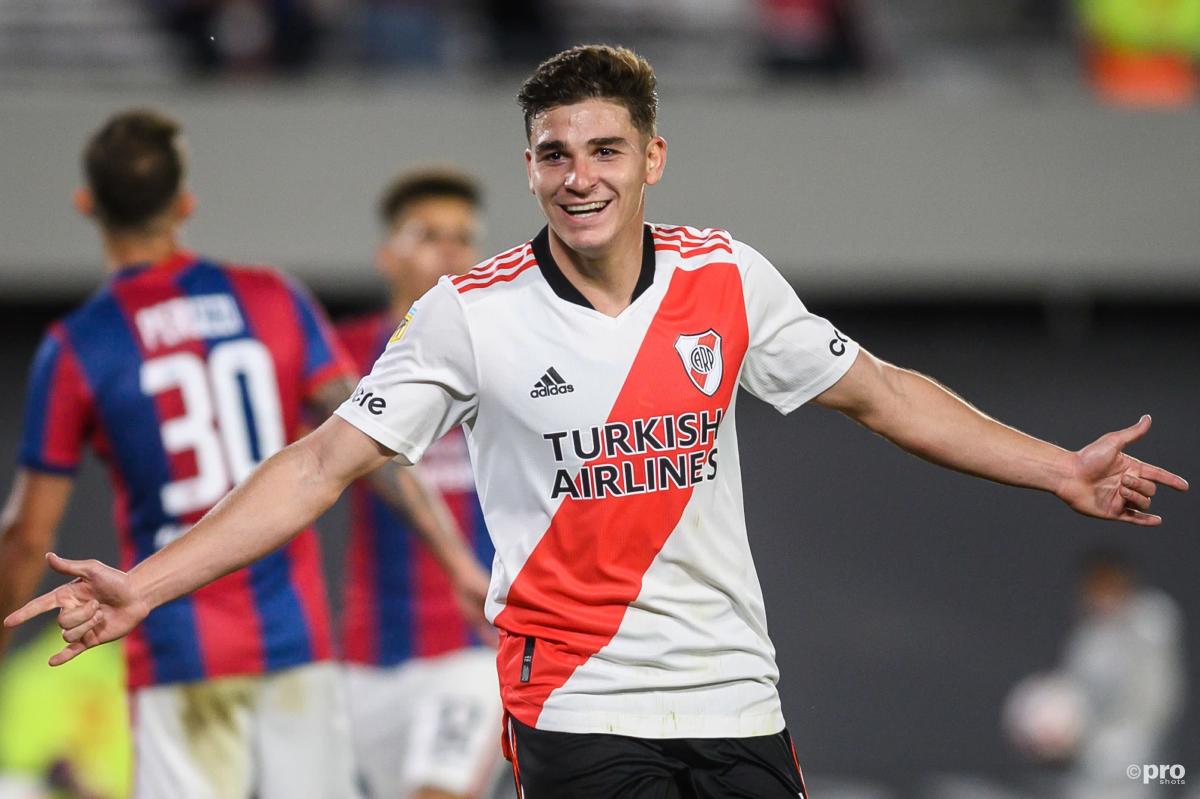 River Plate wonderkid Julian Alvarez has the perhaps unfortunate label of being 'the next Lionel Messi'.
There have been a number of players unfairly compared to the Paris Saint-Germain superstar over the years only to fail to live up to expectations.
Even if Alvarez does not reach Messi's heights, the chances are he will develop into a fabulous footballer.
The evidence for that is that he is already a marvellous player, so what kind of talent do River have on their hands?
FOOTBALLTRANSFERS' MOST VALUABLE PLAYERS IN THE WORLD
What position does Julian Alvarez play?
Alvarez mainly plays as a centre-forward, but can also play on the wing.
How good is Julian Alvarez?
Any player likened to Messi will have something about them, but in terms of how he actually plays, the main reason Alvarez is compared to Messi is the fact they are both Argentine.
While Messi made his name as a mercurial winger, Alvarez plays best through the middle as a central striker.
He is probably a harder worker than Messi was at his age, too, as he constantly pressures defenders, utilising his stamina and aggression.
Like Messi, Alvarez possesses a lovely command of the ball and a flair which allows him to be confident on the ball in the final third.
He has a lovely bit of acceleration to get him beyond opponents, while he is also stronger than he looks, too.
Alvarez joined River from Atletico Calchín in 2016, and prior to that actually had a trial with Real Madrid in which he impressed.
Though he made an impression in the white of Los Blancos, Real Madrid could not sign him at the time due to age restrictions.
He would go on to make his senior debut for the Argentine giants in October of 2018 in a fixture versus Aldosivi.
Alvarez has truly came into his own in 2021, with a magnificent return of 20 goals and 13 assists in just 21 starts in all competitions.
It is that kind of form which has led to the suitors starting to queue up.
Former River striker Sebastian Abreu was full of praise for Alvarez, telling ESPN:
"Julian Alvarez is the Argentine soccer striker that I like the most, I discover nothing by saying this. I see it very complete and it also has the most important thing to have in football
"He is constantly hungry and I see that in players like [Luis] Suarez, [Edinson] Cavani and Julián Álvarez. He does not skimp, he does not underestimate and he breaks you in the middle being small, large or medium. These players are like that, they don't look at who is in front, they want to score as many goals."
What clubs are interested in Julian Alvarez?
The club leading the race for Alvarez's signature remain Real Madrid, and of course already have a relationship with the player and his representatives following his few games with the club as a youngster.
Sportitalia have reported that Madrid have recently made contact with the club's entourage about making an official move.
Liverpool are the English club most linked with Alvarez, with the Reds viewing him as a potential long-term replacement for Roberto Firmino.
Juventus, Milan and Atletico Madrid have also enquired about his availability.
How old is Julian Alvarez?
Alvarez was born on 31 January, 2000. He is 21.
What is Julian Alvarez's height?
Alvarez is 170cm tall, or 5ft 7in.
What is Julian Alvarez's weight?
Alvarez weighs 71 kilograms, or around 11 stone.
When does Julian Alvarez's contract expire?
Alvarez's contract expires in December of 2022.
Who is Julian Alvarez's girlfriend?
Alvarez is not currently dating anyone publicly.
What is Julian Alvarez's Instagram?
Alvarez's Instagram has 1 million followers as of November 2021.