Fabio Vieira: Arsenal's €40m signing will be the new Mesut Ozil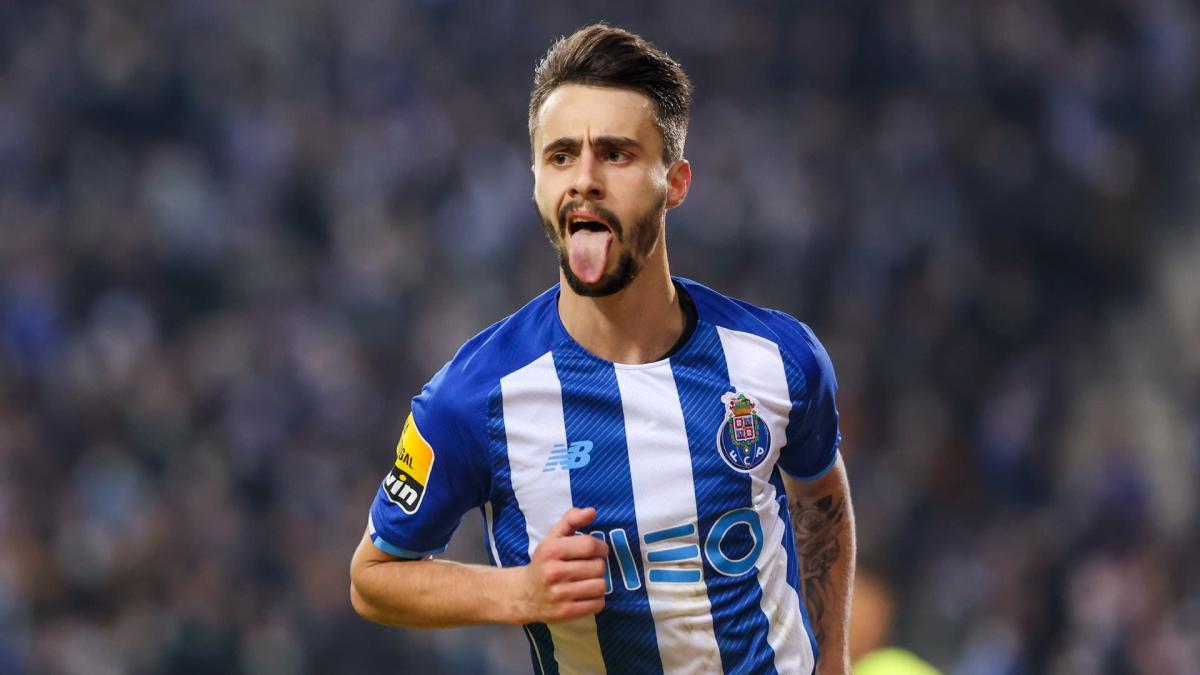 Fabio Vieira has continued the exodus of star players leaving Portugal's top sides as he joined Arsenal in a transfer worth up to €40 million.
In January, Luis Diaz left Porto and immediately made an impression at Liverpool, and about a week ago Darwin Nunez decided to join him in Merseyside. Matheus Nunes is poised to leave Sporting CP, Vitinha is close to an agreement with PSG, while Porto team-mate Vieira is bound for the Emirates.
Vieira is as exciting an addition as any of the aforementioned stars, and is capable of becoming Arsenal's craftiest player since Mesut Ozil peaked.
The 22-year-old Portugal youth international spent most of last season as an attacking midfielder when Porto operated in a 4-2-3-1 formation. The Portuguese champions mainly used a 4-4-2 system, though, and Vieira did not have a defined role in this. At times, he played as a second striker next to a more traditional No.9 like Mehdi Taremi, but he was also used on either side of the midfield on occasion.
A creative machine
Primarily, he likes to operate in the right half-space, as his heatmap for the 2021/22 season indicates.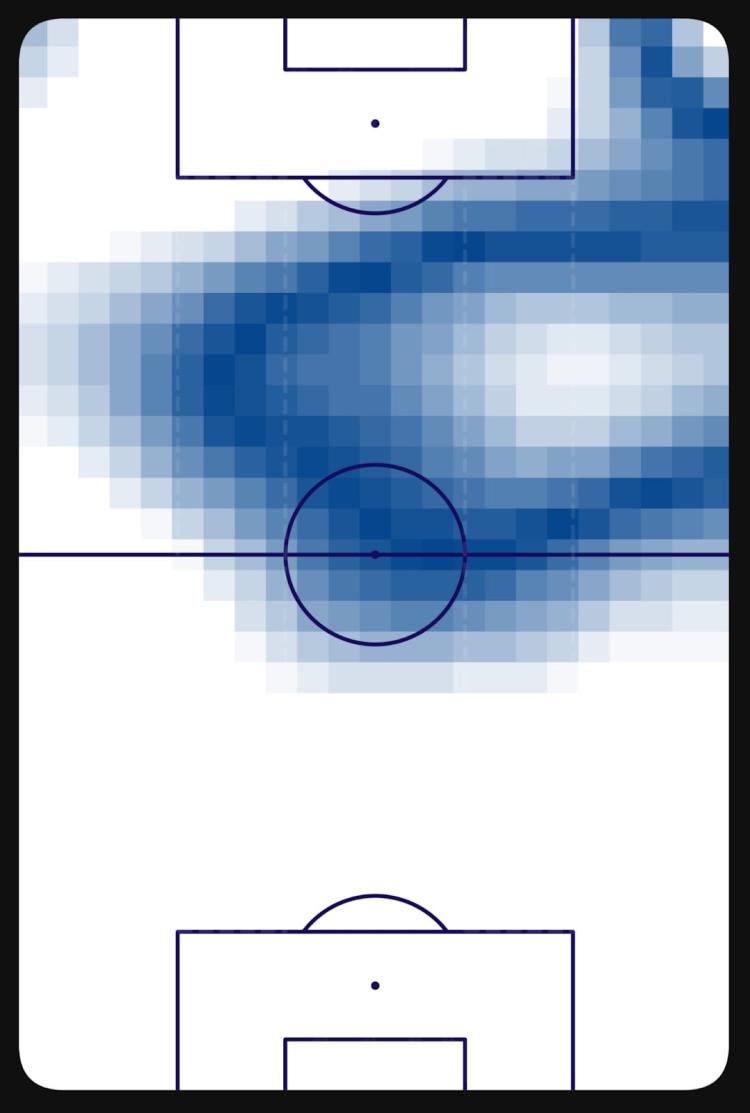 Despite being shifted around positionally, Vieira's attacking output was very impressive as he scored six goals and assisted 14 others in just 27 appearances. Just under half of those outings were off the bench, though, so he averaged a formidable 1.15 goal involvements per 90 minutes.
Looking at his shotmap, it is clear to see that Vieira loves to cut inside form the wing and gets shots away from outside the box. Most of his goals, however, have come from inside the penalty area.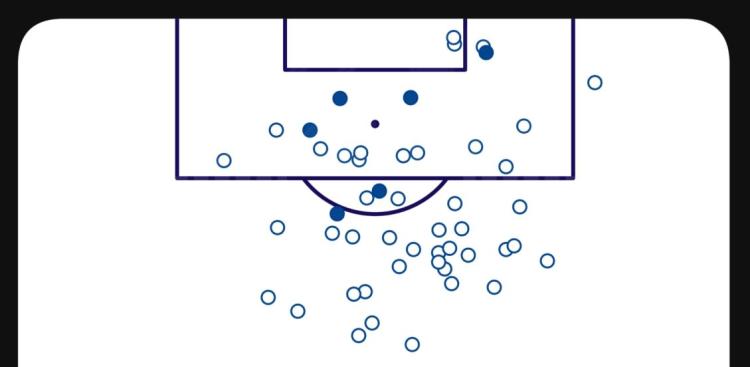 As his statistics indicate, though, the main thing he excels at is creating chances for his team-mates. Looking at his key passes from last season, we can clearly see three patterns: through balls from central areas, in-swinging crosses from the right and set-piece deliveries.
The first of those, through balls from central areas, is Vieira's trademark move. These are very high difficulty passes that require a great level of ball control as well as vision - Vieira possesses both of those attributes in abundance. He is a diminutive technician and has great close control, so he excels at finding pockets of space and quickly turning before releasing a pass to one of his team-mates.
A great example of this came against Moreirense.
Vieira starts by taking up a position between the opposition lines where a team-mate can find him with a forward pass.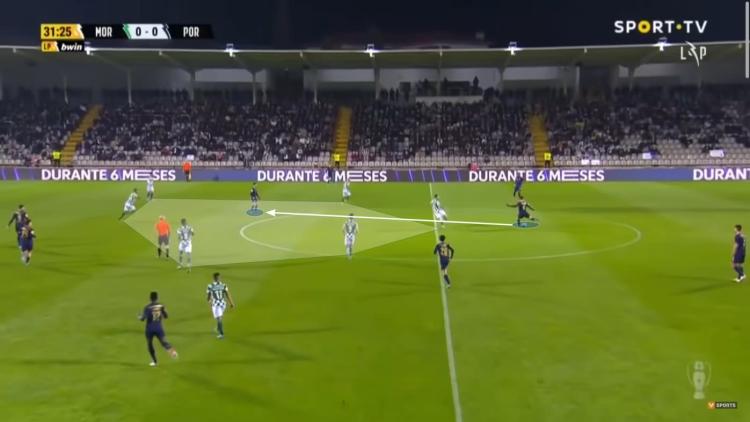 Then, as the opposition defender charges him down, Vieira feints to receive the ball on the half-turn, before taking a touch inside to get away from him.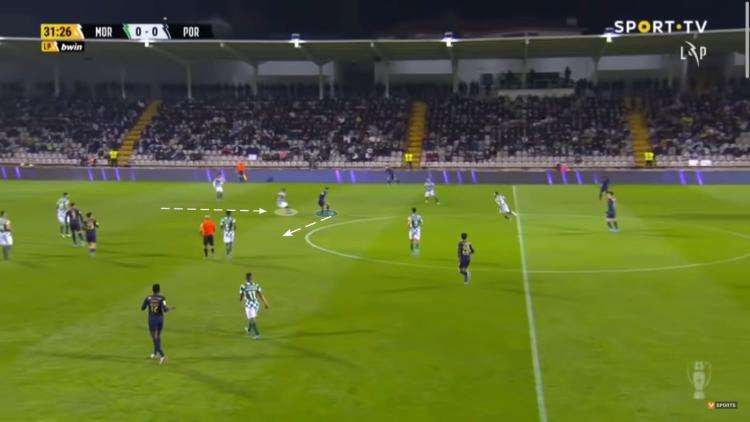 He then has time to look up and see the run of his team-mate, who he then picks out with an inch-perfect through ball.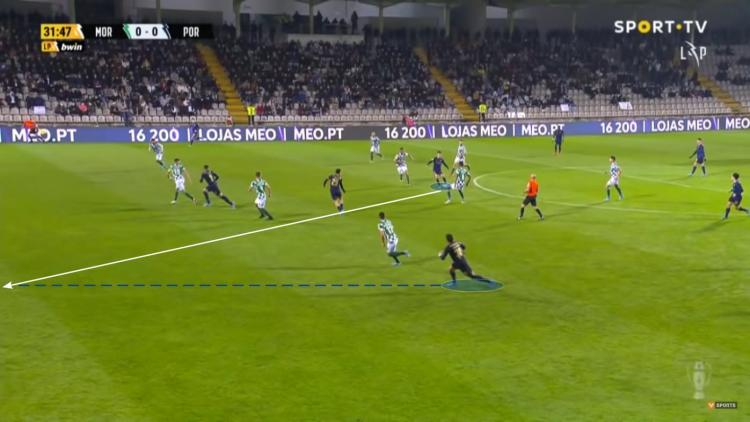 This sort of forward passes can also be seen in Vieira's progressive passing map, as he tends to get the ball in and around the box (especially in the half-spaces) from the edge of the final third in a similar manner.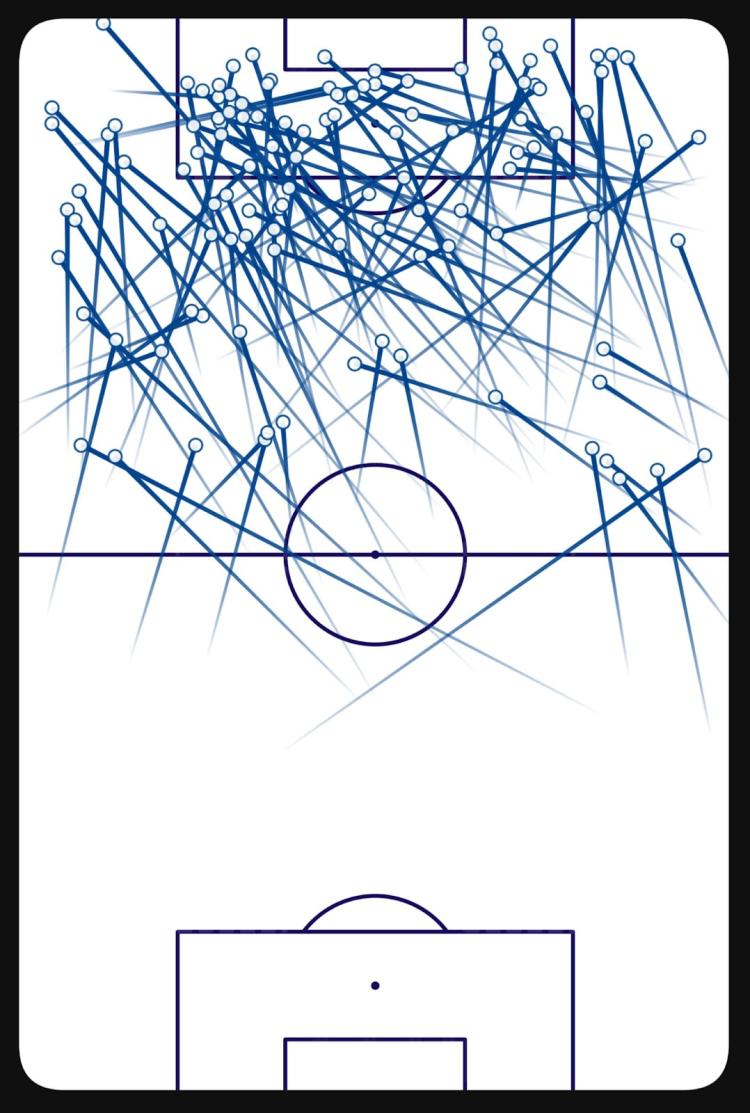 Despite his excellent ball control, Vieira generally does not look to carry the ball forward and take opponents on as he averages just 0.8 dribbles per match. He does showcase this ability in transition, though, which is where most of his progressive carrying is done, and therefore his event map of that looks quite direct.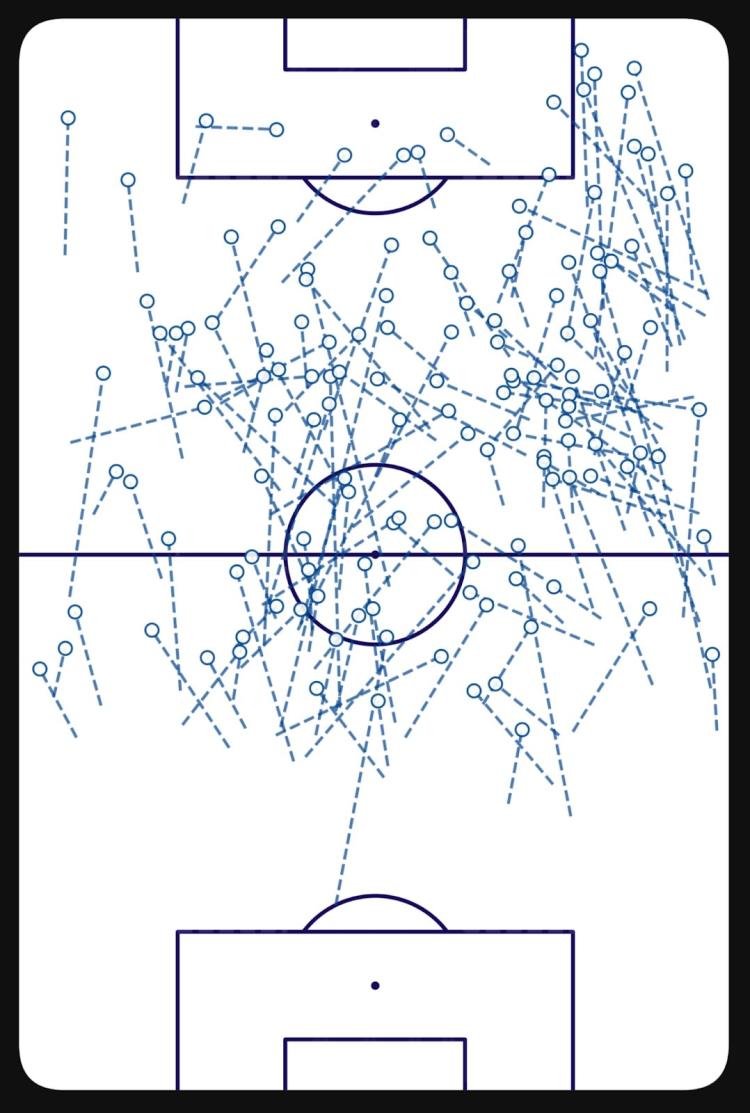 Vieira's defensive numbers are not very high, but that is primarily a result of playing for a side that does not usually look to press in the opposition half, so this should not be a concern. He will easily be able to adapt to Arsenal's system out of possession, but the real question is what sort of role he will play in possession.
How Vieira will fit in at Arsenal
In Arsenal's 4-2-3-1 formation, both positions where Vieira seems a natural fit – as the No.10 or as the right winger – already have established starters. Martin Odegaard is similar to Vieira stylistically and has done a great job since making his move from Real Madrid permanent, while Bukayo Saka currently looks undroppable on the flank.
Of course, Vieira can offer high-quality squad depth in both positions, but with an initial pricetag of €40m, Arsenal certainly are not getting him cheap, so this would be a hefty fee for a rotation option.
One potential opening in a starting spot for Vieira might be in the left of midfield in place of Granit Xhaka. Although the Swiss international has a deeper role on paper, Arsenal's system in possession looks a lot more similar to a 4-3-3 than a 4-2-3-1, as his average position from last season indicates.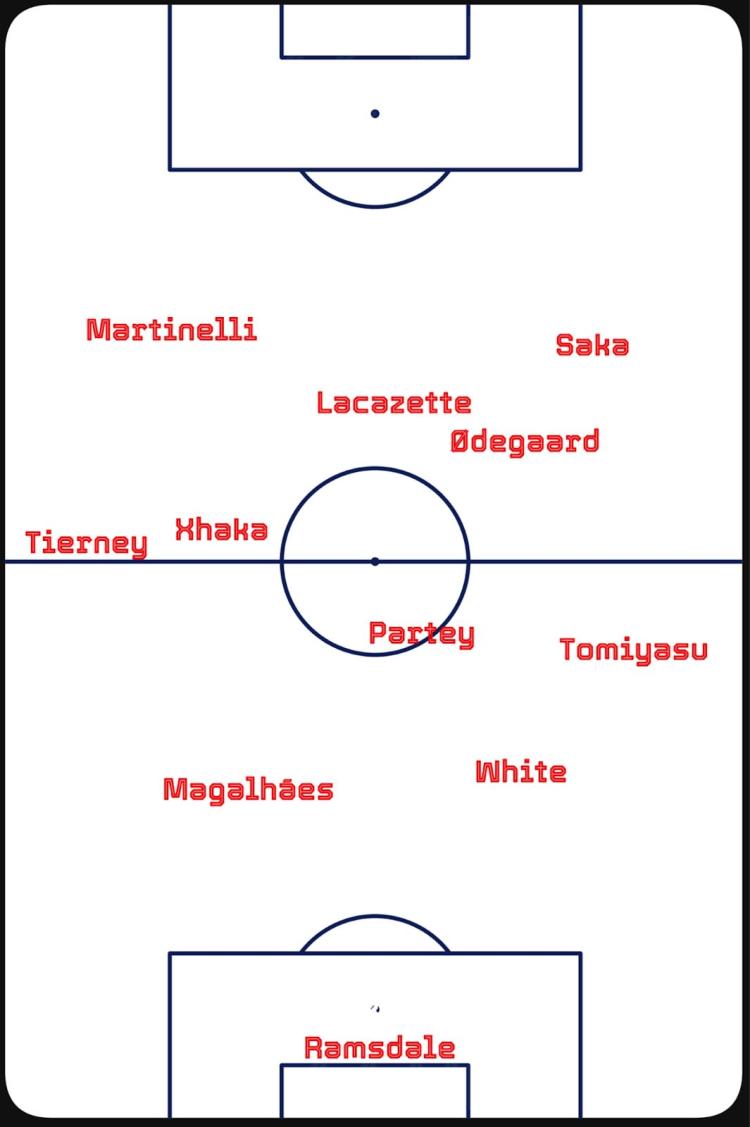 This would certainly be a risk, though, as Vieira's left-footedness means that he is better suited to operating in the right half-space, so there have to be doubts over his ability to perform at the same level on the opposite side. Additionally, he is not suited to defending in a deeper role as Arsenal move into a 4-4-2 shape out of possession, although this issue can be avoided by switching to a more concrete 4-3-3.
There can be no doubt over the fact that Vieira is a very talented player who still has his best years ahead of him at just 22, so Arsenal obviously are making a fine addition to their squad. It will be interesting to see, however, just how Mikel Arteta elects to unlock his talent.