Neville disgusted at 'imposters', calling Super League 'a criminal act'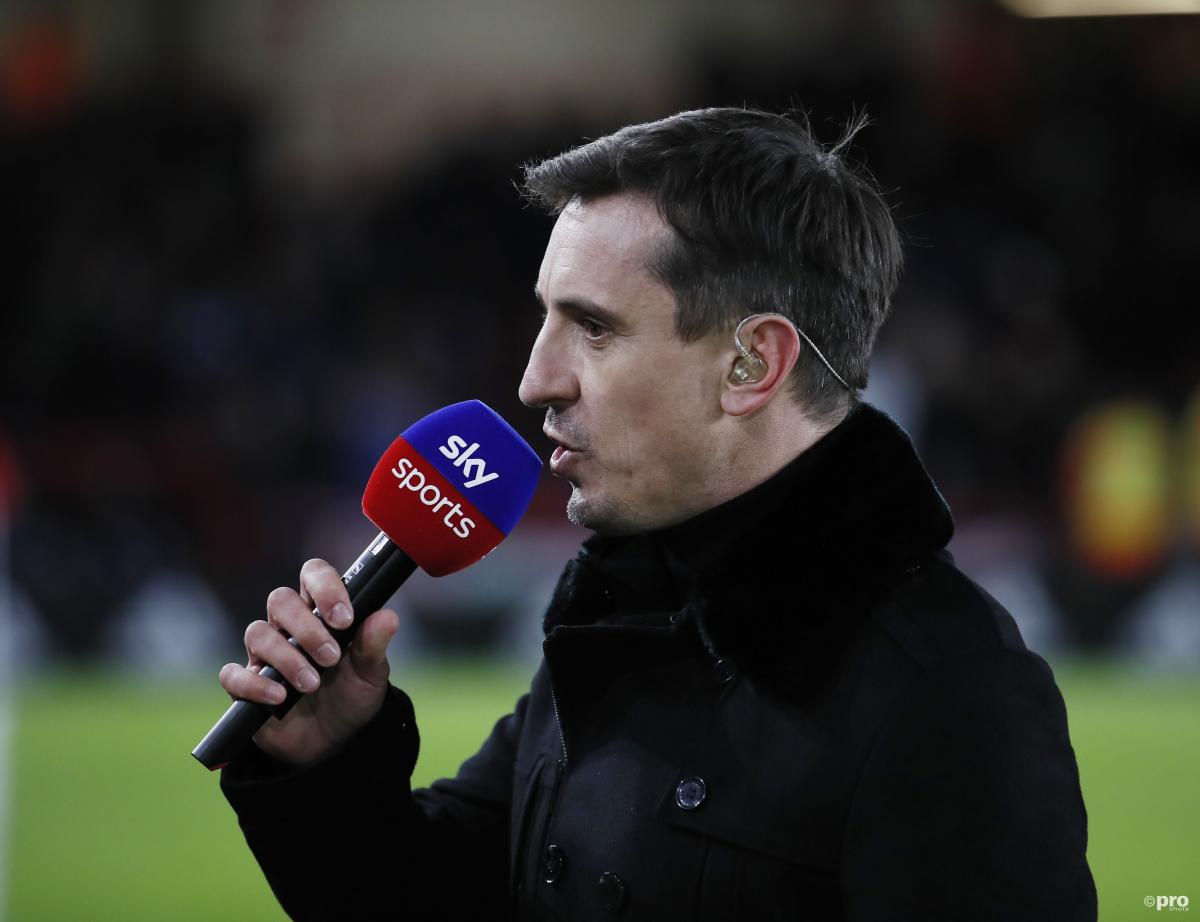 Gary Neville made his opinion on the European Super League proposals during Sunday's live broadcast of Manchester United v Burnley.
Multiple reports emerging on Sunday suggest that Uefa's 'Swiss Model' has been outright rejected by 12 breakaway members of the European Club Association (ECA); the Premier League's top six, Milan, Juventus and Inter from Italy and Real Madrid, Barcelona and Atletico Madrid from Spain.
The rumours have prompted an emphatic statement from both the Premier League and Uefa, both organisations making it clear that the Super League plans, which involve a private equity funded league competition played alongside domestic leagues.
READ MORE: 'Enough is enough' – Uefa condemns 'cynical' Super League project
But during Sky Sports' broadcast of the match, former Manchester United defender Neville made his feelings on the rumours well known.
UEFA, the English Football Association, the Premier League, the Royal Spanish Football Federation (RFEF), LaLiga, the Italian Football Federation (FIGC) and Lega Serie A have today released a statement.

Read it in full here:

— UEFA (@UEFA) April 18, 2021
"This Super League, are Arsenal in it?," he said.
"They've just drawn with Fulham. Manchester United are drawing with Burnley. They should be ashamed of themselves.
"I must admit I can't concentrate on the game. They should deduct all top six teams points that have signed up to it.
"Deduct points off them all. To do it during the season. It's a joke."
Neville's comments are likely to be felt and recognised by fans across the entirety of the Premier League, and the story will continue to develop over the coming days.
Neville's rant at full-time
Neville didn't hold back at full-time, either, going after the owners of the Premier League clubs in particular. He had some stinging words for the management of Liverpool and Manchester United, branding them 'bottle merchants' and their move a 'criminal act'.
He said: "I'm disgusted, absolutely disgusted. We have to wrestle back the power in this country from the clubs at the top of this league. 

"It's pure greed, they are imposters. The owners of these clubs have nothing to do with football in this country. 
There's 100 years of history in this country and it needs protecting. The principles and ethos of fair competition.
"They're an absolute joke. The time has come now – independent regulators. Enough is enough. 

"We know what the motivation is, it's greed. Deduct them all points tomorrow, put them at the bottom of the league and take the money off them. You have got to stamp on this, it's criminal, it's a criminal act against the fans in this country. 

"Deduct points, deduct them money and punish them.  

They [the owners] are bottle merchants, you never hear from the owners of these clubs. They've got no voice. They'll probably hide in a few weeks and say it's nothing to do with them. 

"Football clubs in the National League going bust, football players on furlough, clubs on the edge in leagues one and two, and these lot are having a zoom call about how to create more greed? It's a joke."