Brandt, Isco, Aouar or Buendia: Who will Arsenal sign?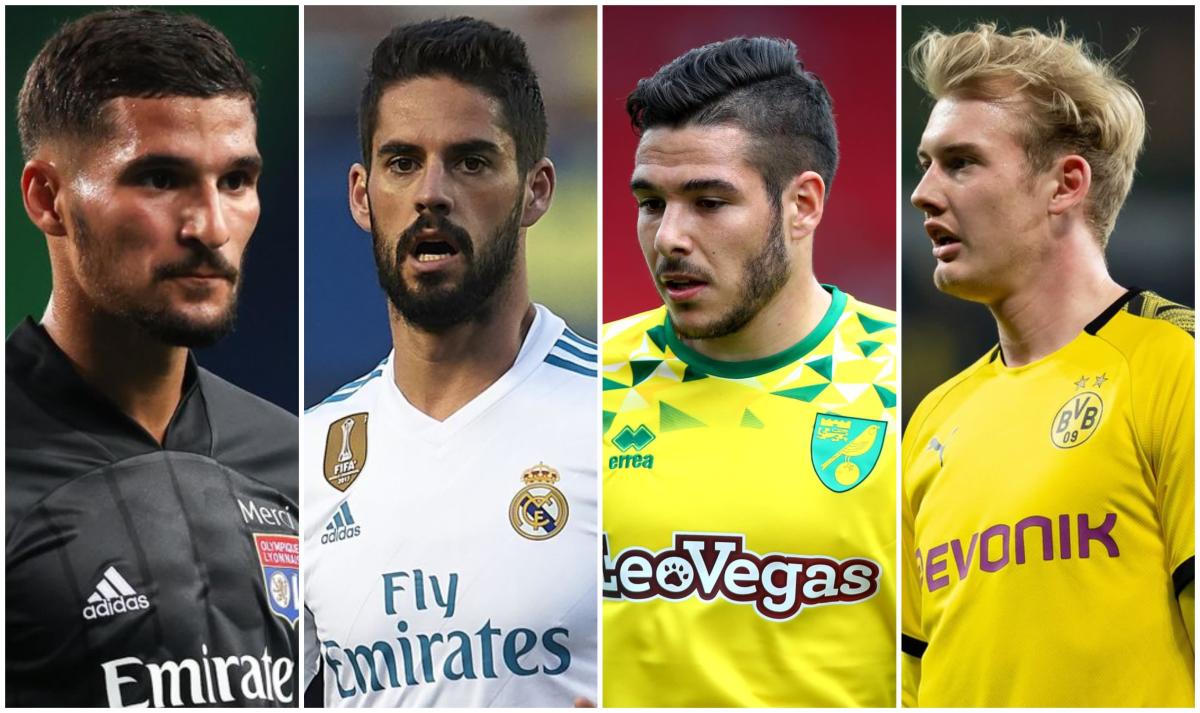 Although Mikel Arteta's Arsenal side may be enjoying an uptick in performances in the Premier League, there's little doubt the North London side will need to invest heavily in new recruits before the end of the January transfer window.
Arteta can rely upon an outstanding goalkeeper in Bernd Leno, impressive defenders like Kieran Tierney and Hector Bellerin and has dynamic goalscorers in the form of Alexandre Lacazette and Pierre-Emerick Aubameyang, when they're on form and used correctly.
However, Arsenal desperately need some creative midfielders and if Arteta is set to dive into the transfer window for some solutions to his problems then the following players seem like the most likely candidates for the job.
READ MORE:
JULIAN BRANDT
Arsenal may consider this season as something of a turbulent, transitional period for the team but it probably pales in comparison to Julian Brandt's Borussia Dortmund side at the moment.
Not only is Brandt in and out of the team with little consistency, but he's also now without a manager as interim coach Edin Terzic takes the team till the end of the season. Nobody really knows which way the wind will blow at Dortmund in six months time and as such a January exit may be ideal for certain players. 
Could Brandt move to Arsenal?
Brandt's availability in January will come down to whether the club wants to sell him and whether he wants to leave. Reports have suggested that COVID has limited Dortmund's spending dramatically and if they want to invest in the team elsewhere then they'll probably need to sell back-up players first.
However, Brandt is by no means an unused talent wasting away on the bench. He's a regular starter when fit and may fancy his chances of convincing the next manager to walk in the door in the summer that he's worthy of a more pivotal role. A task that will become far easier if the likes of Jadon Sancho or Jude Bellingham move on in the summer.
ISCO
Isco is desperate to revive his career but very much on his terms. At the start of the renewed season it appeared that Zinedine Zidane was looking to evolve his 4-3-3 into a 4-2-1-3 to include a playmaker, giving the Spaniard hope that he could be rotated with the returning Martin Odegaard.
But it hasn't worked out that way. He has made just three starts and after being hooked at half-time against Cadiz and as the camera panned around to catch him complaining about Zidane from the stands, the writing was on the wall. He has played just 51 minutes of football since November.
Could Isco move to Arsenal?
Arsenal's problem is that they need someone to hit the ground running in a creative capacity and Isco's distinct lack of minutes will make it very difficult for him to do so. He will need to get match fit which, as we've seen with Gareth Bale in a similar situation, is easier said than done.
He will also be 29 in April, may have his best years behind him and would demand a huge salary. All of those things would, and likely should, count against him.
HOUSSEM AOUAR
Houssem Aouar is just one of many promising young footballers that the Lyon academy has produced in recent years. The Rhone club have an unerring ability to churn out technically accomplished attacking players on a seemingly annual basis, and having done his time in Ligue 1, it is expected that Aouar will soon be on his way.
Indeed, it had been predicted that Aouar might leave Lyon in the summer. Arsenal were interested, but the club's price was apparently too extravagant for the Gunners. He is six months closer to the end of his contract, which is up in 2022, but OL are unlikely to be easily parted from the versatile, creative player.
Could Aouar move to Arsenal?
Lyon's position in Ligue 1 suggests that it is unlikely. Rudi Garcia's side presently top the standings and they are unlikely to be willing to do anything that jeopardises their chance of upsetting Paris Saint-Germain's dominance of the league. They have already intimated they do not see any key players leaving this month.
Meanwhile, there are doubts over the effectiveness of Aouar. With a return of 27 goals and 30 assists, there are questions over the 22-year-old's ability to be constantly decisive in key areas.
EMILIANO BUENDIA
Since joining from Getafe in the summer of 2018 for little more than a few million pounds, Emiliano Buendia has been a tremendous player for Norwich in the Premier League and now the Championship.
After 19 games with the Canaries this season the Argentine winger has already picked up seven goals and seven assists and it seems as though it's only a matter of time before a bigger English club comes calling for Buendia's services in January or the summer transfer window. 
Could Emmanuel Buendia move to Arsenal?
With his side currently sitting comfortably at the top of the Championship table it seems unthinkable that Daniel Farke would allow the Norwich hierarchy to sell one of his most important players midway through the season.
And, even if they were willing to listen to offers, the Norfolk side have shown in the sale of James Maddison (£23 million to Leicester City) and Ben Godfrey (£25 million to Everton) in recent seasons that they very rarely let a young talent leave without picking up the maximum value for them. Arsenal would probably have to pay a lot of money to sign Buendia before the end of the January transfer window.