Who is Nico Gonzalez? - Barcelona midfielder wanted by Man City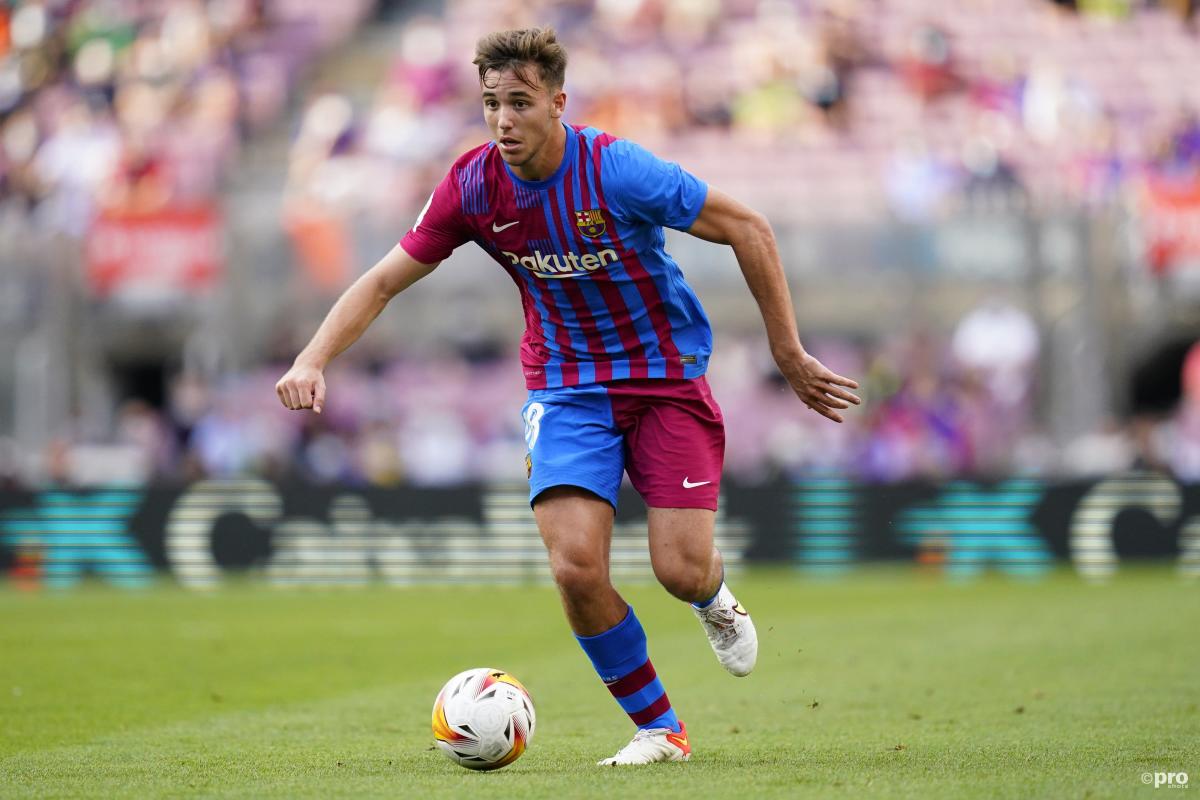 Barcelona don't have a lot to be happy about currently but they do have a few gems coming through the ranks at La Masia to make the future look a bit brighter, including Nico Gonzalez.
This season Ronald Koeman has given debuts to youngsters like Gavi and Gonzalez as his Barcelona squad has been ravaged by injuries as well as the departures of players such as Lionel Messi and Antoine Griezmann in the summer due to the financial instability at Camp Nou.
Though the Dutchman had some choice words for Gonzalez after Barcelona's loss against Atletico Madrid, the player is well thought of in Catalunya and could be part of their midfield for years to come.
FOOTBALLTRANSFERS' MOST VALUABLE PLAYERS IN THE WORLD
That is, if a certain Pep Guardiola doesn't get his way.
What position does Nico Gonzalez play in?
Gonzalez features as a central midfielder for Barcelona, usually in a holding defensive role.
How good is Nico Gonzalez?
Gonzalez joined La Masia at the age of 11 and progressed through the age groups to eventually play for Barcelona B and then the senior team.
Like all players to come through the youth system, especially midfielders, he holds a superb command of the ball and is calm under pressure.
As he plays a more defensive, tempo-controlling role in midfield, he has naturally been compared to Sergio Busquets and the Barcelona hierarchy believe that Gonzalez will ultimately take over from the World Cup winner in the holding role just in front of the defence.
He does have a little bit of everything though and is probably more athletic than Busquets in that he can glide forward with possession if he needs to.
His passing ability, like Busquets, allows him to dictate matches from that central position.
"Nico Gonzalez is going to be better than Sergio Busquets," Barcelona youth chief Xavier Vilajoana said in the summer, as quoted by Diario Sport.
"He is more complete. He can play as a central midfielder because he's better at when going forward, he's more intense, he plays well with his head, he is right-footed by plays very well with both feet, he's tall and strong.
"A typical no.8."
Busquets is one of the most decorated players in the history of the club so for a director to come out and say Gonzalez will be better is certainly a glowing report card for the young midfielder.
"Despite the fact that he has played for many years as an 'interior' (central midfielder), we were clear that he is a pivot," Fran Artiga, former La Masia coach, told Goal.
"He is a super intelligent player, not only at a football level, but also academically. He is highly gifted, and that is reflected on the field. He will have a fast learning process."
What clubs are interested in Nico Gonzalez?
Artiga revealed that Gonzalez had the opportunity to leave Barcelona in the summer for the Premier League, where he would earn 10 times as much in wages than he gets at Barca.
Manchester City are believed to be the team chasing his signature, with manager Guardiola reportedly a fan of the midfielder's talents.
Even though the club currently have Rodri in the deep-lying role, it is likely that Fernandinho will leave in the summer of 2022 as he will be 37 by the time the current season ends.
City view Gonzalez as the ideal replacement for their current club captain.
When does Nico Gonzalez's contract expire?
Gonzalez's deal at Barcelona runs out in 2024.
How old is Nico Gonzalez?
Gonzalez was born on 3 January 2002. He is 19.
What is Nico Gonzalez's height?
Gonzalez is around 6ft 2in tall.
What is Nico Gonzalez's weight?
Gonzalez is around 67 kilograms.
What football boots does Nico Gonzalez wear?
González wears Puma Ultra 1.3 soccer cleats.
What is Nico Gonzalez's Instagram?
Gonzalez's Instagram has 215k followers as of October 2021.
Who is Nico Gonzalez's girlfriend?
Gonzalez is not currently dating anyone publicly.