Vini J is helping Real Madrid forget about Mbappe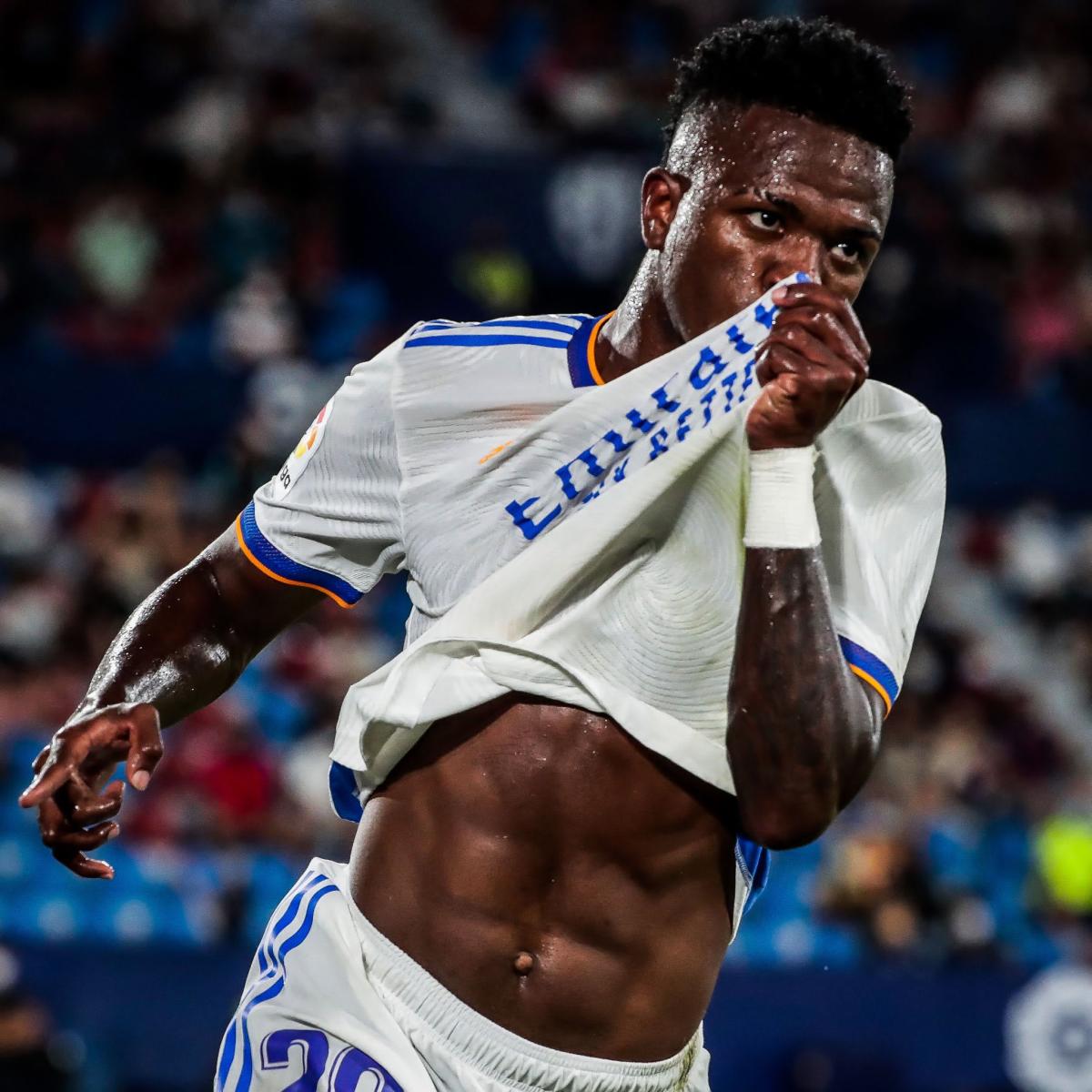 Real Madrid's forward issues in the last 18 months have been well documented.
Eden Hazard, Isco and Gareth Bale continue to be either injured or out of form, while Marco Asensio and Rodrygo sparkle in only brief moments.
All of which made the pursuit and ultimate failure to land Kylian Mbappe appear to be a real cause for concern, one that left the attack looking like no Karim Benzema, no party.
But Vini J, as we're now calling him, has finally stepped up and it's glorious to see for Madridistas.
Vinicius Jr cost Real Madrid €50m in 2018 when he was 17. Four years later and there's been precious little to suggest that he would even make the grade, let alone get close to justifying that fee. In fact, in a transfer market without the coronavirus, selling him might have been an option Madrid would have considered.
But the market is what it is, and Madrid are having to deal with it. Bale's situation is well-known, as is Hazard's and Isco's. These men aren't Madrid's future, and likely aren't even their present. Vini J to save the day, then.
Last month against Levante he came on in the 59th minute, and 14 minutes later he raced clear from a sublime Casemiro pass, to outstrip the defence in a one-on-one situation. Ancelotti had said publicly that he had been working with the young Brazilian on his finishing, attempting to refine what has been, very much, a rough part of his game.
But as he allowed the ball to slide onto his left foot he didn't rush, instead caressing the inside of his boot to slide it across goal and into the net. It showed real composure.
Vinicius Jr in La Liga
| | | | |
| --- | --- | --- | --- |
| Season | Mins | Goals | Mins Per Goal |
| 18/19 | 864 | 2 | 432 |
| 19/20 | 1354 | 3 | 451 |
| 20/21 | 1971 | 3 | 657 |
| 21/22 | 234 | 5 | 46.8 |
As a manic game threatened to get away from Madrid again - David Alaba suffering a dreadfully poor evening, his comical header allowing Levante to go back into the lead - Vini stepped up again.
You could sense the confidence flowing through him, and this time he produced a work of genius. From an acute angle inside the area it looked as if he had no route to finish, but instead he produced a unique, scooped, curling effort that swept across goal and rebounded in off the post. It was a moment of individual brilliance - how Madrid have lacked those in the past two years, Karim Benzema aside.
But the key is he has retained that form in the matches since. Against Celta last week he showed real class to slide in a cute goal when one-on-one, and then in a dire situation against Valencia on Sunday, he turned the game around.
Yes, his 86th minute shot was deflected into the net in a fortunate fashion but he had to be there to make it happen, and maybe a month ago he wouldn't have taken it on. He made his own luck, and when his brilliant cross found Benzema for the winner, it was wholly down to the Brazilian.
As the final whistle sounded he punched the air in delight in a high-intensity way, as if months of uncertainty were now being forgotten in his performances.
Put into context, Vinicius has scored three league goals in each of the last two seasons. In 2021/22 he has five goals and an assist in just 234 minutes of play. That's how much of a step forward he looks to have taken.
It's extremely early days and the average performances still completely outweigh the good ones, but there was an element of this being a coming-of-age performance from a player desperately needing to kick on.
And Real Madrid needed him to. It looks like this team may concede more than in previous years, which means more goals from the attackers will be essential to success. Benzema could do with the help.
And in a league where the biggest name has now gone, others are jostling to prove their on-pitch (and off-pitch) value. Madrid hope Vinicius' displays mean that Mbappe can wait until next year - if he ever comes at all.