The FIVE players who could replace Harry Kane at Tottenham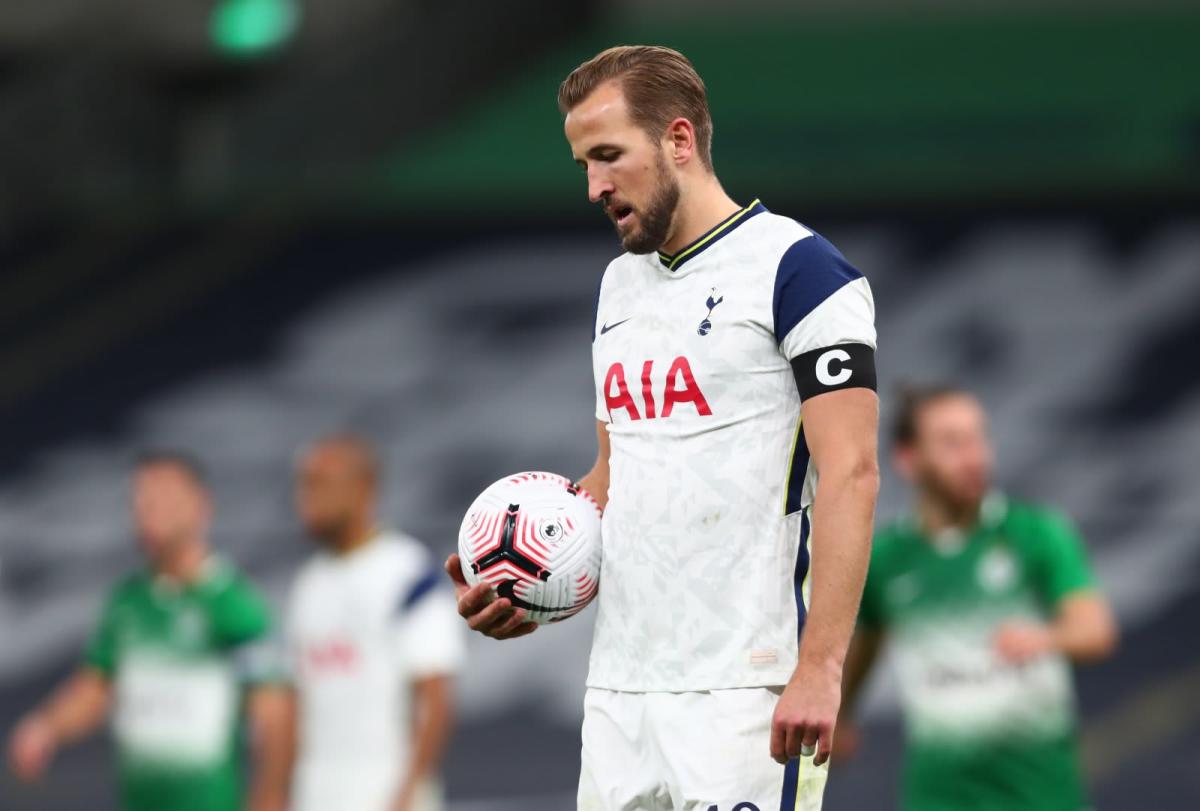 News that Harry Kane wants to leave Tottenham broke yesterday and ever since, the focus has been on where his next destination will be; will it be Manchester United, Manchester City, Chelsea or somewhere abroad?
Here at FootballTransfers though, we wanted to outline five players who could replace Kane at Spurs, taking into account that the club won't be able to offer Champions League football.
READ MORE: Tottenham statement fuels Kane departure talk as Man Utd and Chelsea circle
Failing to qualify for Europe's elite club competition will mean the likes of Erling Haaland and Andre Silva will surely move elsewhere, so Spurs will have to adjust their shopping list accordingly.
Here are five players who could replace Kane at Spurs.
Patson Daka
The RB Salzburg striker has drawn comparisons with the aforementioned Haaland thanks to his form for Salzburg, and it's completely justified.
This season alone he's scored 39 goals and assisted six in just 36 starts for club and country in all competitions, a frightening tally that has caught the eye of almost every scout in Europe; it's time someone took a gamble on the Zambian forward, just as Borussia Dortmund did with Haaland.
In the Austrian Bundesliga this year, Daka is scoring 1.25 goals per 90, and it's not a one-off season. He netted 24 league goals last year at a rate of 1.15 per 90, so it's clear that he is simply too good for that league.
Now, Kane's 0.68 goals per 90 are coming in a far harder division so he's obviously a more clinical finisher despite what those stats say, but Daka's underlying numbers are still excellent, and he's certainly worth a punt.
One striking similarity between the two is the number of shots they take; Daka currently takes 4.2 per 90, whilst Kane is at 4.1. It's unlikely Daka would be able to translate this into the Premier League, but even if that tally fell to 2.5 or 3.0, then it would still be a good number.
Signs are promising for Daka, and at just 22-years-old, Spurs would be buying a striker to last a decade.
Donyell Malen
Sold by Arsenal as an 18-year-old for just £540,000 back in 2017, Donyell Malen could be the ideal signing for Tottenham, not only to annoy their North London rivals, but also because he's a phenomenally talented player.
At PSV, the 22-year-old has developed his game massively, and whilst rumours of Dortmund signing him as a Jadon Sancho replacement have circulated, he's really a number nine.
In fact, of his 45 appearances for PSV this season, 43 have come as a central striker, so he'd be wasted out wide.
In those 45 appearances, Malen has scored 29 goals and assisted nine as he finished runner-up in the Eredivise scoring charts, whilst also netting the most decisive goals in the division with seven.
Like Kane, Malen takes 4.1 shots per 90 in the league, and he completes more dribbles per 90 (1.7 to Kane's 1.4). Furthermore, his 10 big chances created is just three behind the Englishman's tally in the Premier League.
Kane's role in this Spurs side is far more complex than a goal-scorer, he's the primary creator as well. That burden may not have to fall to his replacement, but the early signs are that Malen could take on that responsibility with ease.
Sasa Kalajdzic
An unknown name to many, Stuttgart's Sasa Kalajdzic has gone slightly under the radar this season, but with 16 Bundesliga goals to his name this term, he certainly shouldn't be.
The first thing to know about Kalajdzic is that he's huge. Standing at 6ft 5in, the Austrian would easily be able to cope with the physical nature of Premier League centre-halves, and he'd also be able to burst away from many, with an acceleration speed you wouldn't expect from someone so tall.
With 0.70 goals per 90 in the league this season, Kalajdzic is an instinctive finisher and at just 23, he already knows exactly where to be inside the penalty box; that's something you can't teach.
His 0.22 assists per 90 is by no means an easy feat, and whilst Kane is at 0.41, the Englishman's expected assists per 90 is at 0.23 per 90, suggesting that the likes of Heung-Min Son have scored more than would've been anticipated.
An unconventional replacement, but certainly a very able one, Kalajdzic could be excellent, and could even be signed alongside Malen to give the option of a front two.
Danny Ings
Moving closer to home, and to Southampton's Danny Ings who has reportedly been attracting interest from Tottenham for a little while now; with Kane reportedly leaving, it opens the door for a move.
His time at Liverpool was plagued by injuries, but under Ralph Hasenhuttl at Southampton he's been able to display his true form.
He may have fallen off slightly from last season's numbers, but Ings is still a quality Premier League forward. He's netted 12 goals in 25 starts this term, equating to 0.52 goals per 90, in comparison to 0.70 last year.
That tally of 0.7 goals per 90 in 2019/20 is actually better than Kane's this year (0.68), and it came in a side without the same quality as Tottenham.
If Ings can translate his 2019/20 form, and stay fit, then he could be the perfect Kane replacement, plus he already knows the league, which is a bonus.
With his contract at St Mary's expiring next year, this could be the ideal time to strike.
Ivan Toney
Last but not least, it's Brentford's talisman Ivan Toney.
Considering he's played his last two season's in League One and the Championship, to expect him to replace Kane at Tottenham would be a big ask, but he's an outside shout.
Having surpassed Glenn Murray's record for the most Championship goals in a season with 31 strikes, Toney will have his eyes set on promotion through the playoffs with Brentford, but if the Bees fall at the last hurdle again, then a move to the English top flight seems likely.
Whilst nine of his 31 league goals have come from the penalty spot, Toney is still an excellent penalty box predator, and his creativity is very underrated.
With 10 assists and nine big chances created this season he has shown himself to be able to drop deep and dictate play, although his game is far from polished.
He seems the most unlikely and the most unqualified to take over from Kane, but reports suggest that several of the Premier League's best teams are interested so he wouldn't be the worst shout.
All things considered, Malen seems the most well-rounded and at just 22, Spurs should go all-out to sign the PSV forward.