Manuel Ugarte: Sporting's outstanding destroyer is the midfielder Chelsea and Liverpool need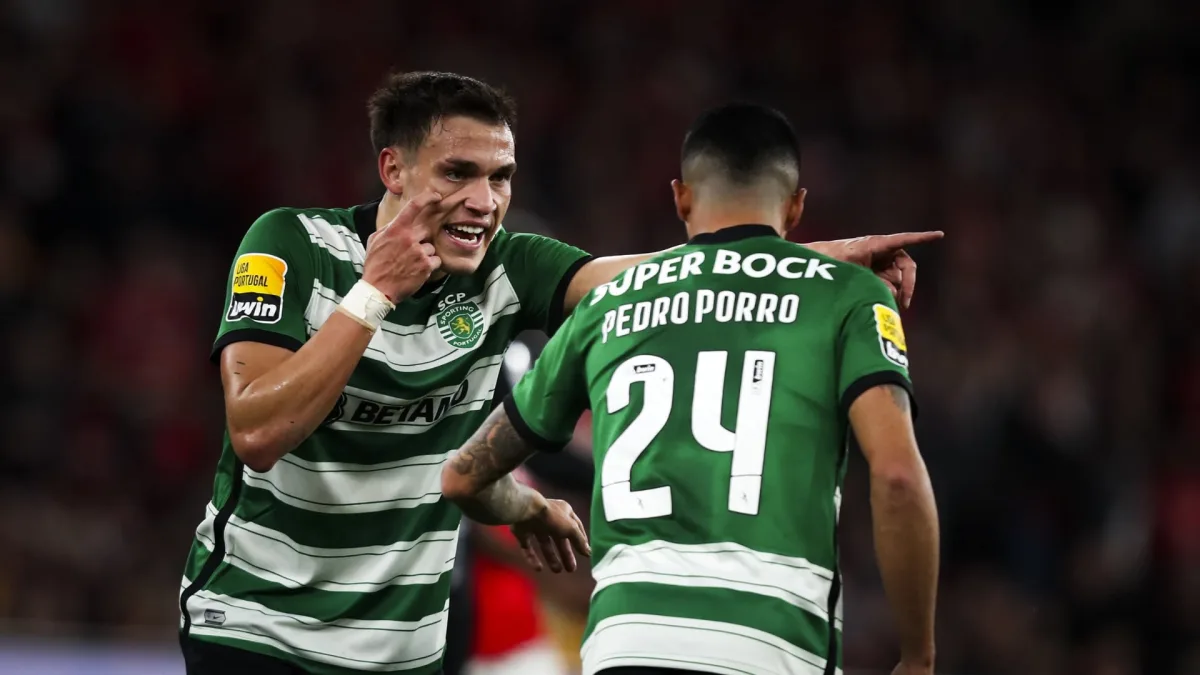 The Portuguese Primeira Liga is quickly becoming a hot market for Premier League teams to go shopping, with Sporting CP's Manuel Ugarte the latest player to attract attention from England's biggest sides.
In the 2022/23 season, the Premier League spent well over €300 million on transfer fees to sign players from the league, with standout names including Enzo Fernandez and Darwin Nunez.
The spending only looks set to continue, with Ugarte attracting interest from Chelsea, Liverpool, Tottenham and Aston Villa.
EXCLUSIVE: Chelsea justify £85m Mount price tag as Liverpool fear Man Utd bidding war
The now 22-year-old Uruguay midfielder has been plying his trade in the league for over two years having joined Famalicao from Fenix at the start of 2021. After just half a season, he was picked up by Sporting, where he has since been.
His current contract runs till 2026, but it has a €60m release clause that could well be worth triggering after his impressive showings throughout the year.
EXCLUSIVE: Aston Villa weigh up Martial loan move from Man Utd
Ugarte at Sporting
In his first season at Sporting, Ugarte was a squad player, with the likes of Matheus Nunes and Joao Palhinha ahead of him in the pecking order. Their respective departures to the Premier League last summer opened up a regular starting spot for him, which he grabbed with both hands.
Among his fellow outfield teammates, Ugarte has played the third-most minutes in the league this season with over 2,300. Besides his impressive performances, a big reason why he has not been rotated is the fact that there is no one else in the squad who can play his role at a similar level.
This season, Sporting have almost exclusively used a 3-4-3/3-4-2-1 formation. In possession, though, they move into more of a 3-1-5-1 structure as one of the two central midfielders pushes forward while the other stays back. Ugarte has played the latter role, so he has acted as a lone holding midfielder in possession for his side.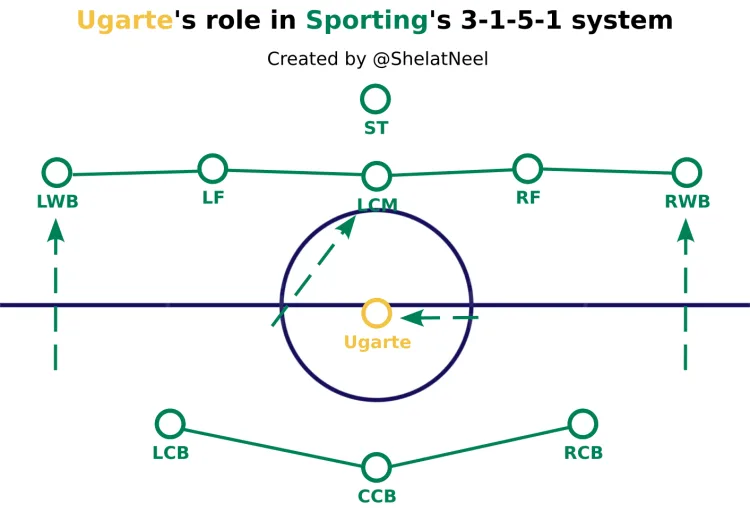 With this in mind, let us take a look at a pizza chart to get a basic idea of what Ugarte does for his side.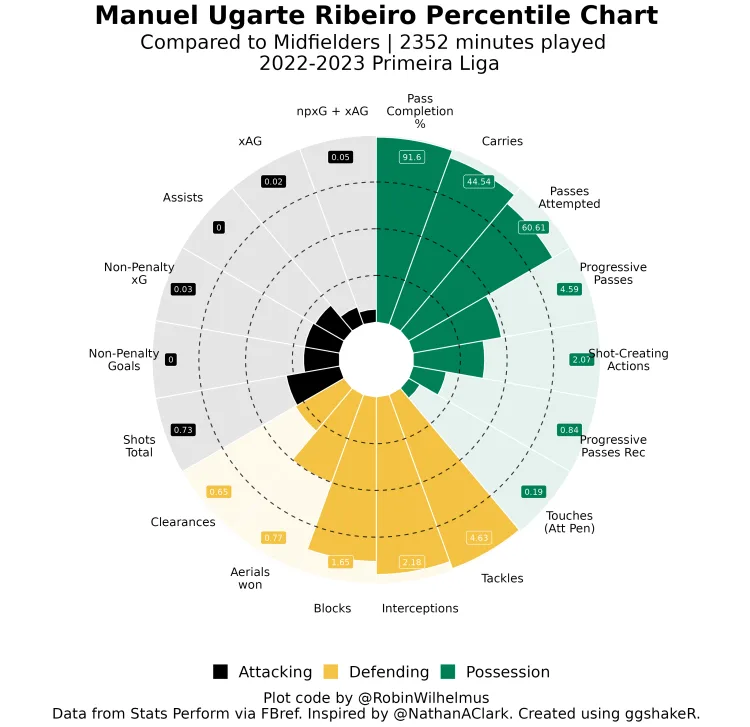 Of course, it is important to note that these percentiles are calculated from a relatively large dataset comprising all midfielders – from No.10s to No.6s and everything in between – so a low score in certain metrics does not necessarily mean that a player is bad at those things.
In Ugarte's case, a large part of this visualisation reflects the responsibilities of his role for Sporting. So, he scores low on all the attacking metrics simply because he does not get forward into the final third a lot.
Holding midfielders are generally expected to play a key role in their side's ball progression, so Ugarte's average stats in those metrics for one of most possession-dominant sides in the league might raise some eyebrows. But again, it is important to understand the context behind them.
In Sporting's system, the wide centre-backs are primarily responsible for getting the ball forward to the attackers. Ugarte's role is to simply circulate possession and retain the ball while his teammates look for openings in the opposing defensive structures, which is why he has a very high pass completion rate of over 91%.
Of course, he can spray a long ball forward when the opportunity presents itself and has done on a fair few occasions, mostly playing crossfield passes out wide.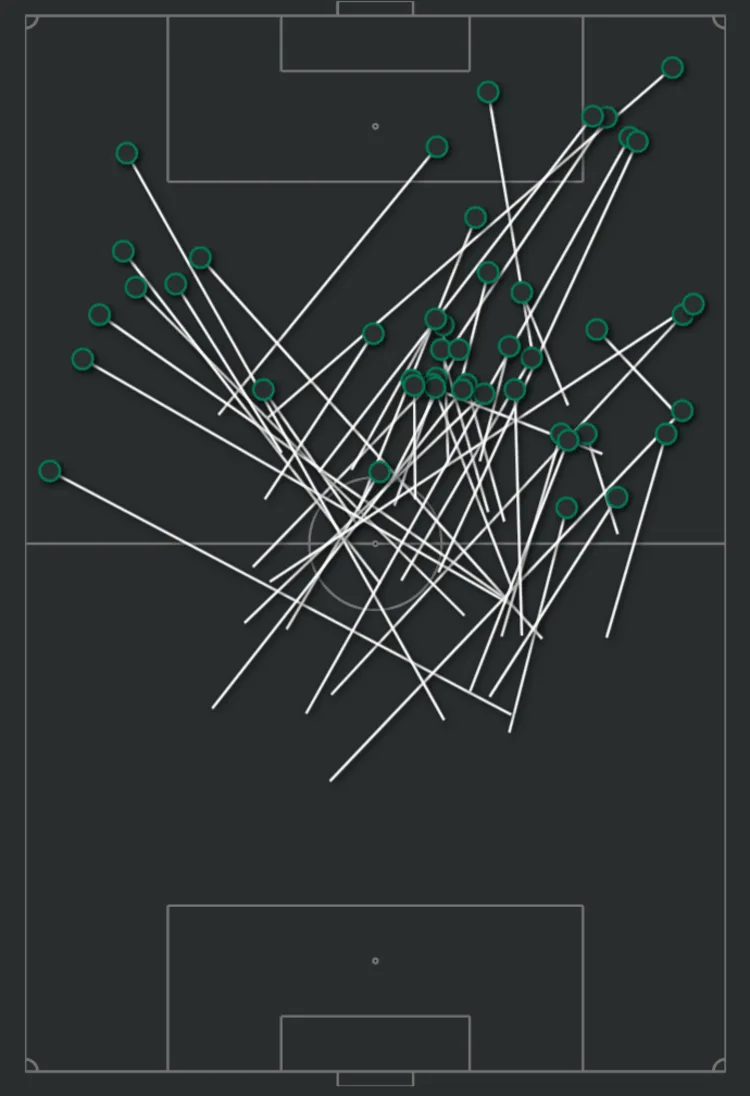 Ugarte's clearest direct contribution to his side's ball progression is through carrying. Especially against lower-table teams that defend deep, the Uruguayan midfielder can often find himself with a lot of time and space after receiving the ball, and he is not afraid to use that.
He has averaged 44.6 carries per 90 in the league this season, and while many of them are short and/or sideways, he does extend some of them when presented with the opportunity.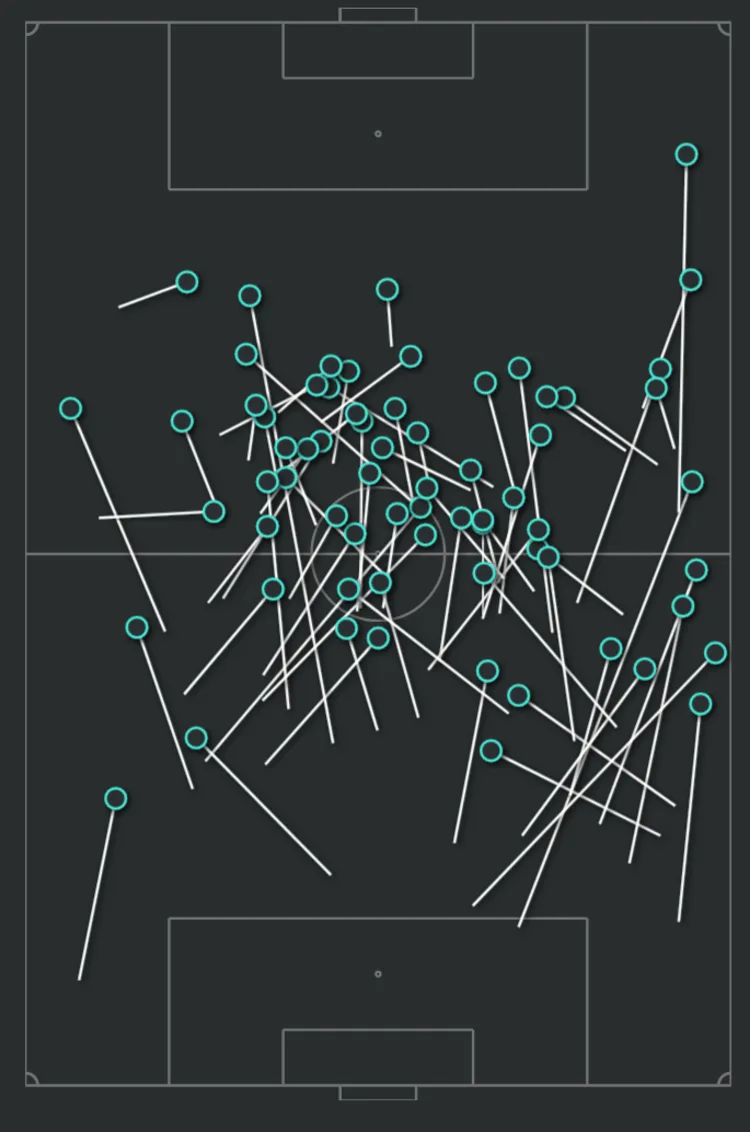 On the whole, Ugarte's work in possession this season has not been particularly exceptional, but that is because it is not required. His role in Sporting's system demands security on the ball above all, so he mostly proceeds with caution.
What makes Ugarte such an attractive prospect to so many top teams across Europe are his off-ball qualities. Going back to his stats, we can see that Ugarte's defensive numbers pop out. Doing a lot of defensive actions is not necessarily a sign of being good defensively, but Ugarte is outstanding no matter what way you look at it.
Let us start with his defending in transition, which is an invaluable quality for most elite European sides as almost all of them look to dominate the ball and, therefore, can be susceptible to counterattacks. On the face of it, Sporting's 3-1-5-1 system might seem a little extreme as they only leave four players back (as opposed to five, which is the norm in popular shapes such as the 3-2-2-3 and the 2-3-2-3) and just one in midfield - but Ugarte being that one enables them to do so.
He has all the qualities needed to shield his back line against counterattacks – speed to track back, spatial awareness and great anticipation to get into the right positions, and an athletic frame complete with great upper body strength to win duels and outmuscle opponents of the ball.
Most of these qualities also prove useful in settled defence, where Sporting tend to adopt a high pressing approach. They use a two-player midfield without the ball, so Ugarte has greater freedom to step up and defend on the front foot in such cases. Again, his spatial awareness and strength in duels help his side a good deal.
All in all, Ugarte can be called a standout all-action defensive midfielder who does a lot of work off the ball, averaging over 16 defensive actions per 90 and winning 58% of the challenges he makes. Even though he is so young, it is hard to find any faults in his defensive game.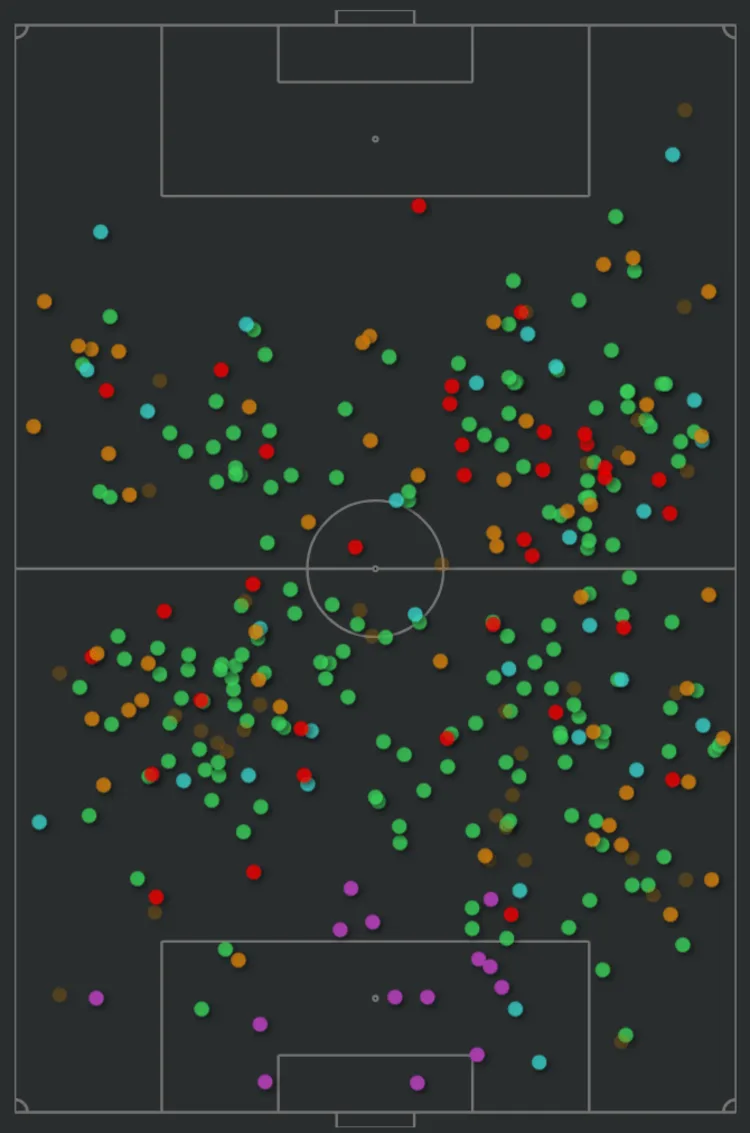 Where next for Ugarte?
Given how well Ugarte has performed this season, a €60m release clause is not extremely expensive in today's market – especially for a player who turned 22 very recently. If any clubs with that amount of spending power feel that they can use him in a regular starting role, they should absolutely consider pursuing him.
To no one's surprise, Chelsea are among the sides who have been linked with him. In this case, though, this would be a very smart and sensible signing for them as they are in desperate need of a defensively sound holding midfielder. A double pivot containing someone of Ugarte's defensive qualities and Enzo Fernandez's on-ball ability could well dominate the Premier League for the next decade.
Liverpool were also linked with him for a while, but their interest should be contingent on what they have in mind for Fabinho. The Brazilian defensive midfielder has dropped off a bit this season, so if they wish to find a replacement for him, Ugarte could thrive in their new system which sees Trent Alexander-Arnold move into midfield in possession.
From outside the traditional top six, Aston Villa have also been linked with a move for Ugarte. His €60m fee might account for a sizeable chunk of their transfer budget, but signing players like Ugarte can be seen as a statement of intent from a side who are on the cusp of qualifying for Europe. Ultimately, though, they may find it tough to prise him away from a move to one of the big hitters.