Awoniyi, Lukaku and the top eight transfers of the week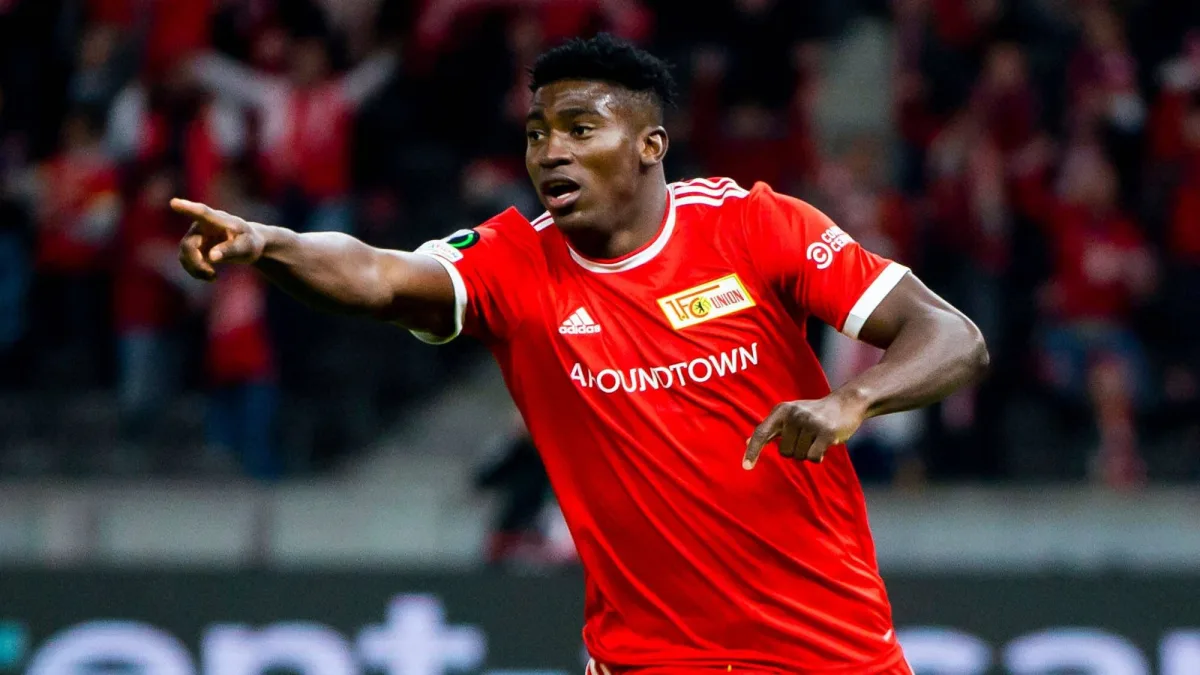 It is July 1, so the transfer window has officially opened across Europe and most of the international deals that have been completed in the last few weeks will be registered today.
This also means that business will now be in full swing across the continent and beyond, and there certainly was a lot happening in the last week.
To recap some of that, we will pick out one transfer each from Europe's top five leagues as well as a few from elsewhere in our weekly column.
Premier League: Taiwo Awoniyi (Union Berlin to Nottingham Forest, €20.5m)
Newly-promoted Nottingham Forest are not wasting any time this summer as they have gone and spent a club-record transfer fee to sign Taiwo Awoniyi from Union Berlin.
The Nigerian international will join the Premier League on the back of his best league season in terms of goals, as his tally of 15 in the previous Bundesliga season placed him sixth in the league's scoring charts. Impressively, he had an xG tally 14.0, and as his shotmap indicates, he is very good at getting into promising positions inside the box.

Urs Fischer exclusively used a two-striker system in the league last season, where Awoniyi spent time on either side of the front-two, typically in a freer role while his partner acted more as a target man. At Nottingham Forest, he will mostly have to play on the left alongside Brennan Johnson, who has a tendency to drift out to the right wing, so Awoniyi will need to adapt to a different role in England.
The 24-year-old striker will be under pressure to perform, and his work in front of goal could be a key factor in Nottingham Forest's quest for survival.
Bundesliga: Daniel-Kofi Kyereh (St. Pauli to Freibrug, €4.5M)
Ghanaian international Daniel-Kofi Kyereh's rise up the German football pyramid has finally been completed. The ex-Wolfsburg youth international had to drop all the way down to the fourth tier for his first professional experience, but step by step, he has climbed back up the Bundesliga, where he will play for Freiburg (who have also qualified for the Europa League) next season.
He was signed by Christian Streich's side on the back of a very impressive 2. Bundesliga campaign, as his 12 goals and nine assists from attacking midfield made St. Pauli serious contenders in the race for promotion, but they fell short in the end.
His underlying numbers were also very impressive, as he averaged close to 0.7 xG+xA per 90.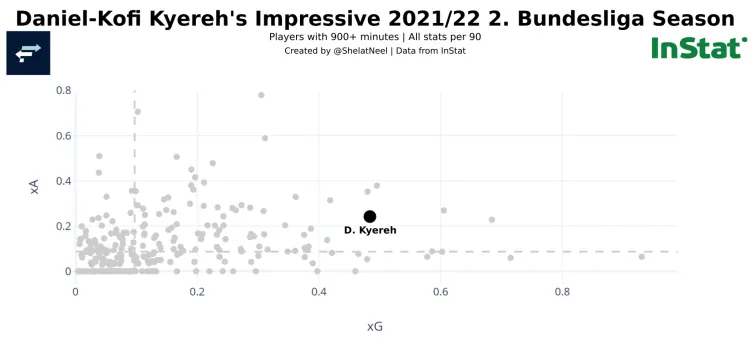 One of the 26-year-old attacking midfielder's biggest strengths is his knack of being in the right place at the right time and making well-timed runs into the box, which is something he will certainly be able to do at Freiburg if he is deployed behind the striker in their 4-2-3-1 formation.
Serie A: Romelu Lukaku (Chelsea to Inter Milan, €8m loan)
They say 'never go back', but Romelu Lukaku certainly is not one to follow that phrase as he is rejoining a club for the second time in his career. This time, he is back in Milan just on loan, but there is a noteworthy fee attached to the deal.
The assignment is simple for him – rediscover the levels he hit in the 2020/21 Serie A season.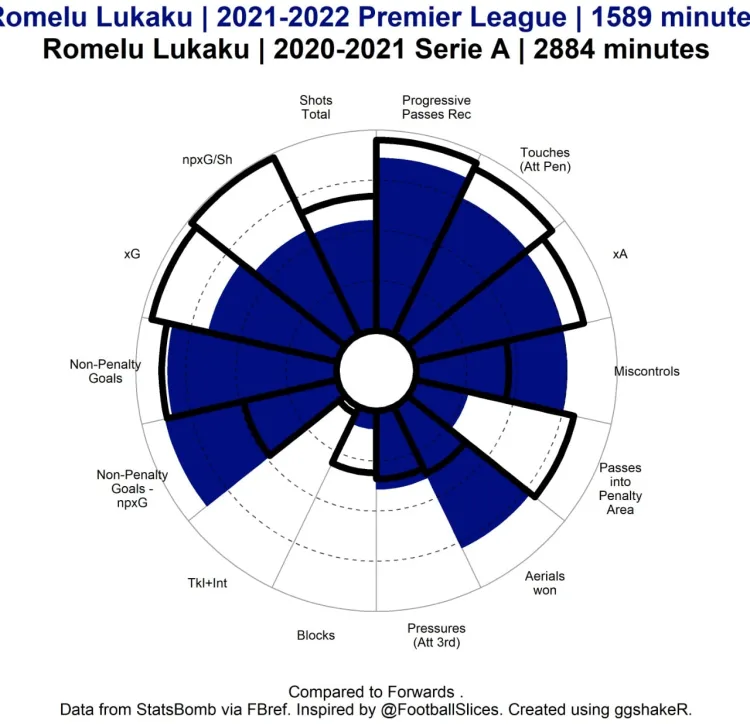 One of the reasons for his troubles at Chelsea probably is the fact that he was being used as a lone striker, whereas he excelled on the right of a two at Inter. He will be able to reprise that role in Simone Inzaghi's 3-5-2 system now, so the pressure is on him to deliver.
La Liga: Jose Luis Morales (Levante UD to Villarreal, free)
After a disappointing league campaign in 2021/22, Villarreal have made a very shrewd signing to kick off their business this summer, as Jose Luis Morales jumps ship from relegated rivals Levante.
Levante finished four points away from safety last season, but Morales certainly is not to blame for that. In fact, with 20 goal involvements in the league, he played a part in close to 40% of his side's goals, so they would have been totally doomed without him.
The 34-year-old striker's pizza chart shows just how impressive he was in all aspects of the game.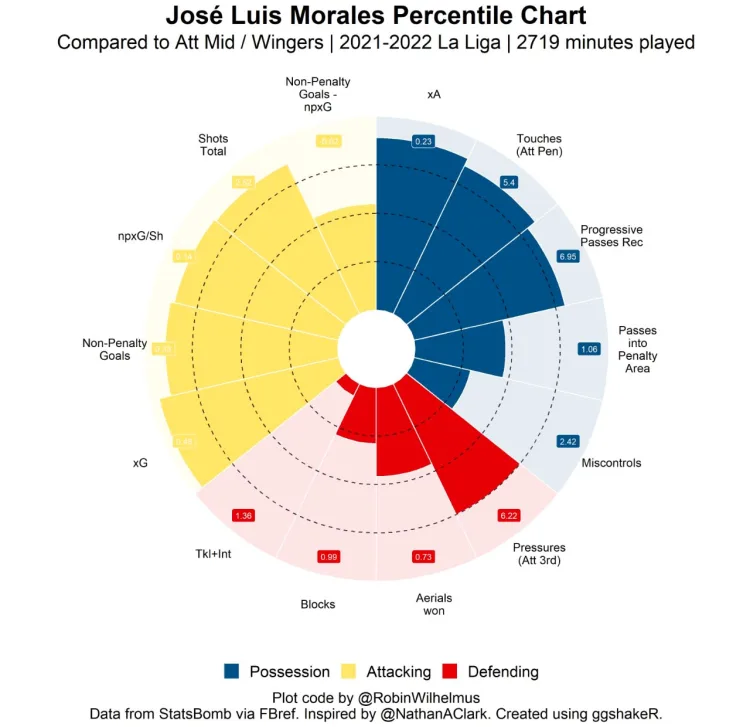 Although Morales' age suggests he will be nearing the twilight of his playing career soon, he has shown no signs of slowing down having scored 10 or more league goals in four of the last five seasons. Villarreal have signed him on a two-year contract, so he should be able to continue performing at a very good level for that time period at least.
Ligue 1: Takumi Minamino (Liverpool to Monaco, €15m)
Monaco's first signing of the window sees Takumi Minamino join the club after an underwhelming few years at Liverpool.
After he left Japan, he hit double digits in terms of goal involvements in the league in each of his five full seasons at RB Salzburg, but at Liverpool, he did not even reach double digits as far as starts in the league are concerned.
Unsurprisingly, his development has rather stagnated at Liverpool, but he certainly has the ability to stand out in Ligue 1, and that is what Monaco will hope to see.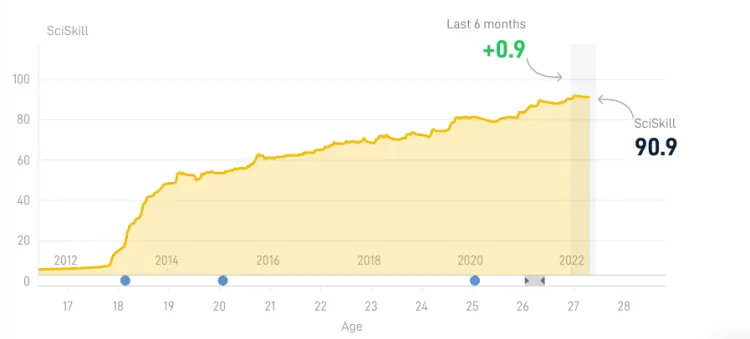 Liga Portugal: Enzo Fernandez (Club Atletico River Plate to Benfica, €10m)
Benfica have begun reinvesting the €75m they received for the transfer of Darwin Nunez to Liverpool. The first portion of that has been used to bring coveted River Plate midfielder Enzo Fernandez to Portugal.
Fernandez was one of the best midfielders in Argentina last season as River Plate won the league, and he was reportedly being monitored by the likes of Manchester United and AC Milan prior to his move to Benfica.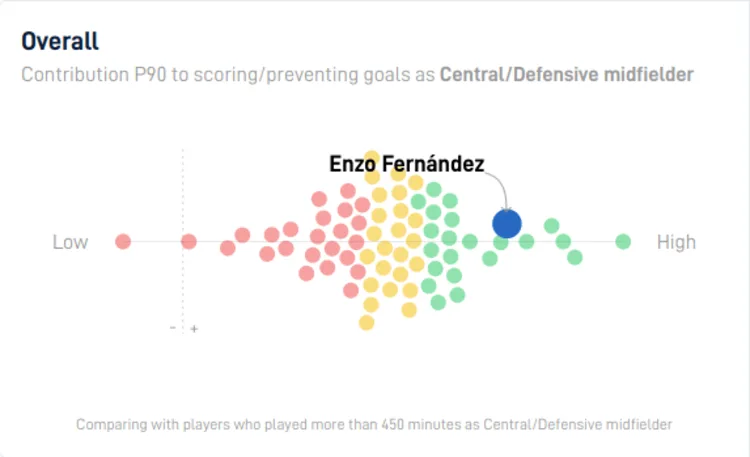 Benfica will hope that his arrival helps them fight for their first league title since 2019.
Eredivisie: Xavi Simons (Paris Saint-Germain to PSV, Free)
One of the more interesting deals of the window has been struck in the Netherlands, where highly-rated PSG prospect Xavi Simons will join PSV at the end of his contract with the French champions, but they will have a buy-back clause in the deal.
The 19-year-old Dutch youth international was previously at the Barcelona academy before his move to PSG, for whom he regularly impressed in the UEFA Youth League. He does have a few professional appearances under his belt, but he will hope to be a more regular starter in the Eredivisie.
MLS: Gareth Bale (Real Madrid to Los Angeles, Free)
LAFC are on a roll this summer. Not only do they have a seven-point lead at the top of the Western Conference, but they are also making some incredible signings. After Giorgio Chiellini's arrival was announced last week, they have gone and signed Gareth Bale at the end of his contract at Real Madrid.
The best part about these deals is the fact that neither player will take up a Designated Player spot in the LAFC roster, which means they still have one of those open. It would be surprising if they signed another big name in the next few weeks, but looking at their business so far, it would be naive to rule anything out.