Dribbling machine Raphinha will be world class at Chelsea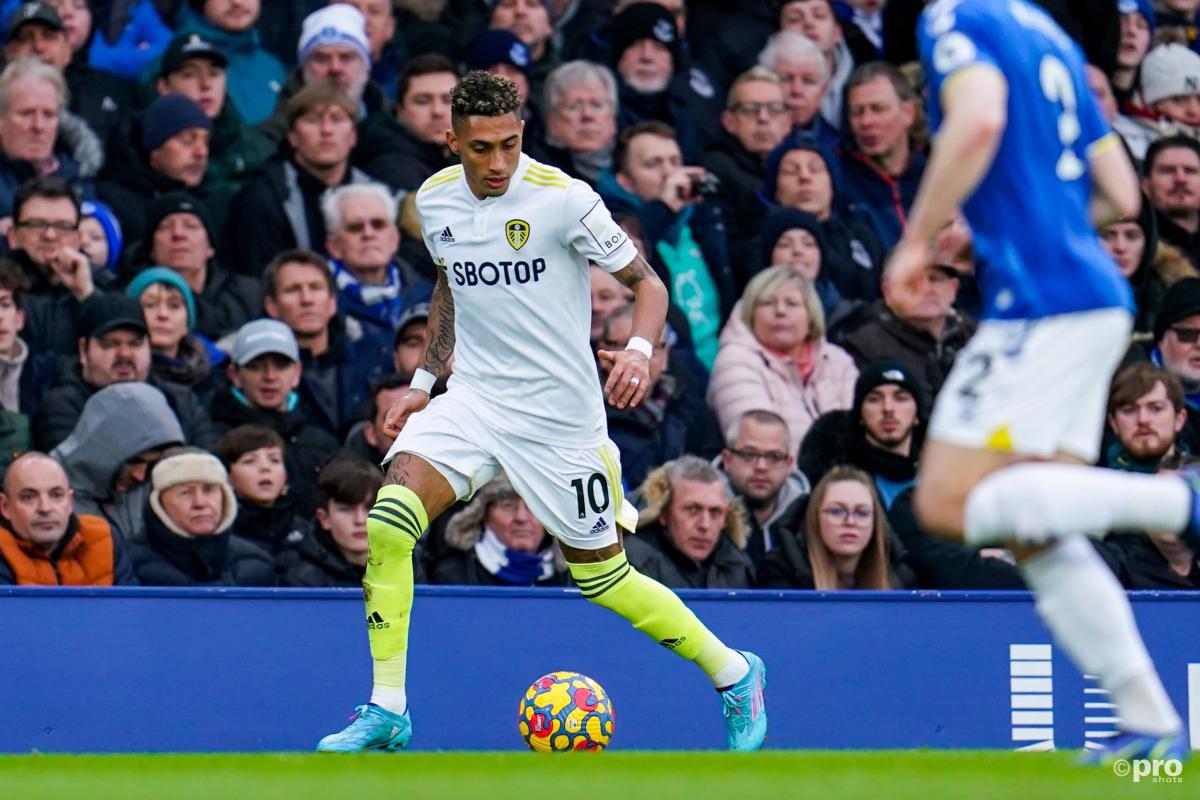 The question isn't why Chelsea, or anyone else, would want Raphinha, but rather why wouldn't they?
FootballTransfers' exclusive story that the 25-year-old is a summer target for Thomas Tuchel's side should fill Blues fans with excitement.
Raphinha's development has represented an incremental improvement, season-on-season. After being scouted by his agent, Champions League-winning playmaker Deco, he started his professional journey in Portugal with Vitoria Guimaraes, and in his first full season scored 18 times to earn a move to Sporting.
READ MORE: Chelsea lead Barcelona in summer transfer race for Raphinha – and he has two release clauses
A single season where both domestic cup competitions were won by Sporting triggered the interest of Rennes, who spent €21 million on him, so convinced were they of his abilities, breaking their transfer record at the time.
WHO ARE THE MOST VALUABLE PLAYERS IN THE WORLD?
And from the moment he landed in France, it was clear he wouldn't be there for long. His non-penalty xG + xA, representing how likely he was to score or create in a given match (excluding penalties), was 0.56 P90 in the 2019/20 season cut short by coronavirus. This ranked him 11th in the division and put him in the company of Memphis Depay and Victor Osimhen. He averaged 4.95 shot creating actions (SCA) P90, sixth-best, just short of Kylian Mbappe. Only Neymar created more shots for his team-mates from dribbling than the winger.
The fact his actuals for the season were only five goals and three assists is a running theme that has continued at Leeds; his creative abilities are deserving of a more clinical supporting cast.
Last season, his 4.16 shot-creating actions was the ninth-best at a much higher level of competition, with respect to Ligue 1, while his non-penalty xG + xA came in at 0.54, virtually the same as in France but against more difficult teams. His successful dribbles of 61 was also the 14th best in the division.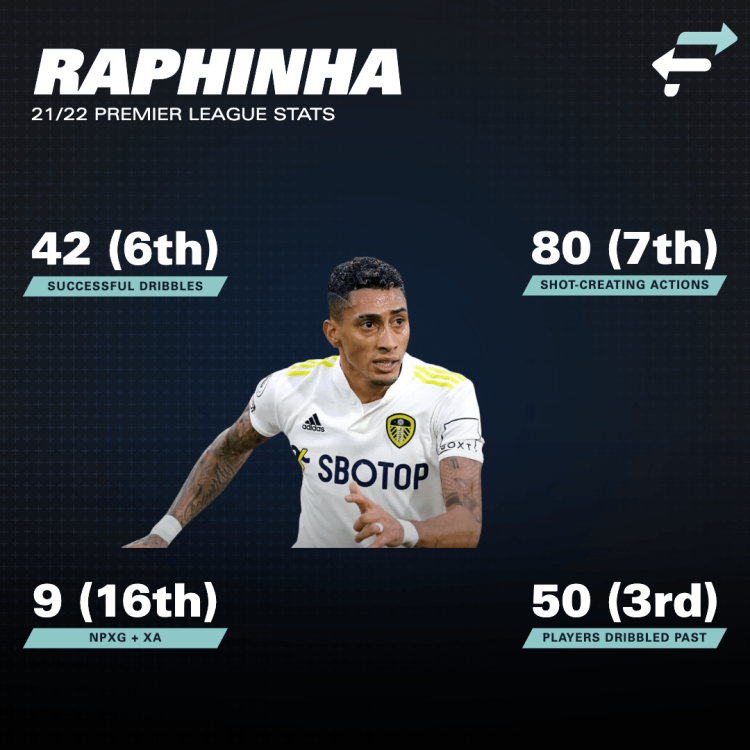 If you had never seen Raphinha play, these statistics help paint the picture. The Brazilian likes nothing more than running with the ball at his feet into the final third, to create either an opportunity for a team-mate or a shot for himself. And the intelligence with which he does it, always in control, rarely rushing, selecting the right option at the right time, sets him apart as having the potential to be world class in his position.
The worry with wingers of his skillset can be the time they take to settle; Hakim Ziyech is only just realising his potential at Chelsea, while it's taken Manchester United nine months to get the best from Jadon Sancho.
But Raphinha's had two years in England now, and even as his Leeds team get markedly worse - in relegation form - his numbers remain solid; 4.11 shot creating actions (14th), 42 successful dribbles (6th, equal with Mo Salah), 50 players dribbled past - third only to the other dribbling machines that are Allan Saint-Maximin and Adama Traore.
Raphinha has been directly involved in 26 goals in 52 Premier League games for Leeds:

◉ 15 goals
◉ 11 assists

What a signing. pic.twitter.com/FtsC0klbBY

— Squawka Football (@Squawka) February 20, 2022
Except, of course, Raphinha's offensive output far exceeds that of those two players, and it's clear that he understands his value. Marcelo Bielsa's decision to hook him at half-time versus Everton before bringing him on against Manchester United at 2-0 down on Sunday - and for him to score where he came on - suggests something isn't well in the background.
Bielsa said after the game that he "chose to form the attack with other players" and that "a decision like that can happen during the season", but you don't leave your most valuable attacker - one who knows the intricacies of the system, so it's unlikely to be tactical - out of the side for a key match without there being an underlying issue, especially one whose shot-creating actions are almost double the next player in the squad, Mateusz Klich.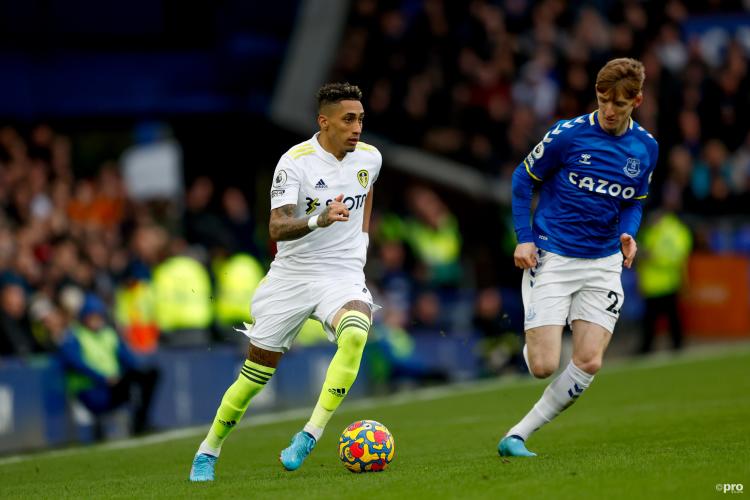 Raphinha's stock is high, and his abilities are coveted. His rumoured €75m release is unlikely to deter the elite clubs, given he is 25 and has a reasonable injury record. We often wish for good players to make the step up in the Premier League all too often, when we might see the best of them exactly where they are.
But Raphinha deserves a better supporting cast than he currently has. His time is now, and Chelsea might well be the correct destination.