'Man City already have Aguero replacement'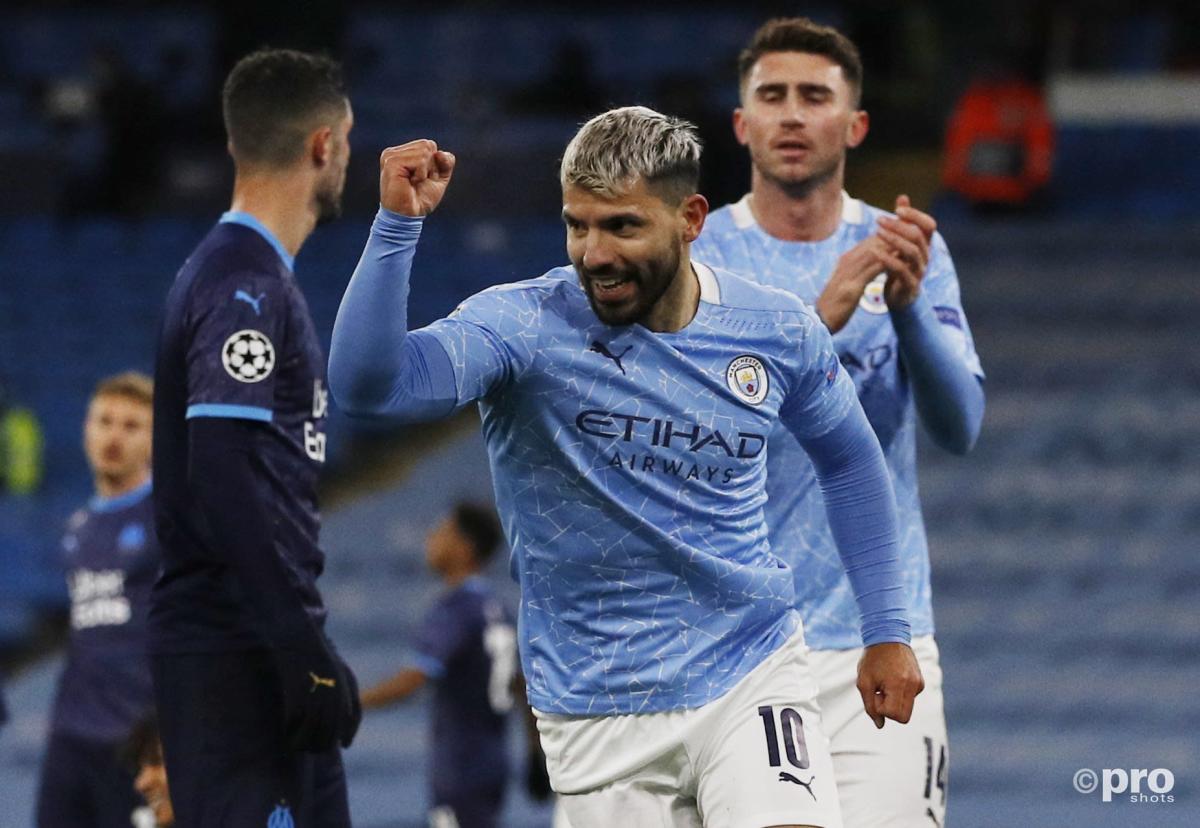 Raheem Sterling thriving in a central position could be Manchester City's answer to the impending exit of Sergio Aguero.
Former Man Utd defender Rio Ferdinand and ex-Man City stopper Joleon Lescott think Aguero does not necessarily have to be replaced by a star signing.
READ MORE: Man City players who could leave this summer
Aguero has announced he will be leaving Man City at the end of the season after 10 years.
His last year has been heavily interrupted by injuries, but he hopes to help Man City to quadruple glory before his exit.
Aguero was missing from Saturday's shock Premier League loss against Leeds due to what Pep Guardiola described as "niggles".
Aguero: Man City record
| SEASON | GAMES | GOALS |
| --- | --- | --- |
| 2011/12 | 48 | 30 |
| 2012/13 | 40 | 17 |
| 2013/14 | 34 | 28 |
| 2014/15 | 42 | 32 |
| 2015/16 | 44 | 29 |
| 2016/17 | 45 | 33 |
| 2017/18 | 39 | 30 |
| 2018/19 | 46 | 32 |
| 2019/20 | 32 | 23 |
| 2020/21 | 15 | 3 |
And Guardiola has had to make do without Aguero for much of the season, while Sterling has again played a key role.
READ MORE: Pep on whether Man City would splash out £100m
Sterling looks likely to end this season with a lower goal tally – he is currently on 13 after scoring 31 and 25 in the previous two campaigns – but Ferdinand and Lescott think he could be the solution instead of a big transfer.
"He's scoring goals and he needs to get into positions," Ferdinand said of Sterling to BT Sport.
"That's the difference.
"Since he's come to Man City, he's absorbing the coaching of where to be in the box to get opportunities and create chances.
"Twenty-four shots on target, 12 shots off target, and nine goals all within the goal mouth and that's as a wide player.
"Wide players normally want to hug the touchline.
"If you want to get 23, 24 goals, you can't be hanging around out wide.
"It's not something that's happened overnight, it's something he's looked at and it was nice to hear he's almost become a student of the game.
"These are the areas he knows, if he's in and around them, he's going to score goals.
"You've got to do that and look at football – I feel not enough people watch football matches to learn.
"In between the sticks is where you'll get chances to score goals, not hanging about out wide.
"Yes, he misses some chances, but you've got to be in there to have the opportunity to score."
READ MORE: Arsenal could be good fit for Aguero
'Sterling can destroy teams'
Lescott added: "I think we've seen a number of players in that position and no one has disappointed.
"That's the beauty of having someone like Raheem.
"On any given day he's going to be faster than anyone, so he could be having a quiet game and then all of a sudden inject his pace into the game and destroy teams."
Along with Aguero, Man City also have Gabriel Jesus as a recognised centre-forward, a position he played in the Leeds defeat.
The Brazil striker has scored 49 Premier League goals for Man City since signing in 2016 and will hope to earn a bigger role if City do not spend big in the transfer market to replace Aguero.
Youngster Liam Delap has also been tipped for a bright future.
He made his first-team debut this season and scored his first goal against Bournemouth in the EFL Cup.