Harry Kane will only leave Tottenham for £150m, so where could he go?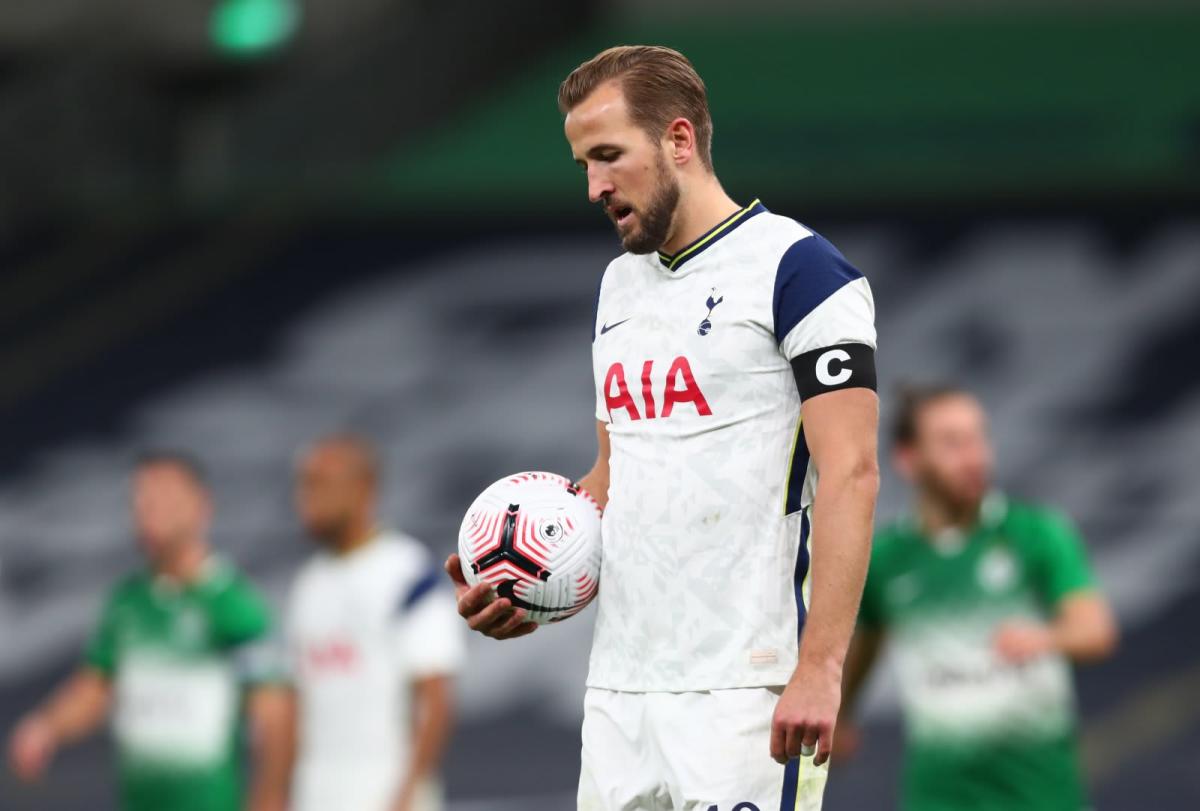 Any suitors for Harry Kane will need to break the British transfer record if they are to prise him away from Tottenham Hotspur.
According to the Daily Mail, Spurs would be willing to part with their talismanic striker, but only if they receive a fee of at least £150 million (€173m).
Since breaking into the Tottenham first team, Kane has developed into one of the most prolific strikers in world football, scoring 156 goals in 231 appearances for Spurs in the Premier League.
Aged just 27, he is already ninth on the list for the most goals scored in the competition's history, having surpassed Michael Owen's tally of 150 this season.
In the 2020/21 campaign, he has scored 13 goals in 21 starts in the top flight, but has added another facet to his game this season, as he currently has more assists than any other player in Europe's top five leagues with 11.
However, despite his goalscoring exploits he has never won a piece of major silverware, with only League Cup runners-up and Champions League runners-up medals to his name.
Tottenham do have the opportunity to win a trophy this season as they will play Man City in the League Cup final and are still participating in the Europa League, but should they fail, then Kane could ask to leave if another club comes calling this summer.
Unfortunately for him, extravagant purchases are not going to be on the agenda for most teams for a while due to the ongoing financial impact of the pandemic.
But, there are a couple of clubs who could afford him.
Who could sign Harry Kane?
Man Utd
Man Utd have been on the lookout for a starting world-class number nine since pretty much Wayne Rooney's time at the club. Zlatan Ibrahimovic, Anthony Martial, Radamel Falcao, Romelu Lukaku, and now Edinson Cavani have all been broght in at different times to varying degrees of success.
None, however, have made the position their own and guaranteed Man Utd 20+ Premier League goals for several seasons in a row, and although Cavani and Martial are still there, the former is now 34-years-old while the latter has never scored more than 17 goals in the league, and is sometimes played out wide.
There is a general feeling at Old Trafford that the club is entering an exciting era under the tutelage of Ole Gunnar Solskjaer, particularly after the signing of Bruno Fernandes, a player who is now seen as one of only a couple of world class players in the squad.
With Marcus Rashford on the left and the emerging Mason Greenwood on the right, a prolific centre-forward could be the last piece of Solskjaer's attacking puzzle.
Kane has played with both Rashford and Greenwood at international level and, having featured for so long in the league, would be able to make a relatively seamless transition from London to Manchester.
In the summer of 2020, Man Utd prioritised the acquisition of Jadon Sancho, however, and after balking at Dortmund's £100m asking price, they would need to pay close enough to that that would make any deal for Kane highly unlikely.
If they are no longer interested in Sancho, that could open up the door, and the funds, to bring Kane to Old Trafford.
Man City
Man City are in pole position to reclaim the Premier League from Liverpool in 2020/21, with Pep Guardiola's side currently 10 points clear at the top of the table.
One of the remarkable things about their recent successes is that they managed it without a centre-forward for the most part.
Sergio Aguero has missed most of the campaign through injury and coronavirus isolation, while Gabriel Jesus has been in and out of the team, too, making just 11 starts in the league out of the 24 games played so far.
Kevin De Bruyne, Phil Foden, Riyad Mahrez, Raheem Sterling, and Ferran Torres have all popped up in the number nine spot at one point or another this season, but City have still prospered due to the telepathy and movement from all the forwards in the final third.
They have been nothing short of sublime over the past couple of months.
There is still the feeling, however, that such a period of success might be hard to maintain without a recognised striker, while City are yet to truly enjoy success in the Champions League with or without a number nine.
They may or may not win the competition this season, but a new world-class forward could take them to the next level, and Kane has been mentioned as being the man to do so.
Man City have an xG of 49.69 this season, while Tottenham's is just 32.02, so there is certainly an argument to suggest that Kane would score even more goals for the current Premier League leaders due to the amount of chances that are created.
The Haaland factor
Kane is not the only wanted world-class striker this summer, as his future, whether it be at Tottenham or not, could be determined by the future of one Erling Haaland.
Even at just 20 years old, the Norwegian is already considered to be a devastating centre forward operating at the highest level, having burst on to the scene with RB Salzburg last season before his spell at Borussia Dortmund. which has been equally as impressive.
Both Man Utd and Man City have been credited with interest in Haaland as well as Kane, with the former having the edge over the England striker both in age and in cost.
The futures of Kane and Haaland may be intrinsically linked come this summer.