Carragher eyes Thiago impact as Wijnaldum makes Liverpool exit decision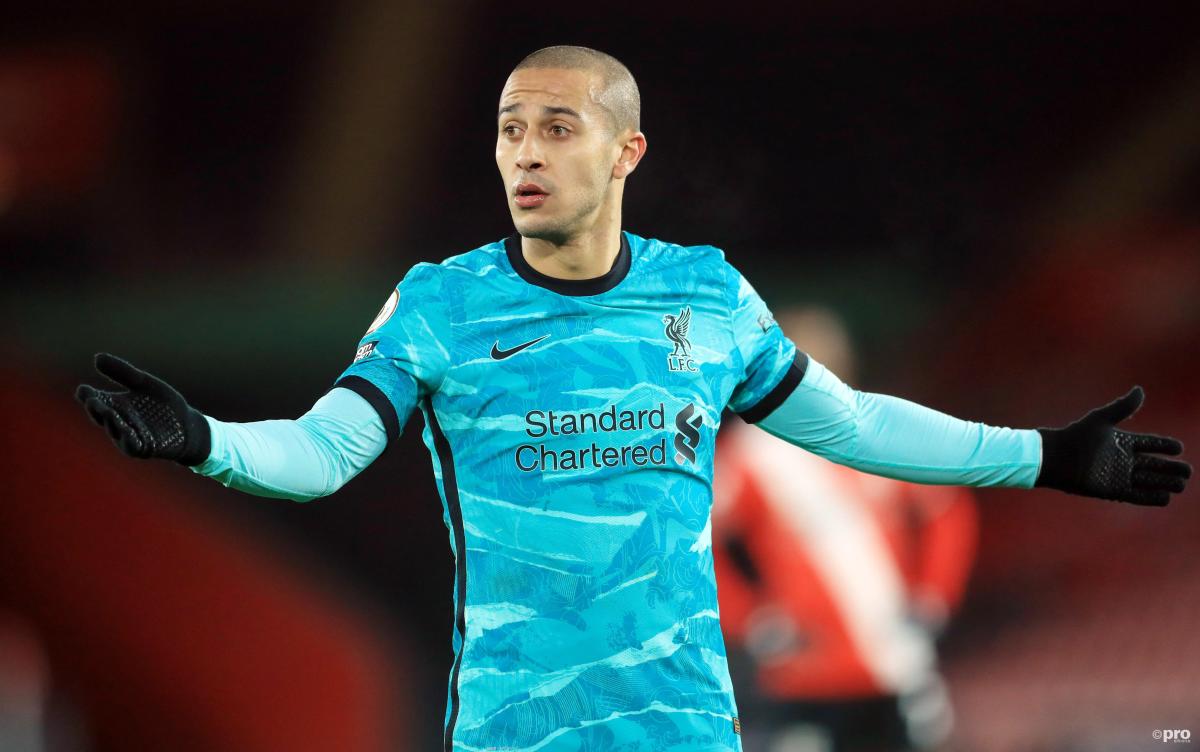 Jamie Carragher hopes Liverpool will snap out of their recent slump if Thiago Alcantara can get a run of regular games.
Thiago has recently returned from injury, making his return to action on December 30.
He has only been able to start two Premier League games so far since joining from Bayern Munich.
Liverpool have gone three top-flight matches without a win before their crunch clash with rivals Manchester United on Sunday.
The Premier League champions' midfield could be set for other changes too.
Georginio Wijnaldum has reportedly made a decision on his future.
A report in The Mirror said Wijnaldum has opted to reject Liverpool's last-ditch contract offer to keep him at Anfield.
Instead, he is set on joining Barcelona – who tried to sign him last summer – when his Liverpool deal expires at the end of the season.
Wijnaldum is said to see Barca – with their heritage of great Dutch players and Ronald Koeman currently serving as head coach – as a dream switch.
The appeal of the move was compared to Gareth Bale's desire to move to Spain and join Real Madrid earlier in his career.
Liverpool have been eager to keep the 30-year-old midfielder.
Wijnaldum played 37 of the 38 games in their stunning Premier League title success last season.
He signed for £25 million from Newcastle in 2016 and has made 211 total appearances.
'Thiago should make a difference'
With their attempts to keep Wijnaldum apparently unsuccessful, getting Thiago fit and firing will be even more important for Liverpool going forward.
Carragher has been critical of the Reds' creativity over recent matches.
"People talk about missing Virgil van Dijk defensively," Carragher said in a video call for Sky Sports which also featured Gary Neville.
"But they haven't missed him defensively really, when you look at the record.
"In terms of building from the back and starting the attack, Liverpool mixed it up really well, playing different balls last season.
"The football at the moment just feels a bit slower.
"I would say and I think a lot of that is to do with the build-up from the back.
"Virgil van Dijk is unique in being a great defender and [having] his ability on the ball.
"Thiago will come in now and should make a difference.
"Compared to Van Dijk he is higher up the pitch.
"But there were signs when Thiago came on against Newcastle.
"And there were signs against Aston Villa – even though that was against kids.
"With the passes he is making, he is being penetrative rather than going sideways in midfield.
"The thing that gives me confidence going into this game is Liverpool have won almost every big game they've played this season."