Lampard: Chelsea don't regret letting Declan Rice leave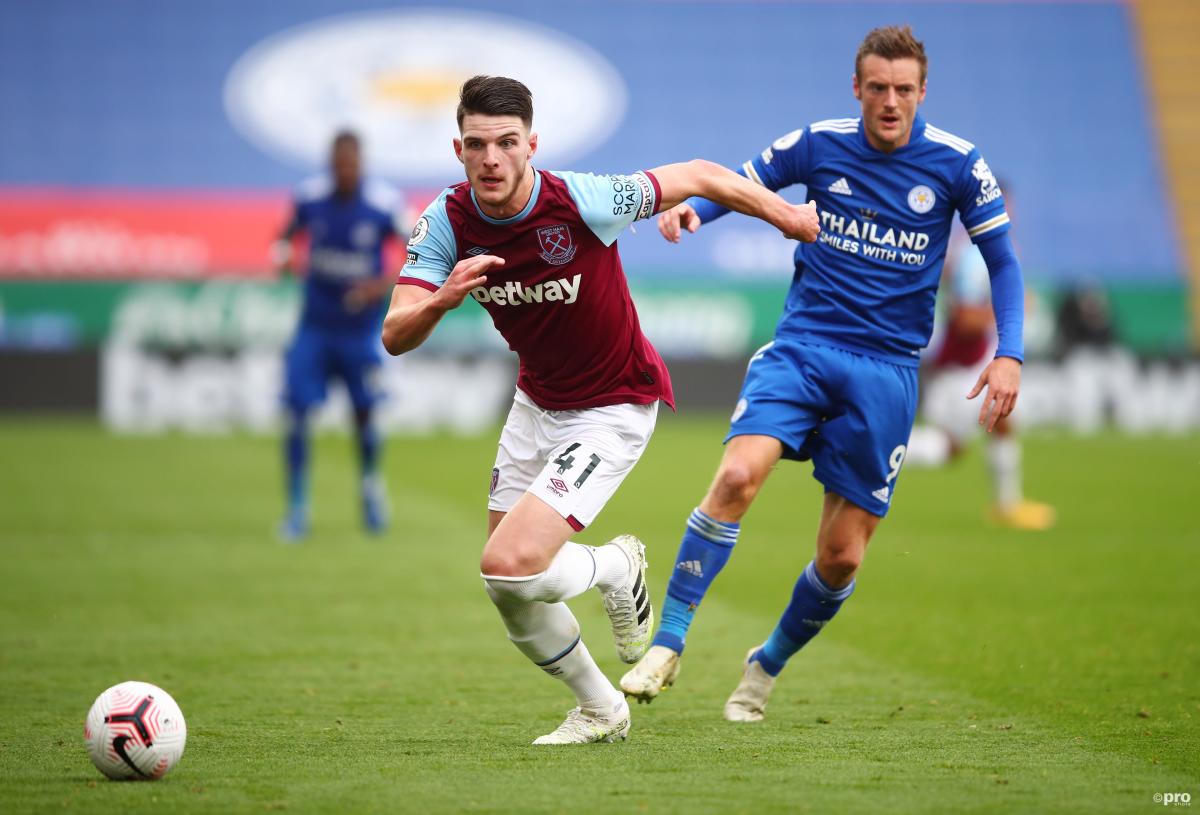 Frank Lampard says Chelsea do not have a sense of "regret" over letting youth product Declan Rice leave for West Ham at the age of 14, despite them being linked with a big-money move to bring the England international back to Stamford Bridge.
In 2014, after spending several years with Chelsea's youth squads, Rice signed for West Ham after being let go from the Blues, and subsequently developed into a first-team player and then captain with the Hammers.
He made his debut for West Ham on the last day of the 2016/17 Premier League season in a fixture against Burnley, and since then has come on leaps and bounds to become one of the most proficient central midfielders in the league.
Rice's performances have generated interest from Man Utd as well as Chelsea, with Lampard reportedly keen to recruit him even after spending over £220m on transfers in the summer.
The Chelsea manager doesn't think the club rue the day they let go of the then 14-year-old, though.
"He's a fantastic player for West Ham and England so fair play, because his journey thereafter leaving Chelsea and going to West Ham is a good story to hear," Lampard told reporters on Friday.
Declan Rice: Snapshot
"There are lots of stories like that and it shows the player's strength of character. In terms of from our end, I certainly wouldn't use the word 'regret' – our academy is one of the best in the world and you look at our first team now with the players that we have produced who are in and around that squad.
"It's not easy. It's not an exact science to pick players but the academy staff do brilliantly here. Declan Rice has given himself personal credit for having the great start to the career that he's had at West Ham."
As for any deals being done in the January transfer window, Lampard isn't sure if Chelsea will be active.
"Firstly I don't know about January," he said.
"I'll consider January when it is here. So I've got the squad and we're working hard on the games that are in front of us.
Rice is now an established Premier League player as West Ham captain as well as a starting England international.
If Chelsea are to complete Rice's return, they have reportedly been quoted between £60m and £80m by West Ham, who are not willing to let their prized asset leave on the cheap.
The player has previously stated a desire to start winning trophies in his career.