Who is Lorenzo Lucca? The Italian hotshot wanted by Tottenham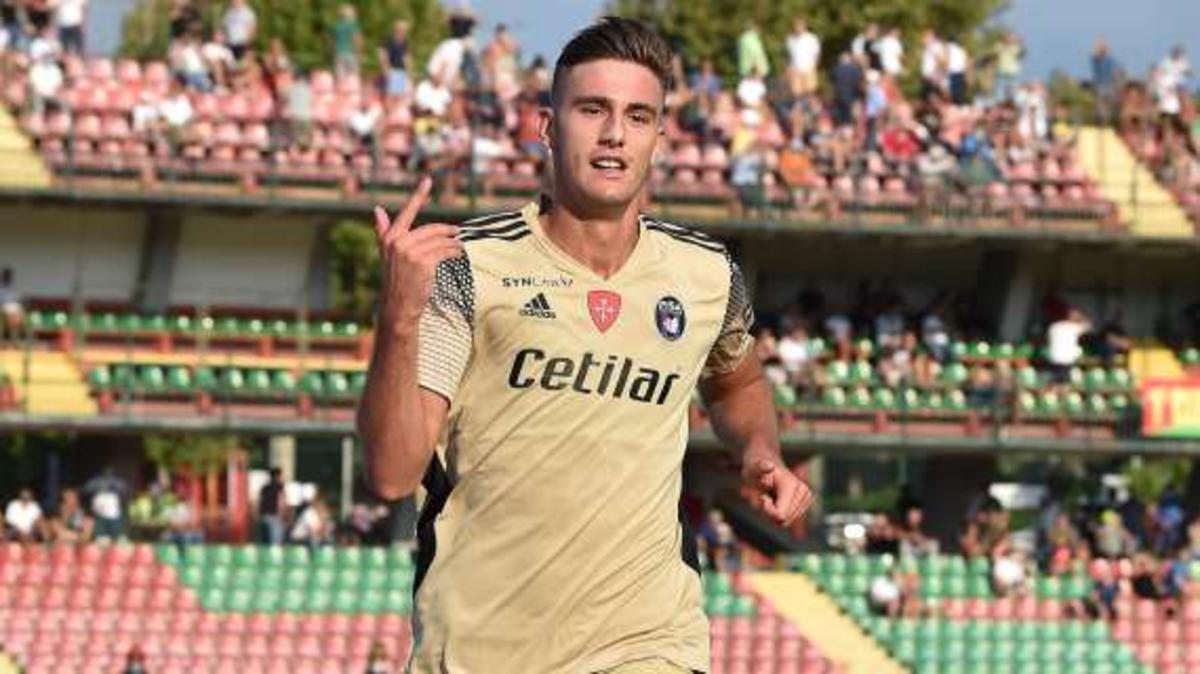 Italian striker Lorenzo Lucca may only be 21 but he has already had a nomadic career of sorts.
After starting with the Torino academy at age eight he would eventually go on to play for Chieri, Atletico Torino, Vicenza, Palermo and Brescia.
Now, he finds himself at Pisa and it is his form in Serie B which has led to a call up for the Italy U-21 side.
In 13 starts so far this campaign he has scored six goals, and is arguably in the perfect place to hone his craft before making the step up to Serie A, which is inevitable.
What kind of player is he?
What position does Lorenzo Lucca play?
Lucca plays as a centre-forward.
How good is Lorenzo Lucca?
Lucca is a bit of a throwback striker in that he can flourish as a target man up top and relishes aerial battles against opponents.
His prowess in the air is one of his best aspects and that makes him slightly unique in the modern era.
He is by no means a simple battering ram, though, as he holds an impressive burst of pace as well as composure and finishing ability in front of goal.
Without putting too much pressure on Lucca, he evokes thoughts of Erling Haaland.
He may be plying his trade in Serie B with Pisa at the moment, but that hasn't stopped him being recognised at international level as he has already been called up to the Italy under-21 side.
The player himself has stated that his hero is Zlatan Ibrahimovic and that he sees Haaland as an inspiration. In his own words, he previously outlined his strengths.
"Despite being two meters tall, I can also manage with my feet, but my strengths are physicality and the header," he said.
"I started with amateurs to try to get higher and higher, a path that helped me to truly understand the difficulties before reaching the professionals.
"I tried in my small way to always give my best, taking inspiration from the best and most experienced players."
What clubs are interested in Lorenzo Lucca?
Following his superb start to the new campaign, various clubs have scouted Lucca in action for Pisa.
At the moment, he is linked with Tottenham, AC Milan, Inter, Juventus and Atletico Madrid.
He only signed for Pisa in the summer, however, so if they get promoted to Serie A it is likely he will remain there for now.
Antonio Conte is reportedly big fan and wants to bring him to North London.
How old is Lorenzo Lucca?
Lucca was born on 10 September 2000. He is 21.
What is Lorenzo Lucca's height?
Lucca is 201cm, or around 6ft 7in.
What is Lorenzo Lucca's weight?
Lucca weighs 80 kilograms, or around 12 1/2 stone.
When does Lorenzo Lucca's contract expire?
Lucca has a contract with Pisa until 2026.
Who is Lorenzo Lucca's girlfriend?
Lucca is not currently dating anyone publicly.
What is Lorenzo Lucca's Instagram?
Lucca's Instagram has 25k followers as of January 2022.