Vinicius Jr finally starts to repay Real Madrid after Alexander-Arnold lesson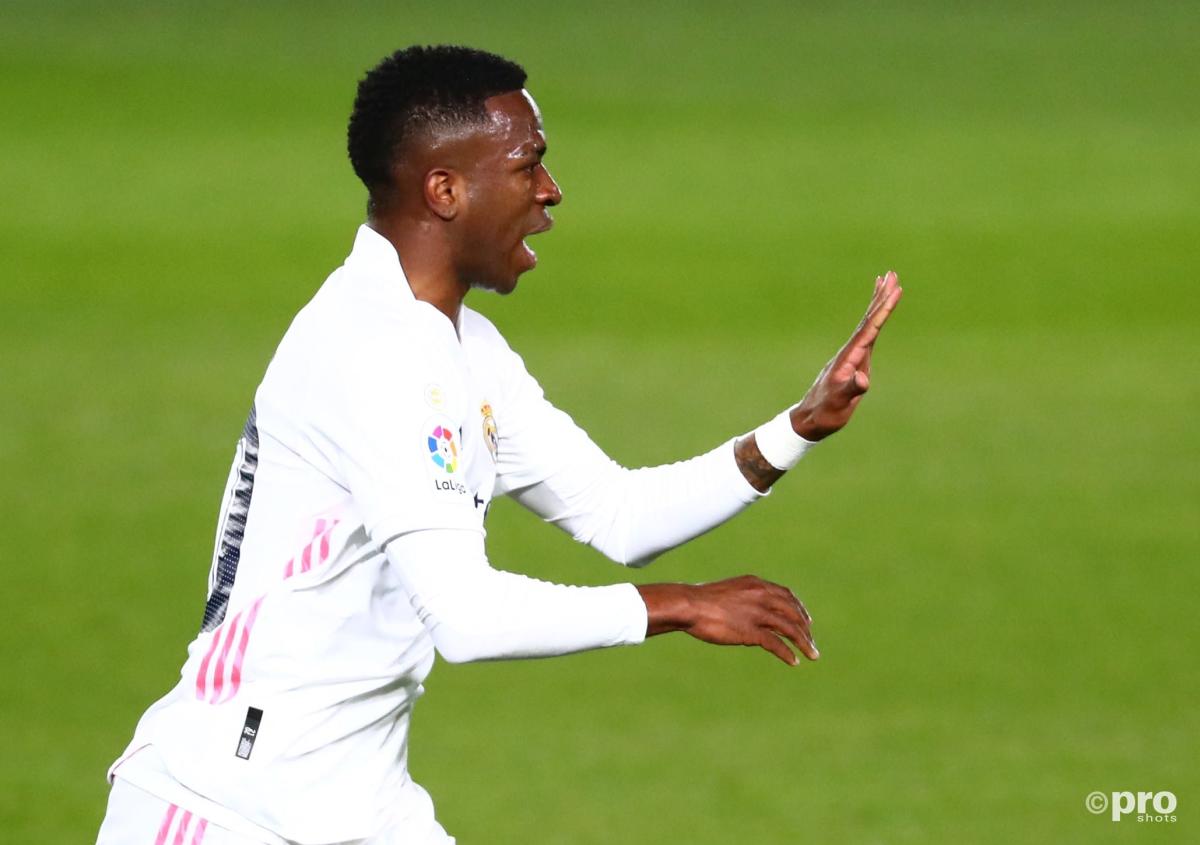 Throughout the entirety of the past 12 months, Vinicius Junior has had to contend with various Eden Hazard comebacks as well as the lurking spectre of Kylian Mbappe potentially arriving at Real Madrid.
Due to the departure of Cristiano Ronaldo a couple of years ago, the injuries suffered by Hazard and Marco Asensio, and the lack of form for Isco, the young Brazilian has been thrust into the limelight probably quicker than the Santiago Bernabeu hierarchy had planned.
READ MORE: Forget Haaland – Real Madrid must address injury farce before entering transfer market
Vinicius Jr is only 20-years-old, but has made 20 starts in all competitions for Real Madrid in the 2020/21 campaign, a lot of which have came due to the aforementioned reasons above, particularly the injuries to team-mates.
Unfortunately for the player, the pressure was always going to be on after he became the most expensive teenager in history in 2017, joining Los Blancos from Flamengo for €46 million.
He has, so far, not lived up to the big, big expectations.
In 106 appearances for Real Madrid in all competitions, he has scored just 15 goals and laid on 15 assists.
It is not just the lack of numbers that have worried Madrid, but his overall performances, too.
Vinicius Jr has been around for a few years, now, and with that we can forget that he is still just 20. However, his performances can reveal his immaturity. He still has a long, long way to go to become the finished article.
When dribbling, he is often guilty of not lifting his head up which either results in him running straight into a crowded area, or rushing his next decision which leads to a loss of possession.
His decision making, on a whole, is poor in the final third.
One of the lowest points of his Madrid career came earlier in the season in the Champions League in a game against Borussia Monchengladbach, when Karim Benzema could allegedly be heard in the tunnel saying to Ferland Mendy, as reported by Marca:
"He [Vinicius] does what he wants. Brother, don't play with him…oh my God. He is playing against us. He does not do anything meaningful."
To which Mendy replied: "When he becomes scared, he loses what makes him great."
There is quite possibly no more scathing criticism than that of your team-mates, and although all parties played down the situation afterwards, it will have hurt Vinicius Jr.
Things looking up for Vinicius Jr?
Following that incident, the Brazilian would go on a run of 23 matches without a goal and just three assists, his confidence clearly dented ever further.
Vinicius Jr has been waiting for the game or the moment to see his Real Madrid career ignite, and we may have witnessed it in the Champions League this week.
Madrid, without key centre-backs Sergio Ramos and Raphael Varane, were doubted by many heading into their quarter-final first leg clash against Liverpool, the champions of the competition two seasons ago.
However, Los Blancos put in probably their best all-round performance of the campaign considering the opposition, and walked away with a 3-1 home leg win.
Two of the goals were scored by Vinicius Jr, who earned his best performance rating of the season, according to FootballCritic.
For the opening goal, he drifted in behind the static Liverpool defence to chest a gorgeous pass down from Toni Kroos, with his finish being lashed into the bottom corner.
The second came with the scoreline at 2-1, as he took the game beyond the Reds with a snapshot into the near corner which proved too hot to handle for Alisson.
One major aspect of the game was just how torrid a time he gave right-back Trent Alexander-Arnold, though.
The Liverpool man has been in the news over the last few weeks due to being left out of the England squad, and he gave his European Championship ambitions hopes no help at all with this outing, as he was torn apart by Vinicius Jr, who won the majority of his duels down the left-hand side.
Alexander-Arnold's loss will undoubtedly be Vinicius Junior's gain, though, as the young Brazilian is, for once, the darling of the Madrid press and not the focus of their vitriol.
But, in an ideal world, it is clear that Real Madrid would not have him down as a starter.
If Hazard wasn't perpetually injured, he would be starting on the left-hand side, while Los Blancos continue to be linked with Mbappe, who can play in any of the positions of the front three.
Vinicius Jr, unfortunately for him, will have to continue to prove himself for a long time yet.