Who is Amine Gouiri? The electric Nice attacker linked to Liverpool and Man City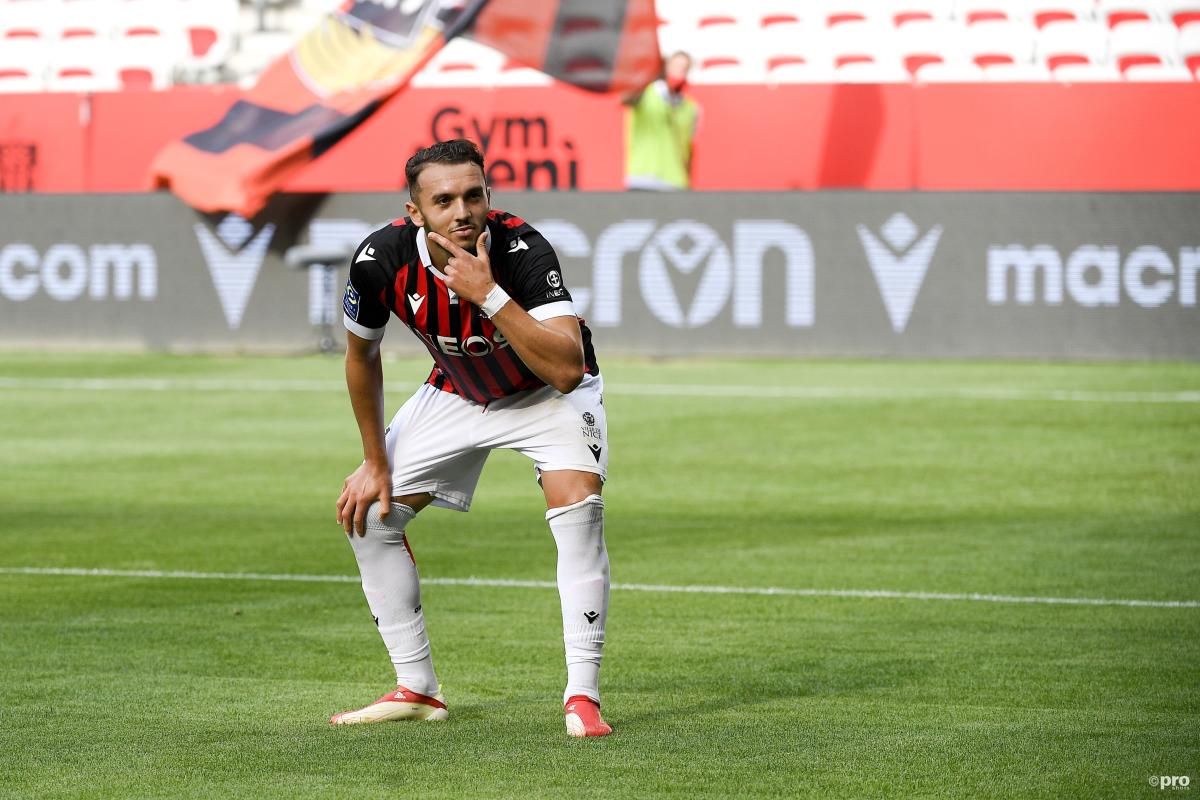 That Amine Gouiri is beginning to attract the attention of major clubs can come as no surprise after lighting up Ligue 1, but what is shocking is that it has taken so long for these links to follow.
Liverpool manager Jurgen Klopp has reportedly been keeping close tabs on the attacker in recent months and is said to have made a plea to his board to stump up the money to fund a move.
Manchester City manager Pep Guardiola is also reported to be a fan, having watched the tricky attacker consistently terrorise defences in Ligue 1 for over a year.
Gouiri is likely to be a hard target to pin down, though. Not only do Nice possess significant financial backing, but more pertinently there is liable to be a long list of clubs chasing him by the time he becomes available in the summer of 2022.
But just why is he so highly rated?
What position does Amine Gouiri play in?
Gouiri is a versatile attack who can play either through the centre or off the left wing, where he loves to check onto his stronger right foot and have shots at target.
He shows traits of being a mobile striker but is also a useful poacher when asked to play more centrally.
How good is Amine Gouiri?
Gouiri has long been highly rated in France, though he grew frustrated waiting for his opportunity to shine with Lyon, where he came through the academy.
Nice took a punt on him when they signed him in 2019-20 after he had fought back from a serious injury and they have not regretted the move since. He has an excellent scoring record and has provided his side with so much more than just goals; he is quick, creative and regularly punches holes in opposing rearguard.
He's a fine player technically and capable of repeating efforts at a high intensity.
- Christophe Galtier
"Last season, Amine had responsibilities and assumed them," head coach Christophe Galtier said in September, referring to the 17 goals and seven assists Gouiri provided a poor Nice side during the 2020/21 season.
"He's a fine player technically and capable of repeating efforts at a high intensity. He must be more solid in his game and resist more physical challenges."
Indeed, Gouiri's role has shifted from one as left winger to something of a supporting striker playing around a targetman. It is one he is enjoying.
"It gives me more freedom and means that I'm deeper to get on the ball, to be between the lines and be more active in the game."
What clubs are interested in Amine Gouiri?
Liverpool have been linked with a move for Amine Gouiri, with manager Jurgen Klopp reportedly asking the board specifically to go out and make a move for him.
Manchester City have also been credited with an interest. This is little surprise given the technical qualities of the attacker.
When does Amine Gouiri's contract expire?
Amine Gouiri is under contract until 2024.
How old is Amine Gouiri?
Amine Gouiri's birthday is 16 February, 2000. He is 21 years old.
What is Amine Gouiri's height?
Amine Gouiri stands at 180cm, putting him at 5ft 11in.
What is Amine Gouiri's Instagram?
Amine Gouiri's Instagram account is here. As of November 2021, he has 124k followers.
Who is Amine Gouiri's girlfriend?
Amine Gouiri is not currently in a public relationship.