Marc Cucurella is Chelsea's Antonio Rudiger replacement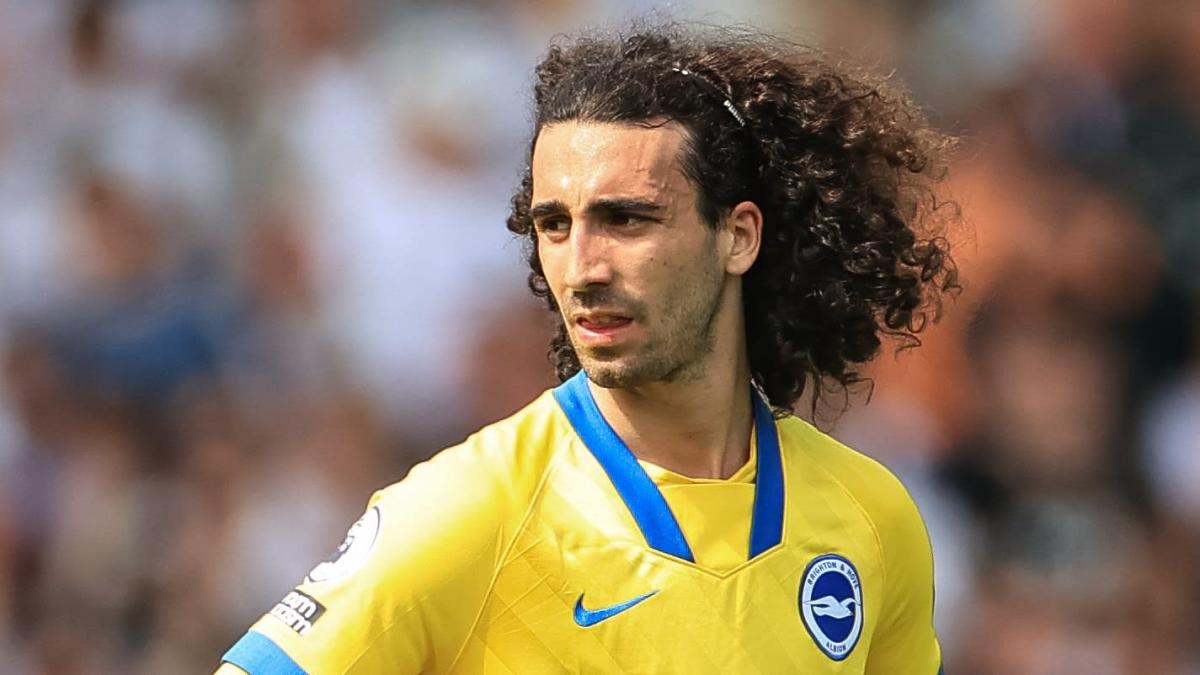 Chelsea's summer spending spree under Todd Boehly is set to continue with the signing of Marc Cucurella from Brighton for a reported fee of £56m with an additional £7m in add-ons.
Cucurella initially looked like he was going to Manchester City after Oleksandr Zinchenko's transfer to Arsenal, but the defending champions were reluctant to pay such a high figure, so Chelsea swooped in and sealed the deal.
Going the other way, meanwhile, is highly rated youngster Levi Colwill, but only on loan and not on a permanent basis as was initially suggested.
Cucurella's work at Brighton
Cucurella joined Brighton from Getafe last summer for £15m having previously come up the youth ranks at Barcelona. It is safe to say that he adapted to this new environment quickly, winning both Brighton's Player of the Season and Players' Player of the Season awards at the end of the campaign.
The Spanish international's standout attribute was his consistency in a variety of roles. Under the tactically flexible Graham Potter, Brighton often alternated between a back-three and back-four, so Cucurella was used either at left wing-back or at left-back. On occasion, he also played as the left-sided centre-back in a three.
His heatmap from the season shows this variability in his roles, as clusters can be found in both halves of the pitch.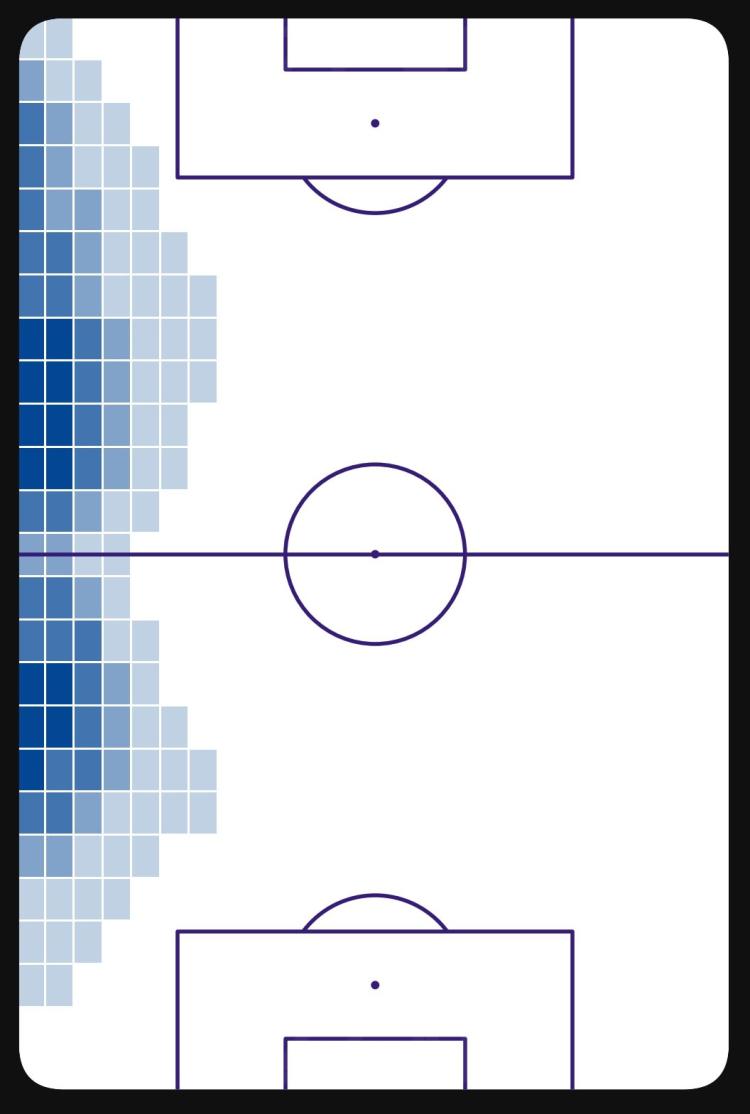 As aforementioned, his biggest strength was his consistency, and this is highlighted in his pizza chart. Cucurella's numbers are impressive in almost all departments, but they are especially outstanding as far as ball progression is concerned.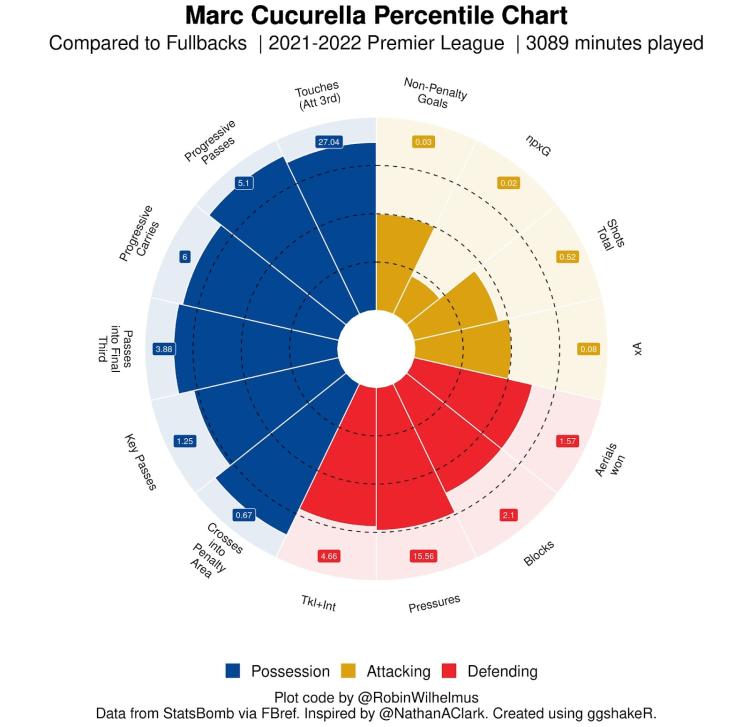 Looking at his progressive passes map from last season, it becomes clear to see that Cucurella excels at getting the ball forward down the wing, although he can also bring it inside and occasionally picks out crossfield passes.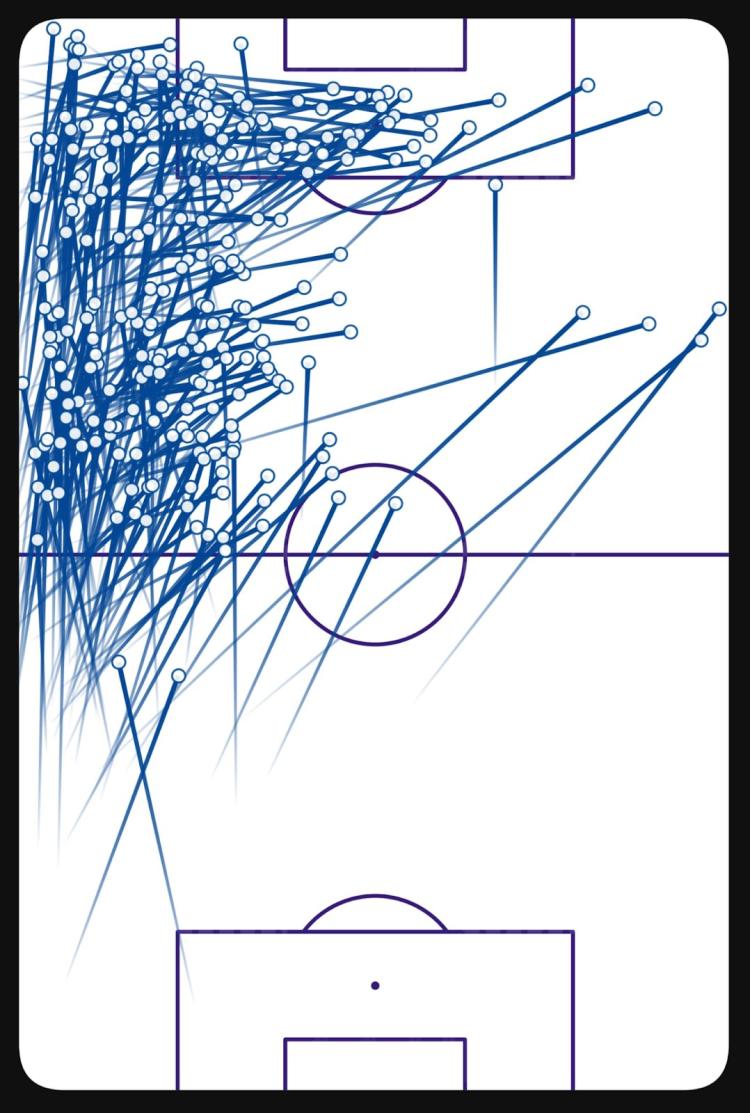 His progressive carrying also followed a very similar pattern – mostly down the flank but also driving from out to in at times.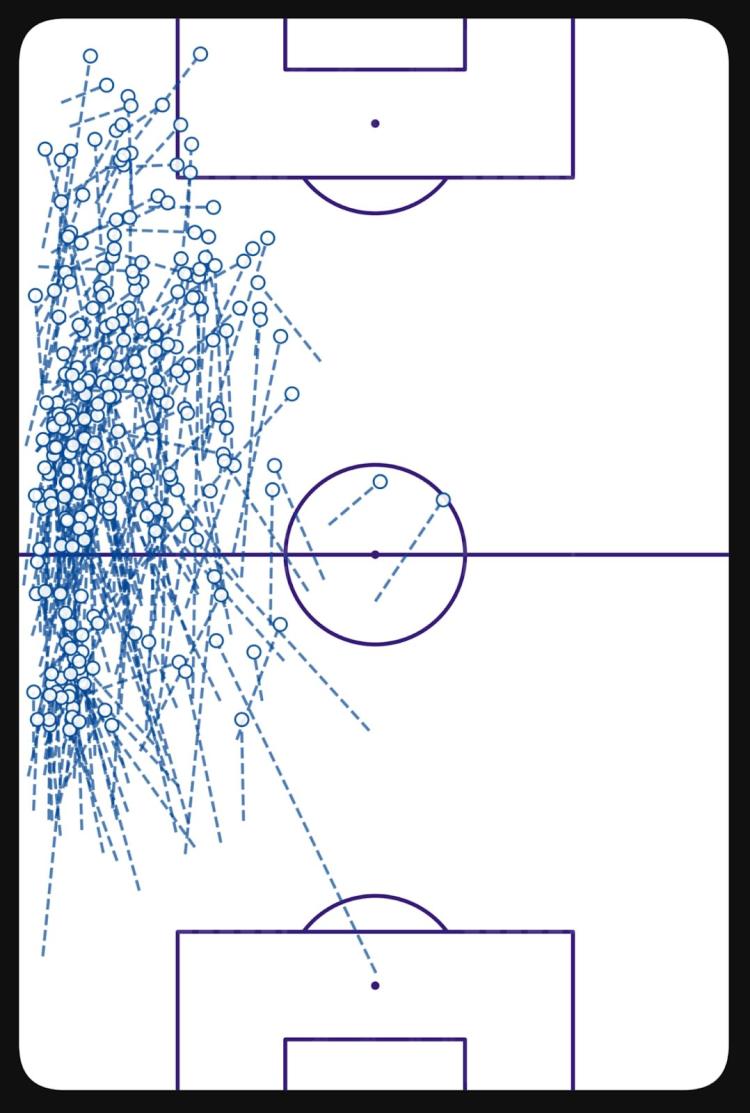 Naturally, to have such a high ball progression volume, one must start off in relatively deeper positions, so the attacking involvement takes a hit. Cucurella managed just a goal and an assist last season, and his key passes map does not show any major patterns of regular creativity.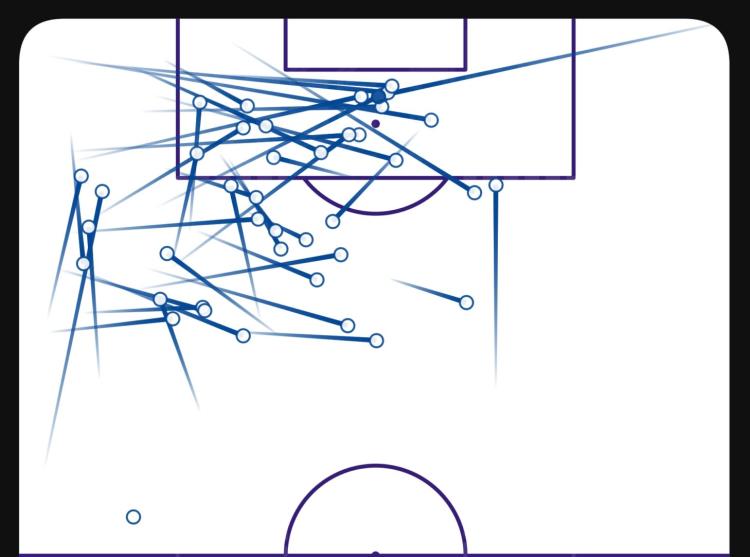 Defensively, Cucurella's various roles had differing responsibilities. As a left wing-back, he was typically asked to press the opposition in their half; from left-back his usual task was to track the opposition winger; and as a left centre-back, he even had to defend inside his box.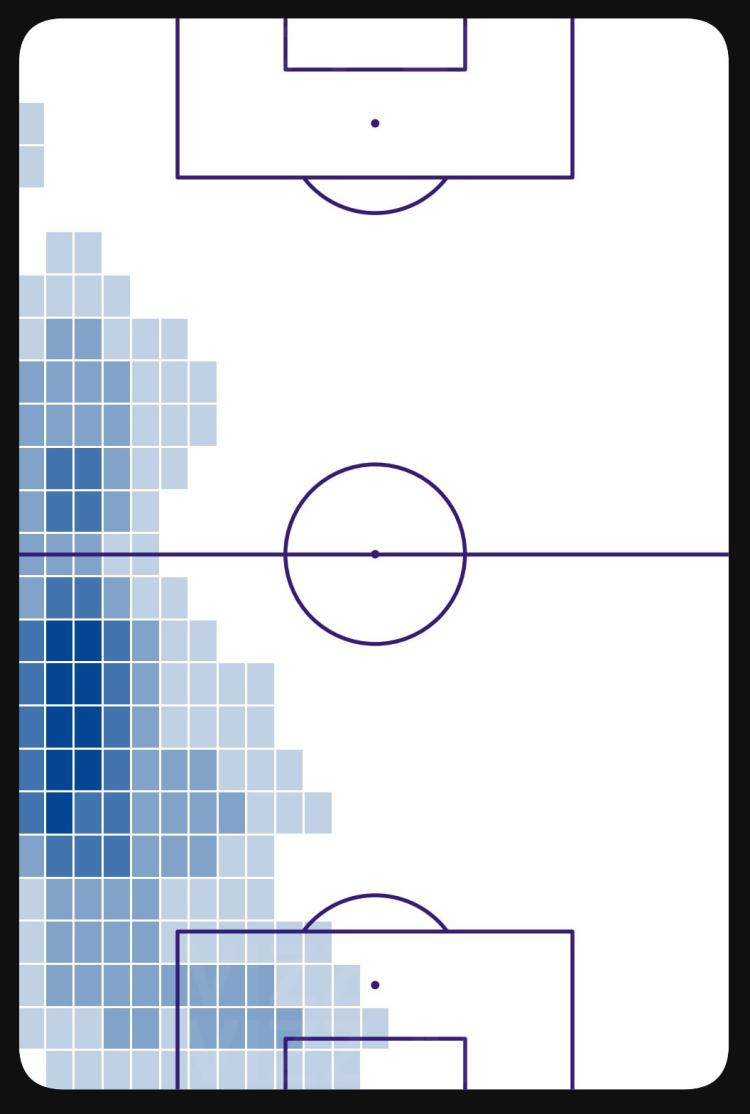 The fact that he was able to fulfil these varying responsibilities is a real credit to his versatility.
Where will Cucurella play for Chelsea?
Under Thomas Tuchel, Chelsea have primarily used a 3-4-2-1 formation. Naturally, the two positions that suit Cucurella are left wing-back and left centre-back. While a cursory glance at his positions played for Brighton may suggest that he would be best fit for the former, a closer look at the data says otherwise.
The left wing-back for Chelsea is required to be the primary attacker on that wing as part of a front-five in possession, so this player's work is mostly done in and around the attacking third. Therefore, they have a large attacking responsibility, but are not required to progress the ball so much.
Comparing Cucurella's stats to those of Ben Chilwell (Chelsea's first-choice left wing-back) and Marcos Alonso (the man who spent more time in the positon due to Chilwell's injury), the differences become quite apparent. Cucurella is better when it comes to ball progression, but there is a large disparity in the shooting and chance creation numbers.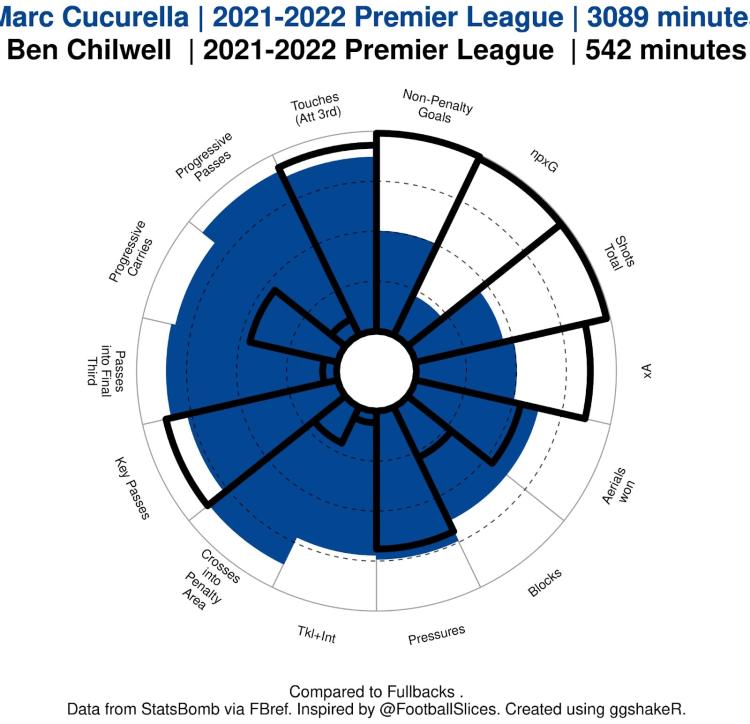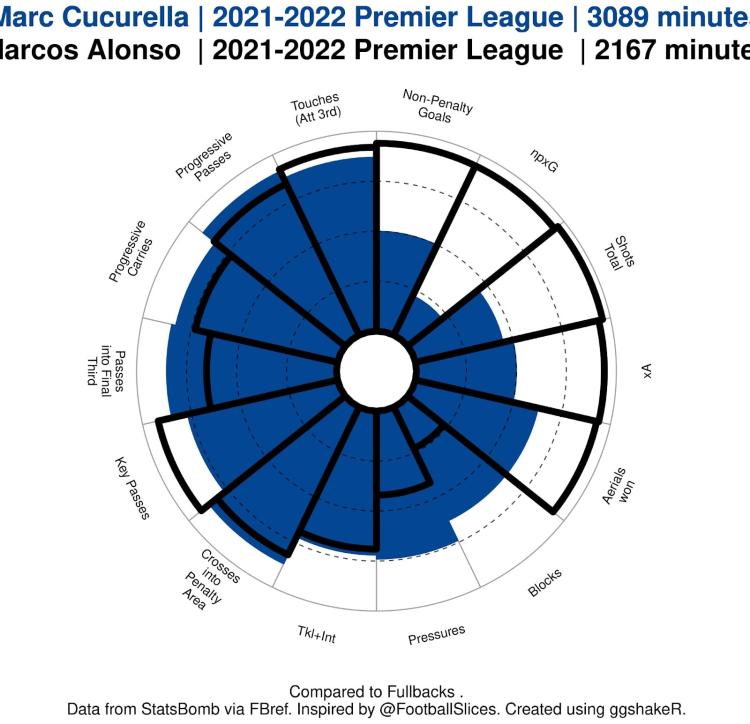 Interestingly, Cucurella's statistical profile looks most similar to Antonio Rudiger, the man who spent the most time as Chelsea's left centre-back last season.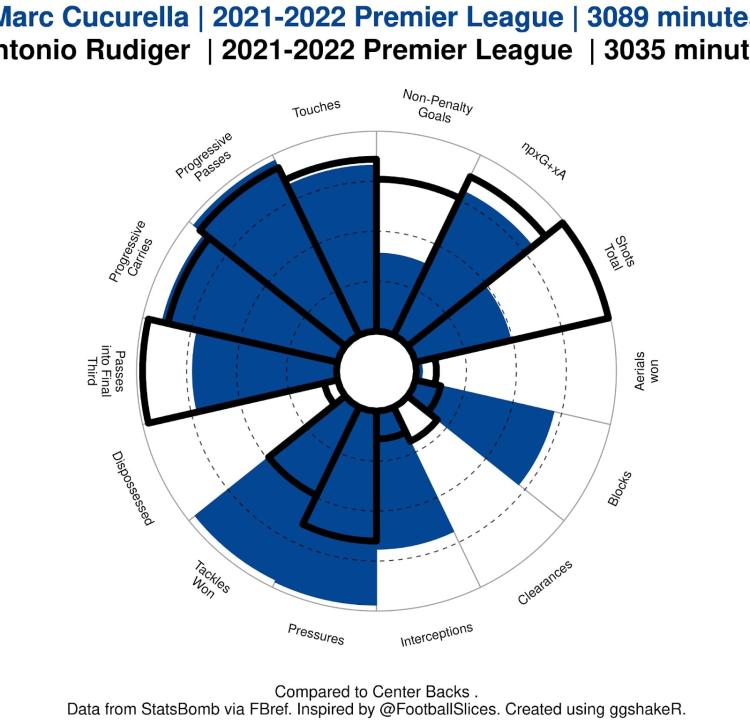 Their defensive numbers are unsurprisingly very different owing to their differing positions, but in possession, they matched each other quite closely.
Of course, there are differences in how the two progressed the ball. Generally speaking, Cucurella did most of his work in wider areas than Rudiger, who operated in the left half-space more than anything. Again, this owing to the positions they played.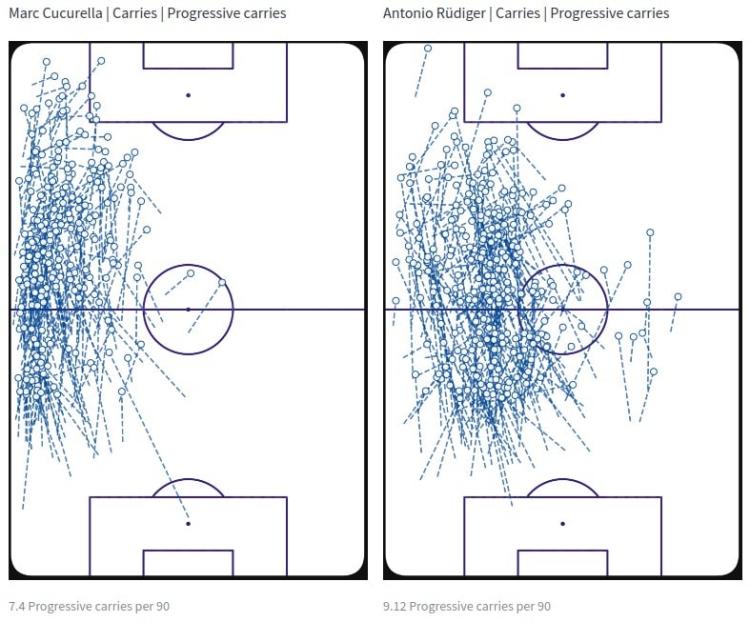 Their progressive carrying depicts this very well.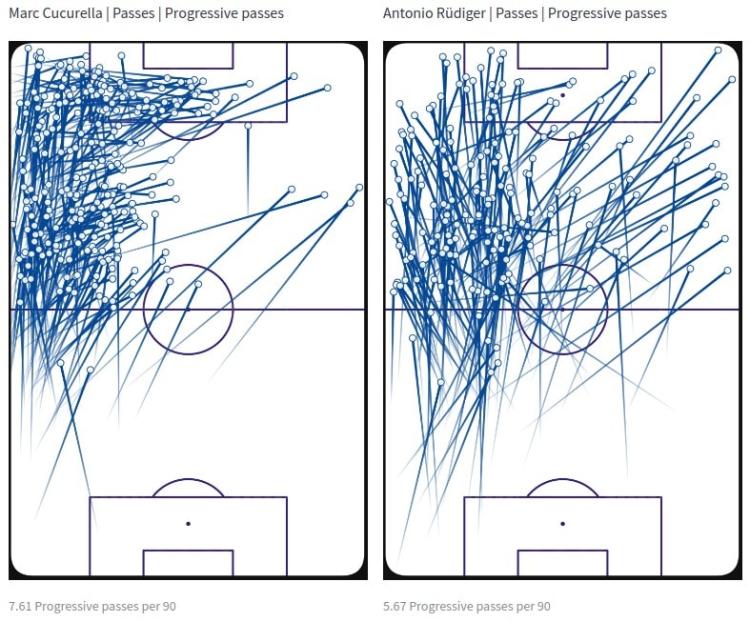 The real stylistic difference was in the progressive passing. Rudiger's right-footedness gave Chelsea an interesting dynamic, as he was able to spray passes in all directions when afforded time on the ball, which is relatively easy to generate for wide centre-backs in a back-three.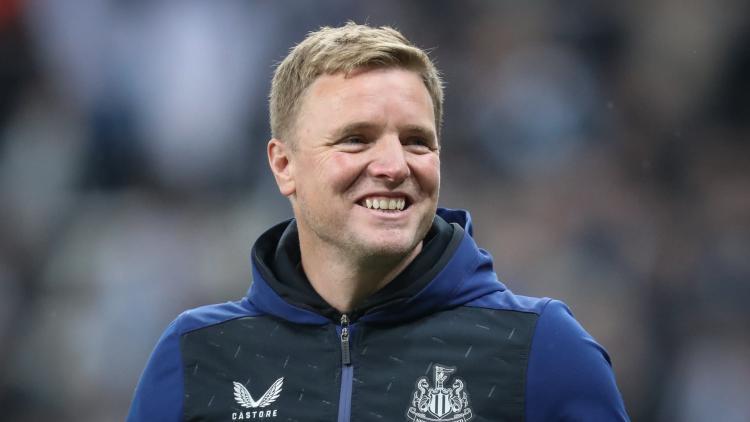 Being left-footed, Cucurella might not be able to recreate this – especially the passes into space for the wing-backs.
Undoubtedly, though, Cucurella's skillset is a lot more suited to Chelsea's left centre-back role than it is to their left wing-back role.
The Blues' current squad depth also suggests that he will be used in the back-three. Chilwell should remain the first-choice left wing-back as he returns from his ACL injury, but after Rudiger's departure to Real Madrid, there were no obvious starting options for the left centre-back position.
Colwill might have slotted in there, but the fact that he is going to Brighton for the season almost certifies the fact that Cucurella will be primarily used as a centre-back, although he may have to fill in at wing-back from time to time, especially if Alonso's proposed transfer to Barcelona is completed.
It should be mentioned that despite the Spanish international's quality and consistency, a fee that could cross £60m is still very steep. Colwill's performances in the Championship last season suggested that he was ready for the Premier League (and Chelsea certainly believe that themselves by loaning him to a Premier League club), so it could have been more financially sensible to keep him at the club and sign a second-choice left wing-back.
Cucurella has a lot of work to do to prove that he is worth such a high fee. Brighton, on the other hand, will be very happy to flip him for a profit of well over £40m in just one season. The fact that they were able to do that says a lot about the recruitment of a lot of big clubs, specifically the Blues and Barcelona in this case.